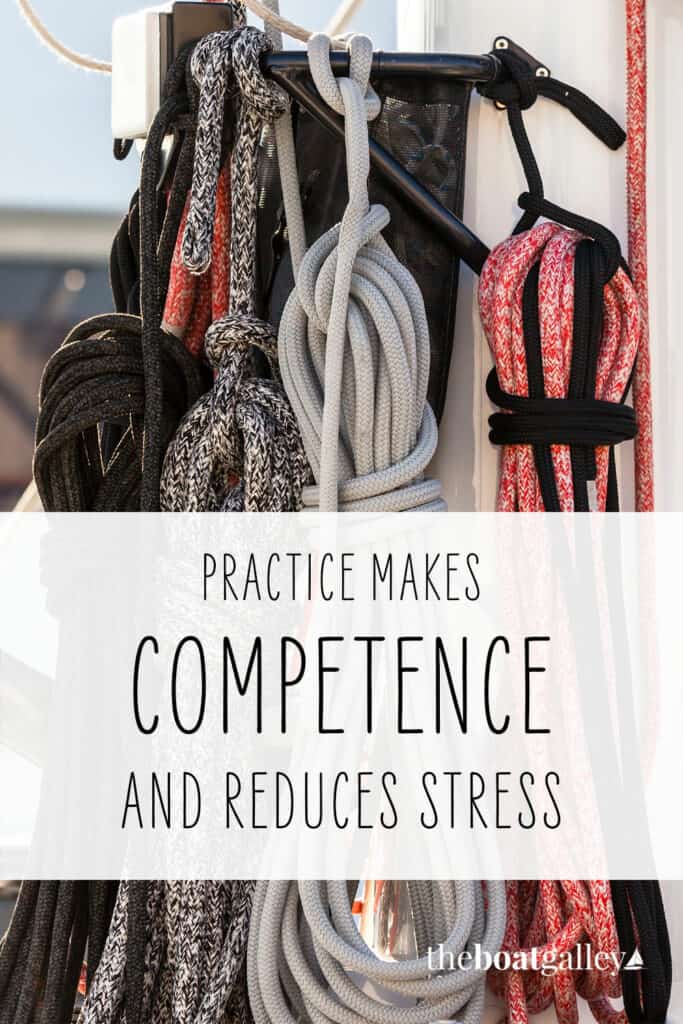 Want to reduce stress on your boat in anticipation of traveling? Do you lie awake at night thinking "what if . . . ?"
The best way I know to beat the what ifs, sleep well, and have fun is to address those what ifs head on. Talk about them with your boatmates, make a plan, and then practice. A plan and practice give you so much confidence that you can handle a situation!
Ideas:
Worried about engine problems? If you have a sailboat, practice sailing on and off your anchor or mooring ball with the engine running but in neutral – you know you can pop it into gear if you have any problems. If you have a motor vessel, try side-tying your dinghy and using the outboard as propulsion (still steer from the big boat). Read more. 
Don't like pulling up to a dock? Find a spar buoy or something else "soft" that you can practice pulling alongside.  
If you're nervous getting in or out of your slip, hire a teaching captain to give you hands-on docking lessons on your own boat. 
Concerned about medical emergencies? Take an advanced first aid/wilderness medical course that is designed for cruisers.  
Terrified about standing watch at night, alone? First get comfortable doing solo daytime watches – tell your partner to go below and not help unless you request it. Start with just 10 or 15 minutes and work up to several hours. Next, get some friends or paid crew/captain aboard and do your first night watches with someone else. Next, do one alone but with the extra person awake and down below. Try to handle all situations on your own. Take it step by step. And remember that even experienced crews ask for help when weather or traffic is bad. Read more. 
Don't understand how a particular boat system works? Go over it from one end to the other until you feel confident in how the switches, valves, settings and everything else operate and what they control. Read more. 
Hold fire drills until your reactions are second nature. Read more. 
Worried about holing your boat or having a thru-hull fail? Discuss various scenarios with your boatmates, make sure that bilge alarms work, know what to look for on watch inspections, create a map of thru-hulls so you know the location of all in an emergency, discuss how you'd stop a major leak, get products out and look at how to use them, learn how to call for help on the VHF.  Two article to read: this and this. 
You get the idea. Most of the time, worry stems from not knowing how to handle a given situation. By first coming up with a plan, making sure you have any needed supplies, and then practice, practice, practice, you can gain confidence in your skills. You don't have to be an expert on everything, but a basic understanding goes a long way. And as you're more comfortable, everything becomes a lot more fun!
Disasters rarely happen, but the thought of them can take up a lot of space in our heads. Knowledge and practice can help you reclaim that space. 
---
Be sure to subscribe to The Boat Galley newsletter to keep up with what we're up to and get helpful tips and encouragement from the water.
Give your boat its best chance in hurricane season:


Making Boat Life Better
Some links in this article (including all Amazon links) are affiliate links, meaning that we earn from qualifying purchases.