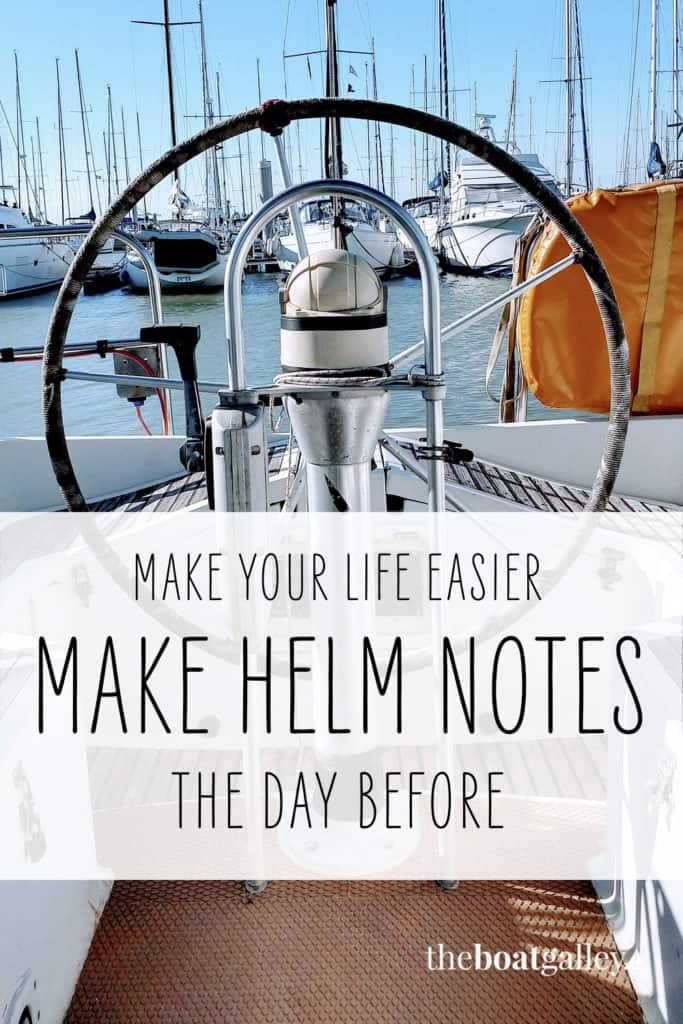 If you're doing anything more than a short daysail in familiar waters, there's probably going to be at least one "tricky" area. Sometimes far more if you're in an area with bridges, locks, shoals, ship channels, big tide swings . . .
So how do you remember it all? And make sure that everyone who might be at the helm knows all the pertinent information?
Want to be a safer boater? VHF Radios: Everything You Need To Know (online course) will help you unleash the power of your radio from routine calls to advanced features such as DSC, AIS and weather. Only $29.
Our answer is "helm notes."
When I plan a trip and create a route for us, I keep a piece of paper at hand and jot down notes as I plan — information from charts, cruising guides, Active Captain and whatever other sources I have. Depending on the trip, I'll include:
High and low tide heights and times at any critical places
Slack tide times at any critical places
Time change if crossing a time zone
All bridges — fixed bridges with heights, opening with type, schedule and VHF channel/hailing info, where to circle while waiting if there are special conditions or shoals nearby
Locks — info as to side for fenders, VHF channel/hailing info, where to circle while waiting, height were dropping or raising, locking procedure if known, other info as pertinent
For bridges and locks in particular, if there are changes in openings by date or day of week, I'll note them in case our trip gets delayed
Ship channels or areas where ships are likely to be seen or where they are likely to be moving
Work being done in or near a channel — dredging, nav marker replacement, bridge or lock repair — if work info is available
Shoaling or shoals near a route
Cuts with special considerations, including notable current, rough patches, etc.
Any navigation markers that are out of place, not working, hard to spot, in weird locations . . .
Any places where navigational "colors" or markers change (often when turning from one system, such as the ICW, to another, such as the sea buoys in/out of a harbor, you'll change which side reds and greens are on)
Touristy areas where we might encounter kayaks, Jetskis, parasail boats, whale-watching boats, dive boats (with divers in the water) and so on
Potential bail-out locations — marinas, boat yards, and anchoring spots if we run into mechanical, weather or medical problems
Anchorages and routes that are "sailable" should our engine have trouble
Places where we have to stick right to the plotted route due to obstacles
If using a chart book or cruising guide as the backup info, page numbers for various features
Landmarks to help orient us as we are going through any tricky areas and particularly in anchoring areas, such as "dinghy dock is next to the big blue building; do not anchor east of red house due to cargo ship dock"
Anchoring depth/bottom if unusual, mooring field info, or marina info and how to contact
No, there usually aren't all of these . . . and sometimes there will be others, such as restricted areas near military bases. Basically, if something might affect where we could go or when we could transit a particular place, I make a note.
Before leaving (usually the night before), Dave and I will look at the chart together (we tend to use paper charts for this) and go over the noted spots. This is usually only a few minutes of going over the route but can be considerably longer when there numerous hazards, such as when we went down the Okeechobee Waterway with locks, bridges, manatee zones, changing mark colors and the "Miserable Mile." The idea is for both of us to be familiar with the route and what we may encounter — we're not trying to memorize it.
If the list is fairly short and straightforward, I'll just tape my handwritten notes near the helm. If it's likely to be a wet day, I'll put it in a Ziploc.
On the other hand, if the helm list is long, I may type it up and print it to make it easier to read and refer to. Also when the list is fairly long (on the ICW or other waterways, for example), we cross items off as we pass them so that it's easy to quickly refer to the list and find the information we need.
We consult our list when we have questions such as "is this a good time for lunch?" (no, there's a lock just around the bend). We've also used it to know that we'd be better off to circle in a deep wide place while a squall passes rather than risk having very limited visibility while in a narrow cut.
Not only do our helm notes help keep us out of trouble, they also considerably reduce the stress of tricky passages by making us aware of potential hazards ahead of time so that we can discuss them long before we're dealing with them. We have far fewer surprises and "what do I do now?" moments!
Further, with the information written down, it's easy to access if the other person isn't available to ask a question (napping, cooking, in the head) . . . and neither of us is relying on our memory!
Important note: helm notes don't replace keeping an eye out at all times; using your radar, depth sounder, and chart plotter; having paper charts handy to double-check and so on. Helm notes are simply one more tool. As is stamped on every chart:
The prudent mariner will not rely solely on any single aid to navigation.
Your VHF radio is one of the most versatile pieces of equipment on your boat, as well as your first line of communication in an emergency. Do you know how to use all of its amazing functions? Learn how in just a few hours!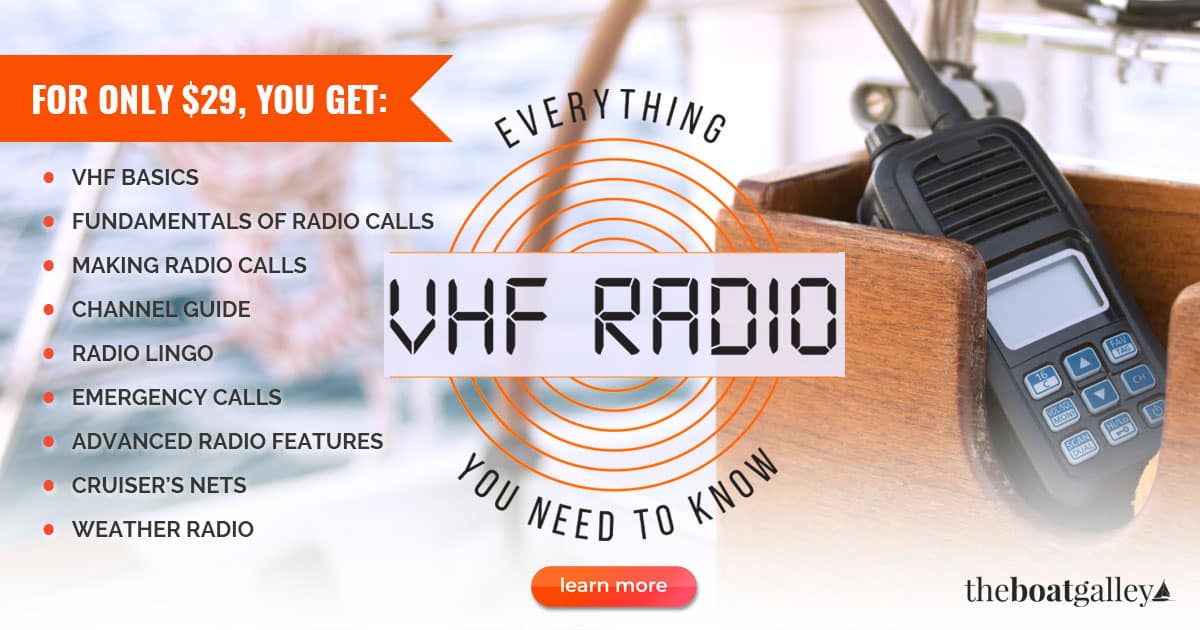 Some links above (including all Amazon links) are affiliate links, meaning that I earn from qualifying purchases. Learn more.