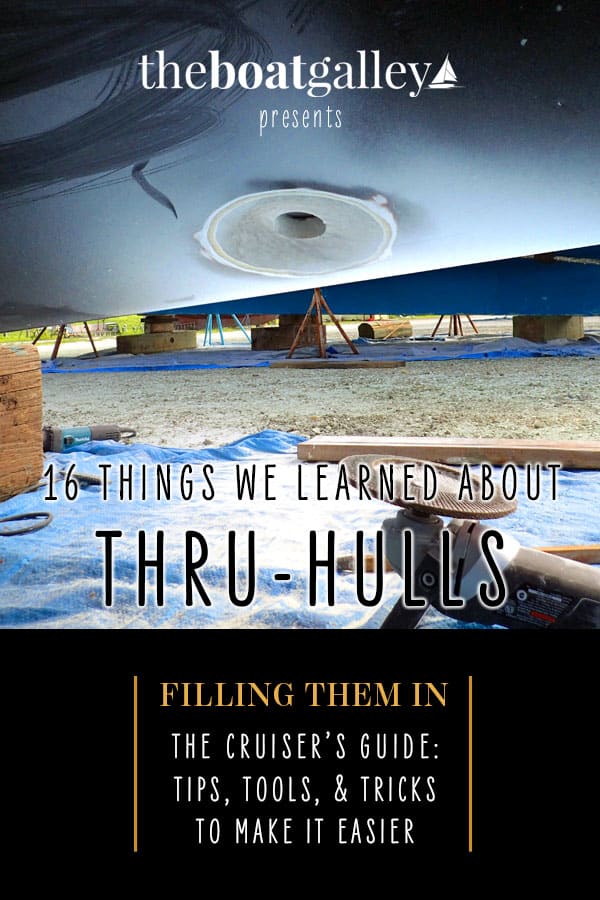 Want a few tips on filling in a thru-hull?
This isn't going to be a "how-to" on the project. You can get great information both in Don Casey's Complete Illustrated Sailboat Maintenance Manual and on the West Systems website. Nope, this is the stuff about filling in a thru-hull that either someone did tell us and was extremely helpful or that we wish someone had told us. (Links are to Amazon to show the products discussed in case they're new to you – several were new to us – but you can get most of the items at hardware and home improvement stores.)
Protective gear. Get and wear protective gear from the start: sanding/particle masks, a bunny suit (Tyvek is best but one that's breathable may be more tolerable in summer heat), goggles, and gloves (latex are fine if you're not allergic to it). The materials for filling in a thru-hull are both itchy and hazardous. Dave added a paint spray hood when he was doing the worst of the fiberglass grinding to keep the dust from getting around his neck. Get plenty of masks and gloves – we had 10 masks (about right) and 15 pairs of gloves (could have used more)

Second person. You can fill in a thru-hull single-handedly and many portions (grinding . . .) are really one-person jobs. But when you start working with epoxy and fiberglass, a second set of hands is really helpful. The second person will be working with fiberglass and colloidal silica, so get protective gear for them too (if nothing else, make sure anyone who is near the colloidal silica wears a particle mask – it's bad in your lungs!).
Wood plug. If your thru-hull is like ours and has a thick wood backing plate, a good way to fill that hole (not the hole in the hull itself but the inch or so extra through the wood) is to use a hole saw of the appropriate diameter and cut a wood plug that you can epoxy into place. Don't let it intrude into the fiberglass hole of the hull and use thickened epoxy to secure it. If needed, put a screw into the drill hole left by the hole saw to hold the plug, then after the epoxy has cured, remove the screw and fill that hole with epoxy. Then apply a few layers of fiberglass cloth and epoxy on the inside over the whole backing plate.
Showers. You're going to be working with fiberglass every step of the way, from grinding it to cutting and applying layers of it to sanding it again. The stuff is nasty, itchy and painful on your skin. As soon as you finish for the day, take a cool (not hot!) shower and change into fresh clothes. Don't wait! (Related and possibly TMI: be careful going to the bathroom that you don't get fiberglass shards on your genitals. It hurts. Badly. For days.) Do not even think of filling in a thru-hull in a boatyard without a reasonable shower.
Time. This project – filling two thru-hulls – took about 10 days but part of that was that we did it in the middle of summer when it was brutally hot and we just couldn't work out in the sun more than about 4 hours a day. But some of that time was that we couldn't apply too many layers of fiberglass and epoxy in a day so that it would cure properly (we did 13 layers a day). Grinding and sanding is hard work, too. And cleaning up each day – both yourself and the work area – takes time. It's not going to go as fast as you might expect. And you want to do it right – this is a hole below the waterline, after all.
How many layers in a day? The books say not to do too many layers at a time due to the heat that builds up in the curing epoxy. There's also the weight of the wet fiberglass/epoxy and the fact that you're probably working on a vertical to overhead surface — you don't want gravity to start making the fiberglass slip (note: Don Casey mentions holding the fiberglass cloth with masking tape when working on a vertical surface; this created a huge mess for us and we found we were better off with just epoxy to hold the cloth). Theoretically, you can do some layers, let it start to cure, do some more, let it start going off, etc. and do the whole layup in a single day without having to do any sanding or between-coats prep. We were exhausted long before then and so had to prep the cured layers from the previous day each morning by sanding and washing with acetone. Typically we did 6 or 7 layers in one hole, then the same in the other hole, took a break, then did 6 or 7 more layers in each hole before calling it a day.
On to tools that we found helpful, tips and amounts of things we used. This list is not complete – you'll see other things mentioned in the "how to" articles. This is just the extra stuff we wished we'd known . . .
Flap disk. The instructions say to grind the fiberglass out to a diameter 12 times the depth you are going to fill. A friend at the boatyard here told us about a great tool to do this with – a "flap disk" (sometimes called a flap wheel) on a buffer/sander. Dave first used a 4" diameter 36 grit one to get things started, then switched to an 8" diameter to finish it. NOTE: Neither Dave nor I had ever seen or heard of these (and my dad owned a hardware store!) so here's a photo — it was a HUGE help. Ace Hardware had them in stock and so do places like Home Depot and Lowe's.

Sander. Because we had to do the fiberglassing over three days, plus a fourth for adding a fill coat at the end, Dave had to sand the previous day's top layer before starting the next one. Lots of 80 grit sandpaper was used (don't use the flap disk here, it's too aggressive) – maybe 30 discs?
Acetone. Both to prep the surface each day and to clean things up. Two quarts. And lots of rags and blue paper towels. Plan to throw the rags out; don't try to wash the epoxy out of them.
Brushes. We first tried using throwaway foam brushes. Don't bother – they're horrible with epoxy. Use cheap bristle brushes (we used 1" and 1-1/2") and buy enough that you can use at least two new ones every day. We also had a squeegee and used it "some" but the brushes were the work horse of the project.
Epoxy pots. If you mix a fresh batch of epoxy in a pot with some left in it from the previous batch that's going off, the new batch will also go off almost immediately. (Ask us how we know.) Using a fresh pot stops this. But you can re-use the pots the next day – just pop the cured epoxy out. The pint Mix 'n Measure pots worked well for us and held up – the brand isn't important but some are not chemically resistant. Don't use red solo cups. We used three.
Epoxy pumps. Epoxy pumps are worth the money to get the mix right every time. Just leave them in the cans until the project is done; don't bother to clean them every day as you'll waste a lot of epoxy, acetone and time. We found that "two pumps" each of epoxy and hardener was about the right amount to work with (your preference may be different but it's a starting point). NOTE: Different brands of epoxy use different ratios of resin to hardener. Be sure to get the same brand pumps as epoxy.
Epoxy amount. Every boat will be different with the size of the holes and the hull thickness, but on a relatively thin-skinned catamaran we used over a quart of resin to fill two thru-hulls (and the corresponding amount of hardener).
Fiberglass. Wow! Did we ever underestimate how many layers we'd need – we'd thought at most maybe a dozen, and ended up using 39 per thru-hull! We could only get 6 oz. cloth (not the 10 oz. that Casey recommends) but it was amazing how it thinned out the minute it was wetted with epoxy. We used almost 3 square yards of fiberglass fabric on the two thru-hulls. Others filling thru-hulls in our yard have said the same thing — they expected to use 6 to 12 layers from what they read, and ended up with anywhere from 30 to 60+.
Fiberglass circles. Yes, I cut 78 circles from fiberglass cloth.

Don't cut the fiberglass in your lap unless you have several layers of protective fabric between the fiberglass and your legs – a large piece of cardboard is good.
The circles will go from the size of the thru-hull to the full circle you ground out. Don't worry too much about being exact – the fiberglass cloth is very loose weave and pulls and distorts as you put it on and soak it with epoxy.
Fold two or three layers of fabric together in quarters and then cut a quarter circle – much faster and easier than trying to cut a full circle.
Don't be surprised if you end up putting smaller on top of larger, etc., as you see how the layup is going. A couple of times we discovered we needed to go back smaller to keep things level.

Straight edge. A straight edge that's long enough to span the entire ground-out area will help as you lay the fiberglass, both to keep it level and to let you know how full the hole is (or isn't). An old 18″ metal ruler worked well for us. It also helps when you're doing the final fairing with epoxy/silica and then sanding.
Finally, check with the tech support people for whatever bottom paint you use to determine whether you need to use any sort of primer before applying bottom paint to the "new" hull area.
Read Next
Some links in this article (including all Amazon links) are affiliate links, meaning that we earn from qualifying purchases.