Growing up, my Mom's mantra was  "If you can read, you can do anything."
Cruising has proven the truth of that, over and over. I've gone waaaay outside my comfort zone to make a number of repairs and upgrades when I had never done anything remotely similar before:
Diagnosing an alternator problem and wiring in the replacement
Diagnosing a short in a solar panel (warranty replacement)
Figuring out that our voltage regulator was faulty, installing the spare and building a wiring harness for it (I'd never heard of a voltage regulator before reading Calder's "Not Charging?" troubleshooting section)
Using an SSB, then learning to send and receive email over it
Rebedding portholes
Replacing lifelines
And my latest one, replacing the LCD screen in our autopilot control head. Last fall, I wrote about having the display on our Raymarine TriData replaced and I contacted the source, Dan Gerhardt, once again about doing the replacement.
Dan responded that he had the screens and while he was willing to do the replacement, it was actually pretty simple and he'd send me "great directions" if I wanted to try it myself. I took a (very) deep breath and said I'd try it.
And you know what? I did it. I read the directions several times before starting, labeled everything that I took apart, took photos at each step and worked slowly. Ninety minutes later, we could see the autopilot control screen again. (If you need a replacement screen for Raymarine instruments or work on an autopilot, read this article.)

Now, I don't want this to seem like I'm the only one going out of my comfort zone. Dave's expanded his skill set as well, and we've had a number of joint projects where neither of us had experience.
Remove and fill in unused thru-hulls
Anchor for and ride out a hurricane
Installing a new refrigerator
Removed anemometer from the top of mast (going up the mast was definitely new for two people who didn't really like heights), got it working, and reinstalled it
Rebuilding watermakers on two boats (actually, just using one was something totally new)
Wiring in a shore charger
Tracking down and then fixing fuel problems with our diesel (yeah, three of them)
Splicing double-braid
Learning to manage our battery power (monitoring usage, charging and maintaining them)
The list could go on and on. I was shocked when Dave — admittedly, with a mechanic friend — decided to rebuild our diesel engine right in the cockpit. Not only does it now run (and it didn't before), it purrs.
My point here is not what all we've done, but to encourage others to tackle new things. Between owner's manuals, reference books, Google and YouTube, you can get lots of help. Or ask a friend who is experienced. Or even hire someone to teach you. You can do far more than you think you can.
Soon, the successes build on themselves and we both have taken on larger and more intricate projects. Start by learning or fixing small things and build up some confidence. I keep pushing my comfort zone outward and surprise myself with what I can do. I mean, I'm installing and repairing items that I didn't even know existed.
Mom was right. I learned to read and I can do anything. Bet you can too!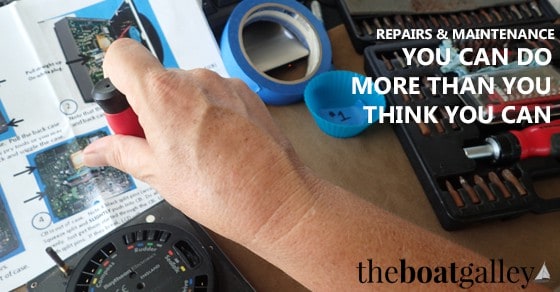 Some links above (including all Amazon links) are affiliate links, meaning that I earn from qualifying purchases. Learn more.