Need a RayMarine/Raytheon or Autohelm instrument or autopilot repaired? I have some good news for you . . .
Our Raymarine ST60 Tri Data display was shot. The center of the LCD had darkened almost completely — it got even worse than in the photo above — to the point where it was tough to see the depth and impossible to see the speed.
We contacted several Raymarine dealers and the answer was the same "Sorry, but we don't repair those. But I can sell you a new display that will work with your existing wiring." Price? Generally over $600 (even at Defender on their boat show sale, the display was almost $500).
Whew.
So I turned to the internet. eBay had the answer: a guy sold replacement LCD displays and, if you didn't want to attempt the very fine soldering to install it, you could send him your display and he'd install it for free. Cost? $139 plus shipping both ways (it totalled about $160 with postage).
This sounded much, much better!
I contacted the man and found out that his name is Dan Gerhardt. I sent Dan our display and a couple of days later he sent me a picture of it with the new LCD . . . and told me that he'd discovered that the buttons weren't working well, so he'd replaced them too – free. He then set up a special eBay "item" for the work and gave me the item number. I plugged that into the eBay search bar, bought it and paid. A couple of days later, I had the display back and it works beautifully!
Dan and I emailed back and forth a few more times as we also have a Raymarine wind instrument that does not work properly – we think it needs new bearings, but again the Raymarine dealers can't repair it (but they'll sell me a new one for $350). Turns out he works on those, too. We'll be taking ours down as part of our rigging project and will send it off to him – he says if it's the bearings, it's $99 plus shipping; if it needs other work, he'll let us know. (These prices are as of October 2016.)
Dan gave me permission to share his info here on The Boat Galley. He told me, "I buy, sell, repair mostly autopilots, some instruments, Raymarine/Autohelm/Raytheon only." He has great feedback from satisfied customers on eBay (see it here – 5 stars in every category and all positive reviews — obviously part of why I felt comfortable sending our gear off to him).
Dan doesn't always have "for sale" listings on eBay but if you send him an email, you can work something out. Be sure to tell him brand, model and the type of problem that you're having.
You can email Dan here.
I highly recommend Dan – I'd much rather repair gear than replace it! NOTE: I have no connection to him other than as an extremely satisfied customer.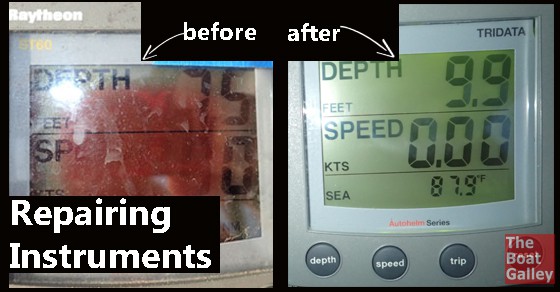 Some links above (including all Amazon links) are affiliate links, meaning that I earn from qualifying purchases. Learn more.