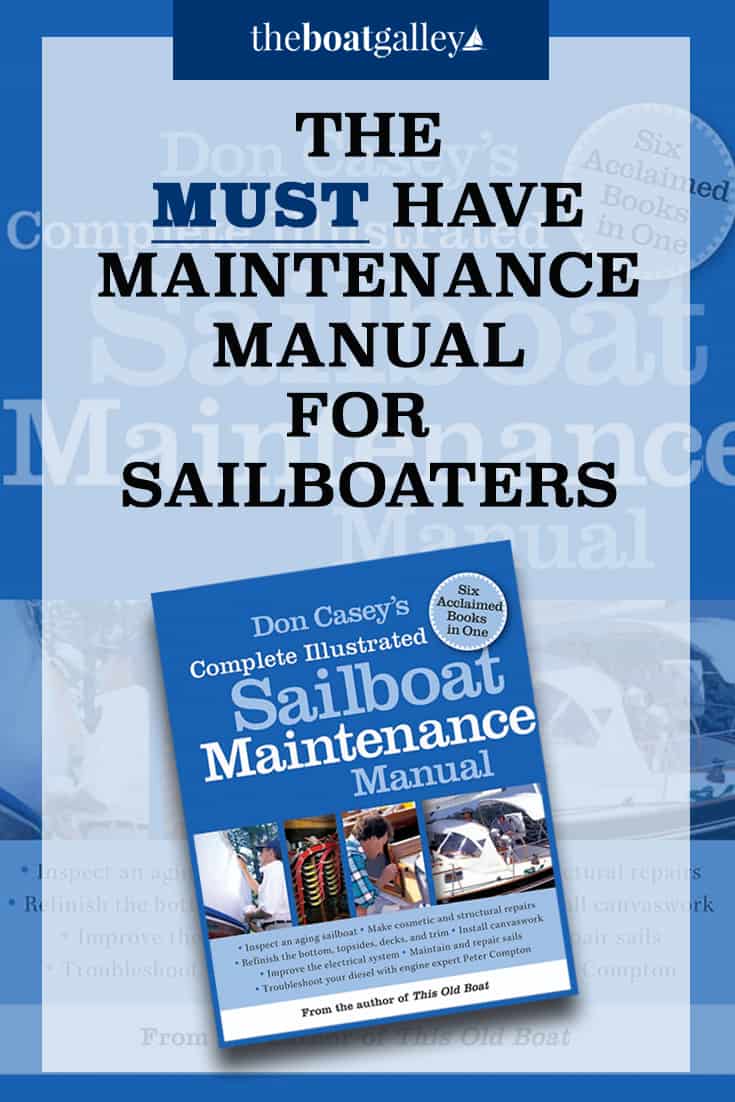 I've always loved Don Casey's boat books, and his Complete Illustrated Sailboat Maintenance Manual is no exception.
I'll get into what's covered in the book in a minute, but the big thing to know is that his books are wonderful for any topics where you find yourself feeling totally lost. He doesn't assume that you already are familiar with a system. He tells you what to look for, why you should care and what various things are telling you.
He leads you through troubleshooting in a step-by-step fashion and provides basic definitions of terms you may be unfamiliar with. In short, his books are understandable for the newbie, yet give sufficient detail for identifying and fixing problems. Further, his liberal use illustrations really helps me — and they're usually large enough to see what's being shown without resorting to a magnifying glass.
Simply put, Don Casey makes you feel like you can understand your boat and its systems and that you can tackle most problems.
We used his Boat Electrics Simplified extensively on Que Tal and found that it often allowed us to solve a problem or if not, that it provided enough basic information that we could then understand more advanced information in another book. We had three different "electric" books on board, and it was always the one I'd reach for first.
A little over a week ago, I received a review/boatwarming copy of Complete Illustrated Sailboat Maintenance Manual from International Marine. Full disclosure: they are the publishers of The Boat Galley Cookbook, too, and I'm one of their blogger/reviewers.
Don Casey's Complete Illustrated Sailboat Maintenance Manual includes 5 of his other books plus one by Peter Compton on diesel engines. There is no new material in this book — important to know if you already own several of the included books. But if you don't already own several, this book is both a space and money saver, costing about 40% of the combined cost of the six books.
And I prefer hard copies of reference books — I find it easier to flip through and find the info I'm looking for than with an electronic copy. So space is a concern. Combining six books into one saves five covers and about an inch of bookcase space.
Totaling 880 pages, these books cover much of the typical maintenance and repair on a boat (actually, any boat, not just a sailboat). If you have a real fixer-upper, however, his This Old Boat will provide far more information on a total restoration project.
The included books (I've linked each to Amazon if you want to buy just one):
Bottom line is that I highly recommend this book for just about everyone but particularly if you are looking for basic "101" type books on your boat's systems. We carry more than one reference book for each major system on the boat as no one book will cover everything you need or perhaps in as much depth as you need. Sometimes one drawing or photo will show something that another won't. So I'm not going to call this (or any other) book the only one you need. But as far as being a fantastic basic reference — usually the first one we pull out to learn about something — it's perfect.
Making Boat Life Better
Some links in this article (including all Amazon links) are affiliate links, meaning that we earn from qualifying purchases.