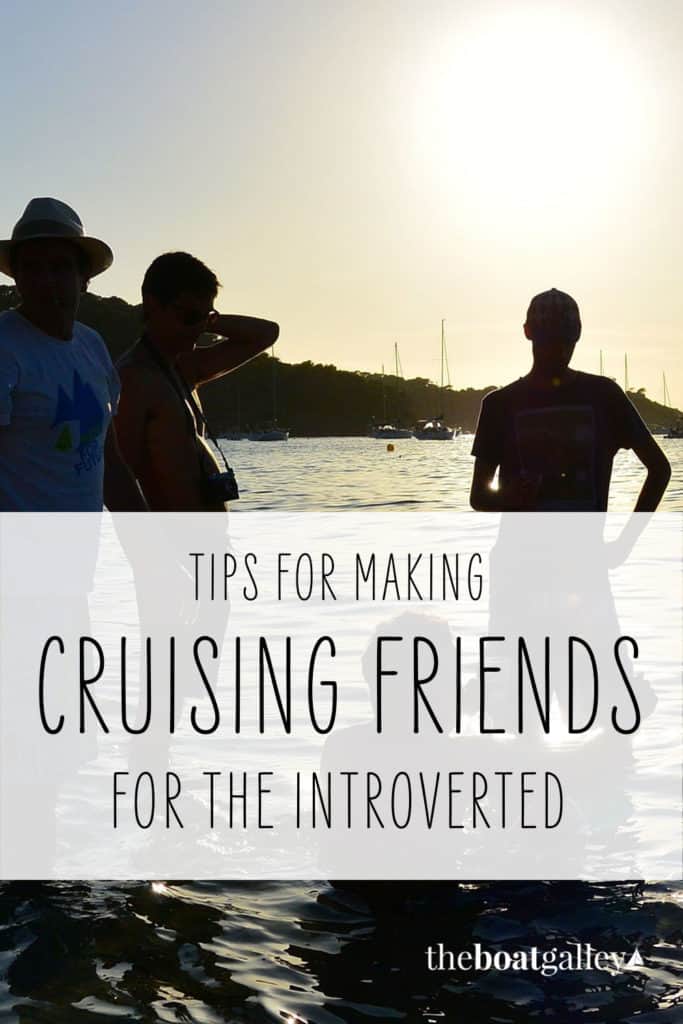 Friends are both one of the best things about cruising and one of the worst. Best because you meet some really amazing people. Worst because many of us are shy and find it hard to start speaking to strangers . . . and then once we do make friends, we end up going different ways.
If you've come from a close-knit group of friends in your "shore" life, moving aboard and being on the move can be one of the tougher aspects of the transition to cruiser. Add in the fact that so much about your new life is different, there's this huge learning curve, you're adjusting to spending 24/7 with whoever else is onboard, and it can be really tough.
I have several suggestions from what has worked for me and various friends, but please, chime in with your own solutions in the comments.
STAYING IN CONTACT WITH OLD FRIENDS AND FAMILY
If you are still in your home country as you are making the transition, being able to just pick up the phone and chat with your old friends and family can help considerably. Unlimited cell phone plans are wonderful. If you are in the US and over 55, check out T-Mobile's 55+ Unlimited plans for great rates, including unlimited hotspot data (see my article here — to tell you how good it works, I do everything for The Boat Galley through my phone's hotspot). There are also options for cheap international calling — see my article or podcast on Communications Apps.
When we started cruising in 2002 (in Mexico), our only way to stay in tough was through email. In 2005, we got a cell phone in El Salvador that featured calls to the US for 10¢ a minute (a 20-minute call for just $2!). Dave loved being able to call his old work buddies, sailing friends and kids — he has a huge network of people he stays in contact with.
When we went to the Bahamas in 2016, we knew that there would be times that wouldn't have cell phone coverage (and hence no data for online communications), so we got an inReach satellite tracker and text device. Among other things, you can text to any smartphone. Coupled with an unlimited plan for about $50/month, Dave was again able to stay in touch with his kids and friends no matter where we were. Read my article about the inReach or see one on Amazon. (Note: the inReach is now made/sold by Garmin but the older DeLorme units work just fine and are considerably cheaper. The difference is that the DeLorme units don't have all the built-in maps and navigational info that's really designed more for hikers).
MEETING NEW PEOPLE
If you're an introvert, meeting new people can be almost painful. You may not like crowds, or figure that everyone else seems to know each other so why would they want to talk to me? Several new cruisers have told me that they feel that more experienced cruisers are cliquish — everyone is talking to everyone and no one even says "hi" to me.
The very nature of cruising is that many people are on the move and there are others there who don't know anyone; they are also looking to meet people. The people who are "local" or seem to know others also generally want to meet others. I can't really say "don't be shy" because if you are, you are. But I can give some ways to break through:
Getting more comfortable. I have always felt that I was horrible at small talk. This, combined with a childhood speech impediment that took years of speech classes to correct, meant that unless I really had something to say to someone, I was reluctant to just step up and introduce myself and start chatting. One of the best things that I did was to get a little book called How to Talk to Anyone, read it and start putting the 92 lessons into practice. The first half of the book, in particular, is gold for how to break the ice. No, my small talk skills aren't suddenly perfect, but I am much more confident and hence comfortable now. (I know, another cruising skill to learn.)
How to Talk to Anyone (print and Kindle on Amazon)
Work parties. While group activities such as potlucks or cocktail hours can be intimidating as "just socializing," work parties such as clean-up days have a natural focus, making it easy to talk to others involved in the activity. And working together on a project naturally brings people together. When you hear the call for a beach clean up or even someone needing help with something that you can do (maybe just a ride to shore or an extra hand to hold a wrench on a nut), pitch in and use it as a way to meet someone new. We met some of our best friends here in Boot Key Harbor when we had engine troubles and asked for help.
Group activities. I know, I just said these could be hard. But volunteering to help with one — setting up tables for a potluck or organizing a horseshoe tournament — brings it back to working with others and giving you a natural focus for talk.
Take a class. You'll often find "classes" being offered in and near anchorages and marinas. Yoga is always popular, but there may be short seminars on splicing, freediving, fishing, crafts and more. If it's something you're interested in, you'll have something to talk about with the other participants.
Find people with similar interests. Again, having a similar interest — playing dominoes, crafting, hiking, snorkeling, diving, spearfishing — makes talk easier and friendships follow naturally. Notice who's doing the things you enjoy and contact them to do whatever it is. Chances are, they'll love finding someone with similar interests!
What would you like to learn to do? Is there something that you've always wanted to try or learn? Beading? Wire crimping? Editing photos? Many cruising centers have a VHF net (learn about them here); ask if there is anyone who could teach you.
Say YES. When you're invited to join others for cocktails, dinner at a local restaurant, group sightseeing, or whatever else, try to say "yes" even if your first impression of the other people is that they're "different." (Obviously, use your own good sense for any security concerns.) Some of our most treasured friends and truly wonderful people have been just a tad bit outside the mainstream or gave a poor first impression. Give them a chance to show how interesting they can be. A second point is that one of the very things that I love about cruising is getting to connect with people I'd never would have met otherwise: people from all over the world, all different religions, customs, appearances and so on. My life is much richer for saying YES.
And then, when those big "social events" come up, you'll know a few people and feel like you belong. And as an "insider," you can watch for the people who are looking a little left out and try to include them.
FACEBOOK GROUPS
Joining some of the various cruising-oriented Facebook groups also helps with getting to know people. When you're just starting out, they're a place to get information. Then as you're traveling, you'll be able to meet up with people you've met in the group — or just put out a call for people in your location and you'll probably find someone to get together with. I've developed some great friends through some of my Facebook groups — and it's instant rapport when you finally do meet each other in real life since you already know each other.
I can't list all the Facebook groups for cruisers, but here are a few. Each one is different as to its focus and rules. If you don't like one, try another.
There are also numerous regional groups (Bahamas, Cuba, Sea of Cortez, Caribbean islands . . . thousands more all around the world) and these are an excellent place to get to know people before you get somewhere.
STAYING IN TOUCH
Once you've made these friends, how do you stay in touch with them after heading in different directions? More than once, I've heard that as the reason for not wanting to make close friends along the way: "it just hurts too much to keep parting."
I can't pretend it's not true. It hurts to say goodbye.
The good part is that so many times we find our paths crossing again after we think we've parted "forever." Friends who went on a cruise and ended up just 50 miles from us. Of course, we drove to spend a day with them. They also stopped to see us — two different times — when driving across the country. Another couple that we last saw in the Bahamas . . . who came to Boot Key Harbor (where we were) to spend a week on her sister's boat. And two different boats that we last saw in the Sea of Cortez and then ended up seeing in South Florida! Others with whom we just keep crossing paths. But those and other similar stories are the exceptions, to be sure.
Whether or not you really "like" Facebook, it is THE way that cruisers stay in touch with each other as well as friends and relatives back home. Instagram is an easy way to share photos of what you're up to.
For longer descriptions, blogs and YouTube are the way to go . . . posting new entries, of course, on Facebook.
Phone calls, emails, texting and so on work for a limited number of people, but once you've been out for even a short while, you'll find that the number of people you want to keep in touch with is too big for that (when we began cruising in 2002, we kept a huge email list that we sent updates to every month . . . and got similar missives back from). Social media has its disadvantages for sure, but it's a great way to keep in contact when living a nomadic life.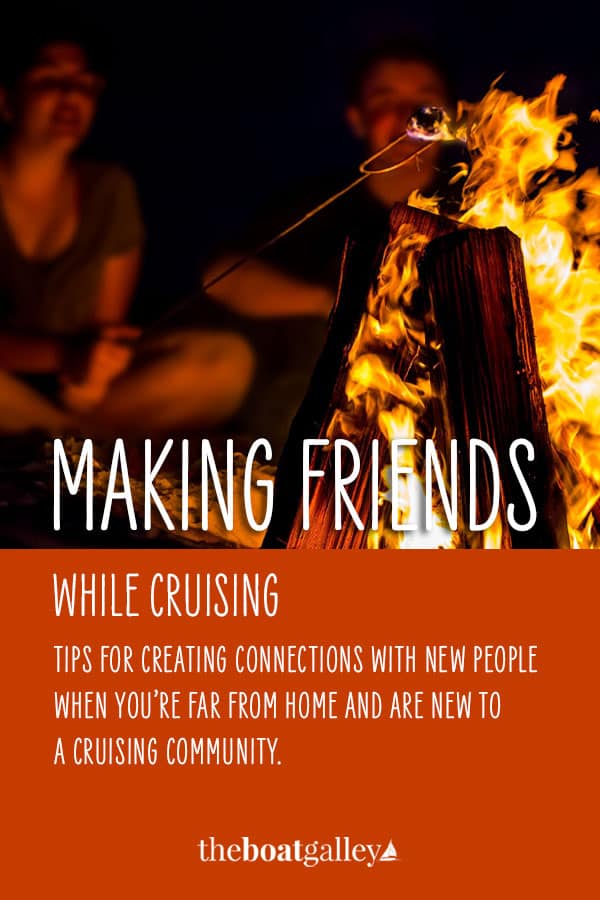 Learn all about the cruising lifestyle in Unwritten Rules of the Cruising Life – just $29.

Some links above (including all Amazon links) are affiliate links, meaning that I earn from qualifying purchases. Learn more.