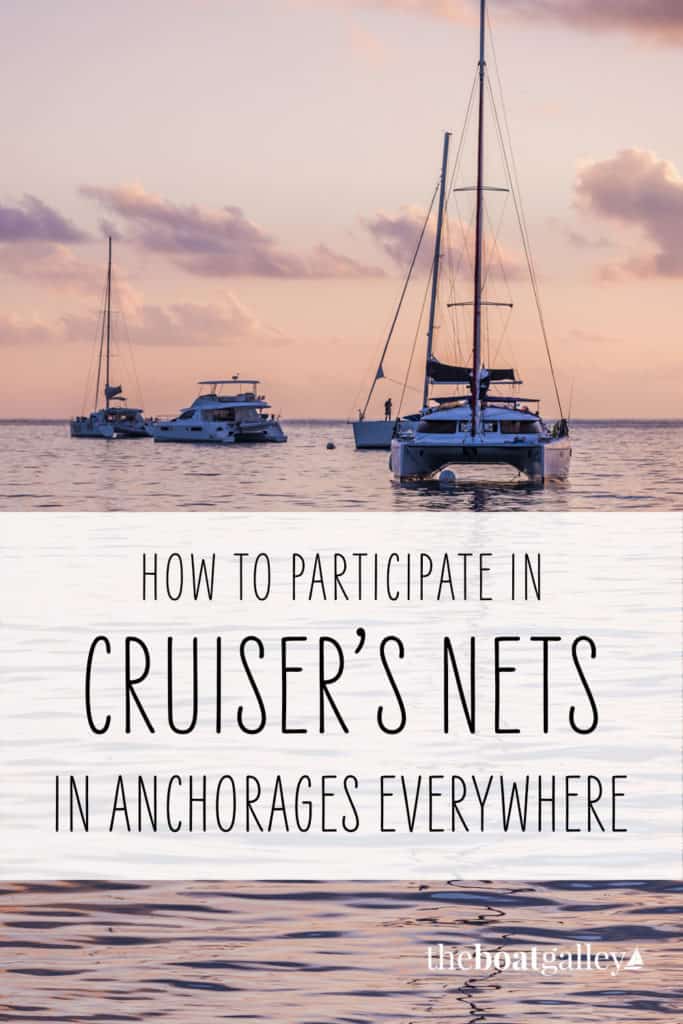 If you read much about cruising, sooner or later you'll hear about the "cruiser's net." So what is it exactly and how do you join in?
Most popular cruising harbors have a local VHF net and, if you have an SSB or ham radio aboard, you'll find them there too. Generally, they take place every day at the same time and same channel — although some ham/SSB nets have a primary frequency and one or more backups that are used when propagation changes due to season of the year or sunspot activity.
Want to be a safer boater? VHF Radios: Everything You Need To Know (online course) will help you unleash the power of your radio from routine calls to advanced features such as DSC, AIS and weather. Only $29.
WHAT IS A NET?
Every net has its own personality, but in general they're a way for cruisers to connect with each other, get information and help and provide the same. In places with limited internet, a weather forecast may be a prominent feature, others may focus on local knowledge in the form of "where to buy ____" and what's happening in town, and offshore nets usually focus on checkins and helping with problems (boats, weather and medical).
By the way, don't think that nets are just for boat owners — listen in when you're chartering to get the local scoop!
TYPICAL TOPICS COVERED
Most nets follow a reasonably set order of topics — not all hit all of these and every net has its own order of topics.
Welcome and brief overview of what will be covered — very helpful if you're new to the particular net.
Call for any emergency traffic — health, boat problems, etc. The equivalent of calling 911, not for minor items but true priority items.
Weather and tides
Check-ins by all listeners or new arrivals and departing boats only
Announcements — cruiser activities, local events, astronomy (meteor shower tonight, for example), volunteer opportunities and so on. Usually, this is NOT the place for items for sale.
Help needed — smaller stuff that's not a true emergency, such as troubleshooting a mechanical problem, needing a ride to shore, where do I buy _____?, can you recommend a local ______?
Buy/sell/trade/giveaway — note that some countries do not allow foreigners to sell items so listen carefully when in a new locale and ask if you don't know. This is a great way to find good used gear and sell items you don't need.
Closing
PARTICIPATING
Most nets welcome participation, so don't feel nervous about joining in. A few notes to make your first time easier:
Controlled Nets. Almost all cruiser nets are "controlled nets," which simply means that there is a net controller who acts sort of as a master of ceremonies. When you want to talk, you do the net equivalent of raising your hand: you state "your name" — on VHF nets, this is your boat name, on SSB and ham nets, it is usually your call sign although some also use boat names. Then, when you are "recognized" in radio parlance ("called on" for the rest of us) you say what you want to (called "passing your traffic" in radio-ese). Some nets are more tightly controlled than others, wanting you to be recognized before every transmission, even in an ongoing discussion (say, arranging a ride to shore). Listen to see how a particular net operates.
Background Noise. If you are going to speak, it's common courtesy to turn off sources of background noise — generators can produce quite a bit of electrical interference as well as simple noise; other radios and stereos should be turned off; and so on. SSB and ham radios can be affected by fluorescent lights, refrigerator compressors, engines, and wind turbines, too.
One at a Time. Radios work best when one person talks at a time and create a jumbled mess if more than one person tries (boats near one talker may only hear that one while boats near the other hear that one, and those in the middle hear gobbledygook). So don't always rush to be the first to speak when a category opens up. Take a breath and make sure the air is clear, then say your boat name and wait to be called on. Pro tip: Be sure to press transmit before you start talking, not as you are starting to talk — otherwise the first syllable or two will be cut off.
"After the Net." Many times, a topic will seem to be of interest only to a limited number of people or will take a lot of time to explore in detail. Often, the net controller or one of the participants will make a suggestion to continue the conversation "after the net" — and on a VHF net, will usually suggest an alternate channel so as not to clog the local hailing channel.
Breaking In. Got a true emergency in the middle of the net and need help? Wait for a pause and call "BREAK BREAK" followed by your boat name. When called on, then explain what's happening. Do NOT use the double break if you just want to be heard in a conversation (use a single BREAK then) — BREAK BREAK is for serious emergencies only — maybe not quite to the level of a MAYDAY or call to 911, but close. If two people are talking about something and you can't get a word in edgewise (or on an "after the net" discussion), use a single BREAK and your boat name to indicate you want to talk.
FINDING THE NETS
By far the easiest way to find out the local time and channel for VHF nets is to simply get on the VHF (Channel 16 or if you know the local hailing channel, use it) and ask. Cruising guides and Active Captain sometimes list nets but the information can be outdated.
Finding the SSB and ham nets can be a little tougher. I find Google to be the most help ("SSB nets Mexico" for example) but Facebook groups run a close second.
LISTEN IN
I never thought to record a cruiser's net, but luckily one of my co-podcasters at Boat Radio did and it's a pretty typical example. I wish I'd had one to listen to before we started cruising — I would have been far less intimidated by the whole idea of checking in on the net! So if you want, grab a cup of coffee (or wine or beer if a little later in the day) and listen in to the George Town, Bahamas Cruiser's Net: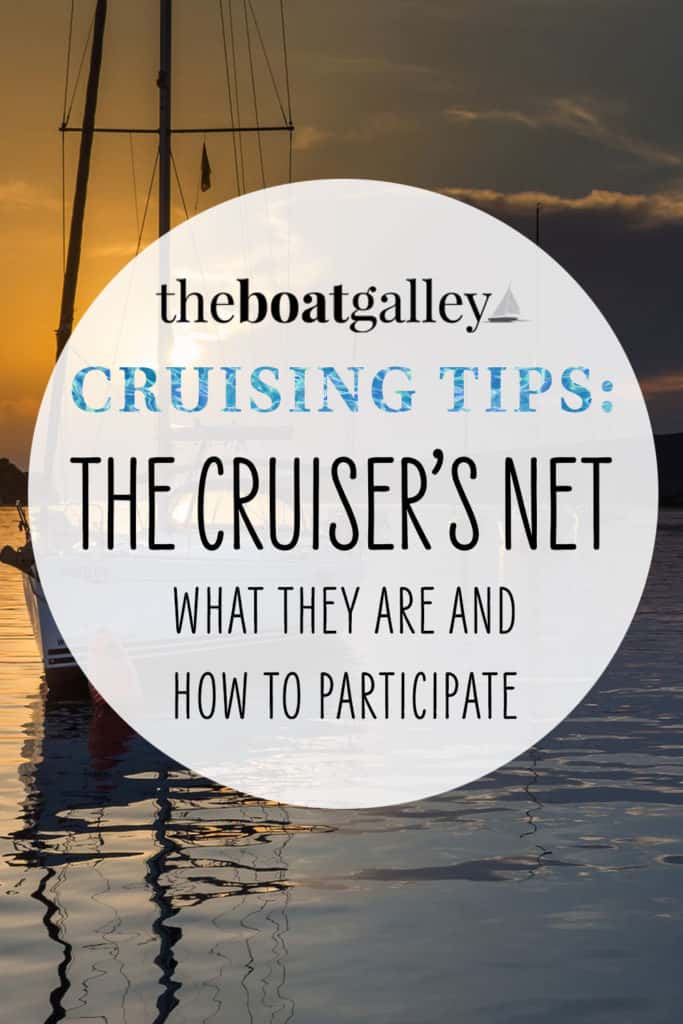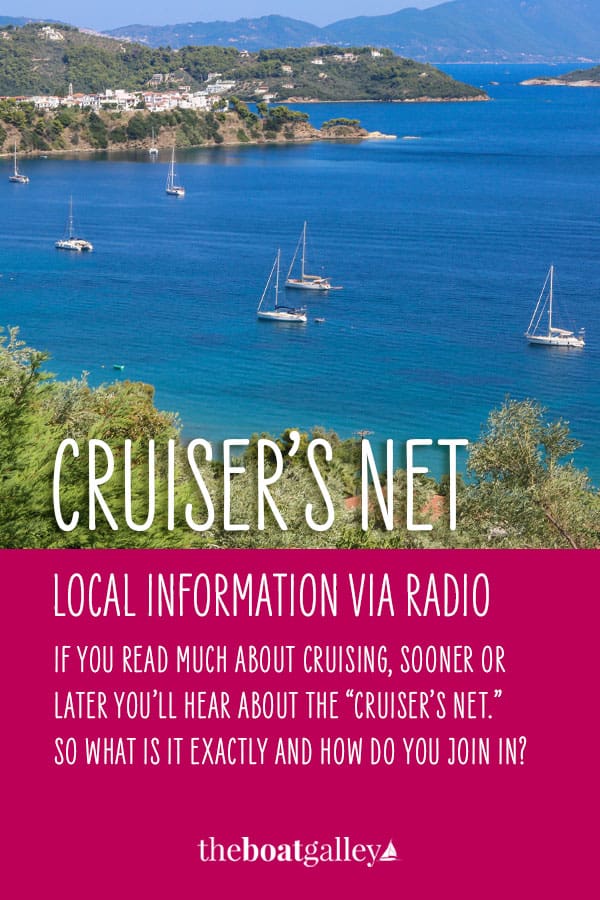 Your VHF radio is one of the most versatile pieces of equipment on your boat, as well as your first line of communication in an emergency. Do you know how to use all of its amazing functions? Learn how in just a few hours!

Some links above (including all Amazon links) are affiliate links, meaning that I earn from qualifying purchases. Learn more.