Do you cruise in areas with a lot of other boats – or are you planning to?
If so, do everyone around you a favor and switch your VHF to low power when you're calling a boat, bridge or marina within a mile of your location.
Want to be a safer boater? VHF Radios: Everything You Need To Know (online course) will help you unleash the power of your radio from routine calls to advanced features such as DSC, AIS and weather. Only $29.
Sure, use high power when you need to call a longer distance or if someone just can't hear you well. But if you're using high power, remember that you're tying up the airwaves on that channel for about 12 miles in ALL directions. That's a LOT of boats that can't use that channel while you are.
Some channels are automatically low power on most radios, but on others – particularly for hailing on VHF 16 – you'll have to manually switch to low power. There's usually a button on the radio or a remote mic that makes this quick and easy.
Switching to low power does nothing to your receiving, so leaving your radio on low power won't interfere with hearing important calls. If you reply to someone and they can't hear you, you can switch to high power at that point.
Your VHF is one of the most important safety devices on a boat. If you want to know more about the ins and outs of its operation, we have two resources for you – first to learn effective operations and second a quick reference designed to be used right at the radio:
And for information about all those bridges you'll be calling on your radio (and so much more), check out the Atlantic ICW Cockpit Quick Reference Guide.
By the way, John Herlig, who created both VHF resources for TBG teaches the VHF radio course at Cruisers University at both the spring and fall Annapolis Boat Show. Be sure to say hi to him if you're there! 
---
Be sure to subscribe to The Boat Galley newsletter to keep up with what we're up to and get helpful tips and encouragement from the water.
---
Our FREE Provisioning Spreadsheet
Wondering how much of what foods to take on your next trip? Know just how much to buy of what — all arranged by grocery store aisle — with our handy Provisioning Spreadsheet. Includes detailed instructions to edit it for your favorite foods, how much your family eats, and how long you'll be gone. No spreadsheet skills needed!
It's FREE — get it here.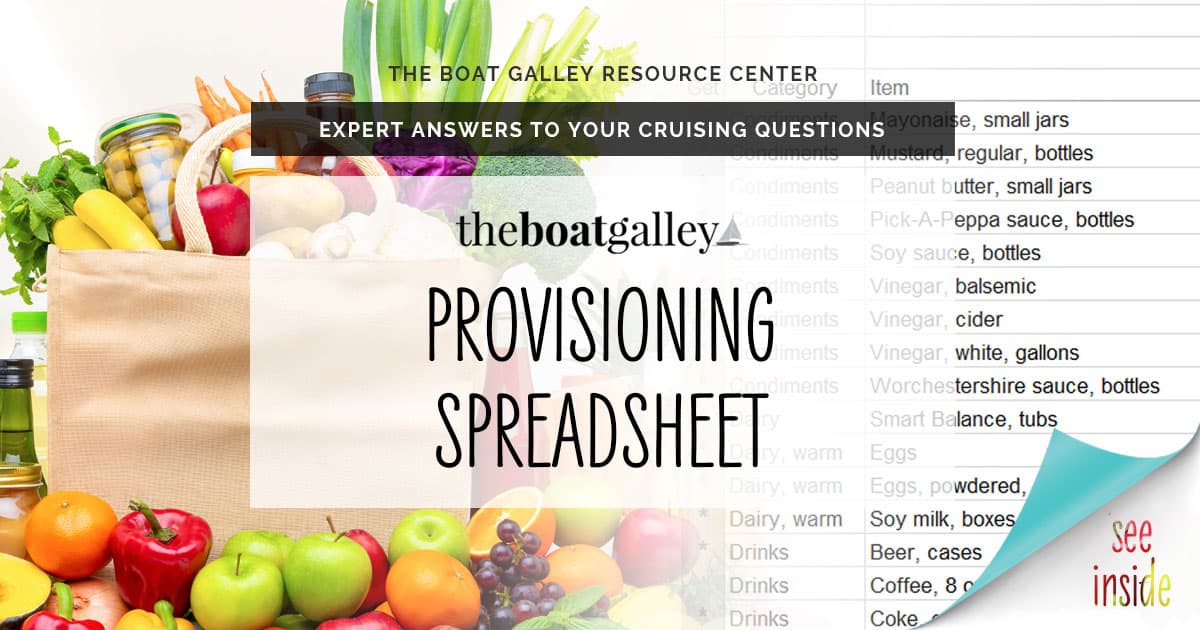 Your VHF radio is one of the most versatile pieces of equipment on your boat, as well as your first line of communication in an emergency. Do you know how to use all of its amazing functions? Learn how in just a few hours!

Some links above (including all Amazon links) are affiliate links, meaning that I earn from qualifying purchases. Learn more.