About six months after we began cruising, a local fisherman offered us scallops — that pile in the photo. Now, coming from the midwest, I'd never even had scallops before, much less cooked them. But I knew they were considered a delicacy.
And so we bought the scallops — or rather, we traded some flashlight batteries and a couple of beers for them. And I quickly pulled out a seafood cookbook, found a recipe and carefully followed the directions. I can only describe the result as white hockey pucks. Rubbery is an inadequate term for what we tried to eat that night. Dave and I decided that we just didn't get the appeal of scallops.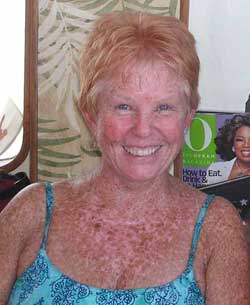 A year later, our friends Robin (pictured) and Martin invited us aboard their boat, The Cat's Meow, for dinner . . . and it turned out that scallops were on the menu. Dave and I exchanged a glance, but it seemed rather impolite to jump overboard to avoid the scallops, so we resolved to eat at least a few.
My first bite into Robin's scallops told me that I'd been wrong to think I didn't like them. The scallops she served simply melted in my mouth. And so I asked how she prepared them. She had to have some secret! Since my disaster, I'd seen another recipe calling for pounding scallops to tenderize them. Was that what she'd done?
"No," Robin told me, "the whole secret is to just barely introduce the scallops to warmth."
Robin went on to explain that basically you don't want to think of it as "cooking" a scallop, as they get tough very easily (yeah, I knew that!).
Robin's technique — and now mine — is to cook the other ingredients in the dish (say pasta and a butter sauce with garlic, green onions and sun-dried tomatoes in olive oil), then toss the scallops into the pan, turn the heat off, put the cover on and wait 2 to 3 minutes until the scallops were just opaque.
I've used this technique numerous times since then, and had great results.
If you use frozen scallops, they need to be thawed first. The best way to thaw them is to put them in a sealable plastic container with cool water and put it all in the refrigerator for 30 minutes or more until they're thawed (larger ones will take longer to thaw than small scallops). Drain the water and pat them dry before using them.
And what made me write about this today? I have some scallops in the freezer and was looking for a new recipe for dinner. And the first three recipes I looked at told me to (1) broil the scallops for 15 minutes a side, (2) saute them until "a deep golden brown" and (3) grill them over a hot fire for 5 minutes a side. No, thanks — I've had hockey pucks before!
I have no idea why otherwise good cookbooks give this information, but I suggest you ignore directions like those and "just barely introduce the scallops to heat."  You'll be glad you did!
Want some help with that tiny refrigerator? Check out our step-by-step how-to:


Making Boat Life Better
Some links in this article (including all Amazon links) are affiliate links, meaning that we earn from qualifying purchases.