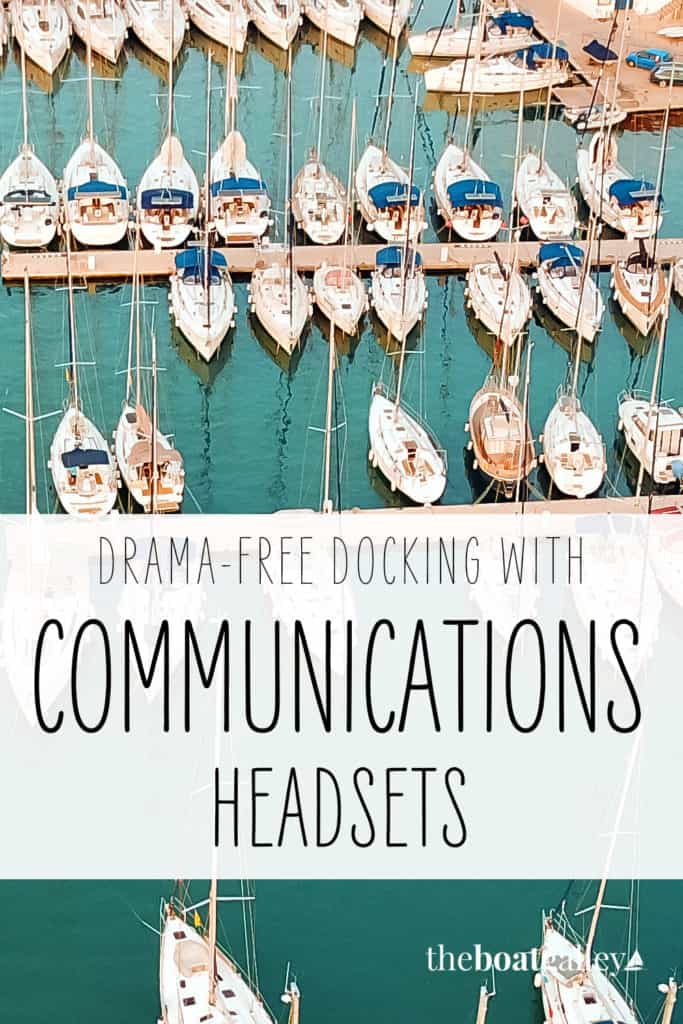 Communication headsets are a wonderful tool on a boat. When we bought our first boat, it came with a set of "toy" headphones that were great the few times they worked. (The toy headsets are totally unsuitable for a boat — they fall off, batteries don't last, wind noise can be atrocious, and they corrode in no time in salty air; don't waste your money.)
Cruising Mexico at the time, we couldn't get real ones — and there weren't many available even in the US. Since then, the technology has advanced considerably and headsets are sophisticated devices that can make life aboard much less stressful.
But good headsets aren't cheap, starting at about $275 for a 2-person system, and you want to be sure to get a set that will do what you need them to. I'm not an expert and, despite getting many questions on the topic, never felt comfortable discussing the pros and cons of different models. So when Steve Charlebois, owner of Sea Dog Boating Solutions (a TBG sponsor), offered to write up a comparison of the ones he sells, I said "please do!". This is his guest post. UPDATE: we now own the Sena Bluetooth headsets and love them!
---
The Need for Communication Headsets
Have you ever wished there was a better way to communicate with each other or with multiple people while on your boat?
Having a good hands-free way to communicate while docking, anchoring or doing your mooring approach can make boating much less stressful. Imagine no more yelling over the wind/engine noise or trying to see hand signals to communicate on your boat. A full-duplex system is where each person can speak simultaneously and everyone can speak and hear each other at the same time. For a two-way system, it is like talking on the telephone. Each person can speak and hear the other person at the same time.
You can buy communication systems that are designed specifically for the boating environment with great features like a headset that wraps around the back of your head/neck so when you lean over to work with a line, the headset doesn't fall off into the water or crash onto the deck. There are noise cancelling headsets for power boats or other noisy boating environments. It really depends on what your needs are and a system can be designed to accommodate your specific requirements.
I've put together a table that describes different communication systems that I believe make boating more enjoyable and less stressful – Sea Dog Boating Solutions Headset Table (click link to view PDF or right click to download and save).
These communication systems, often called "marriage savers," provide a solution for the following situations and environments:
Foredeck to Helm

Deck to Mast Head

Navigation Station to Helm

Helm to Bow

Anchoring

Mooring or Docking

Traveling through locks

Trailering – loading, unloading and parking

Fueling your boat
Eartec Simultalk 24G 2-Way System
The Eartec Simultalk 2-Way is my most popular system. This is a cost-effective system that allows boaters to communicate easily in a full-duplex environment. This allows both people to speak and hear the other person at the same time.
There are no buttons to push once you have the radios set up which is really easy to do. There is a Master Radio and a Remote Radio.
The nice thing about the Eartec Simultalk 24G system is that there are many different options for headsets if you want to customize your system. The system comes with the Cyber Headset which is a very lightweight headset (less than 1.25 ounces) that wraps around the back of your head/neck and is very comfortable. You don't even realize the headset is on your head.
The Cyber Headset design is great for boating because the band goes around the back of your head/neck so it is not going to fall off as you are bending over, tending to lines or other items. The Cyber Headset has only one speaker which is on the left side. If someone wears a hearing aid in their left ear, this may not be a good headset choice. There are many other Eartec headsets that are available which can be used with the Eartec Simultalk 24G radios and can be chosen instead of the Cyber headset.
The cons to this system is that there is a separate radio/belt pack (Master and Remote) which the headset plugs into. There is a wire running from the headset down to the radio. The radio/belt pack can be clipped to your waistband or you can stow it in a pocket. Some folks don't like the wire because it can get caught on stays or lifelines or other items on your boat. This really is a personal preference.
The Eartec Simultalk 24G also offers a 3-Way and a 4-Way system but once you go beyond a 2-Way system, it is NO LONGER a full-duplex system. If you are looking for a full-duplex system for 3 or 4 people, check out the My Team Talks Headset System.
The Simultalk 24G 3-Way or 4-Way system does have applications where this setup still works well. In each of these systems, there is a Master Radio and either two Remote or three Remote radios depending on whether the system is set up as a 3-way or a 4-way system. So for a 3-Way system, there is now a Master and two Remote radios (lets call them Remote1 and Remote2).
Both Remote radios (Remote1 and Remote2) can hear the Master radio speak but the two Remote radios cannot hear each other since they are using the same frequency. So both Remote radios could hear what the Master is saying but only the Master radio will be able to hear what each Remote radio is saying. Only one Remote radio can speak to the Master radio at a time. So if Remote1 comes out of the Standby Mode into Transmit mode, the Master radio will be able to hear Remote1 speak. The Remote2 radio will not be able to hear what Remote1 said, but Remote2 will be able to hear what the Master says to Remote1. When Remote1 is done speaking, they should go into the Standby Mode so that if Remote2 needs to speak to the Master, Remote2 can go into Transmit mode and speak with the Master radio.
My Team Talks – Sena Bluetooth System
My Team Talks is a Bluetooth system made by Sena that can be used with 2-4 people in a full-duplex environment. Each headset is sold individually and comes with the headset, boom microphone, mini microphone, a USB power and data cable, a stereo audio cable and a set of rubber earpads. A minimum of two headsets are required to make a system.
The headset uses Bluetooth 3.0 technology for the intercom mode which allows you to communicate between headsets. The headset weights about 4.25 ounces and all the electronics are built into the headset. These headsets sit comfortably on your ears and have a headband that wraps around the back of your head/neck.
The controls are located on the left earpiece. There is a speaker for both the left and right ear. There is a volume control that allows you to adjust the volume so you can hear in whatever environment that you are in. The boom microphone can be adjusted so the others can hear you speak clearly. These headsets do not need any other equipment to communicate with each other.
You can also use these headsets to listen to music and you can even pair up the headset with the Bluetooth on your cell phone and answer your cell phone calls while it is safely stored below deck.
This system does NOT use any belt pack and there are no wires to get caught on stays or other boat equipment. These headsets can be configured to work with up to four headsets so you can have four individuals communicating in a full-duplex environment without having any buttons to push. All four people can speak and hear each other at the same time.
Eartec Comstar
The Eartec Comstar system is a more sophisticated system that can to allow up to eight people to communicate simultaneously without any buttons to push.
There is a Com-Center base-station that is the center of communication and the headsets will work up to 400 yards away from the base station in either direction so you can communicate and be up to 800 yards from each other.
There are two types of headset setups that can be used with this system. There is the All-In-One headsets, with a choice of three different headset options, which have all of the electronics built right into the headset. The other option is to use the Comstar Compak belt pack which then has one of many different headset options that plugs into the belt pack. The Comstar All-In-One headsets and the Comstar Compak headsets can be used together as part of up to eight systems that can communicate together.
This system is ideal where you know that you will need more than four people communicating in a full duplex environment. It allows you to add additional headsets/users to the system at any time in the future. The base station comes with an AC power cord or can be operated with Ni-MH batteries. This system is very flexible and allows you to meet each individual's headset preference.
See the Eartec Comstar system from Sea Dog (NOTE: It appears Sea Dog no longer carries the Eartec Comstar system. But they do carry replacement batteries and chargers – just follow the link.)
Read Next
Here's your "Quick Start" to everything you need to know when living on a boat:


Making Boat Life Better
Some links in this article (including all Amazon links) are affiliate links, meaning that we earn from qualifying purchases.