Yum! There is nothing so good as fresh, hot coffee cake in the morning. This recipe is the same as my Streusel Coffee Cake, adapted for use in the Omnia Stove Top Oven.
Read more about the Omnia here or buy the Omnia Stove Top Oven on Amazon.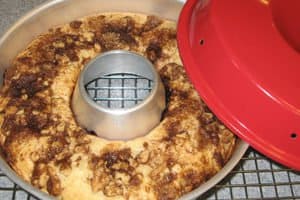 Streusel Coffee Cake for the Omnia Stove Top Oven
Not only is this coffee cake delicious, the recipe is designed to be made by hand and it bakes perfectly in the Omnia, taking just 45 minutes from start to finish.
Print Recipe
Pin Recipe
Ingredients
Topping
1/2

cup

walnuts or pecans

OR chopped dried, fresh or frozen fruit

2

tablespoons

sugar

brown or white

1/2

tablespoon

flour

1/2

tablespoon

butter

OR margarine OR canola oil OR vegetable oil

1

teaspoon

cinnamon

OR allspice
Batter
1-1/2

cup

flour

3/4

cup

sugar

1

teaspoon

salt

2-1/2

teaspoons

baking powder

1/2

cup

raisins

OR chopped dates OR other chopped dried fruit or fresh or frozen fruit

1

egg

1/2

cup

milk

OR soy milk OR water

1/4

cup

canola oil

OR vegetable oil OR melted butter or margarine
Instructions
Make the topping by mixing the nuts, flour, butter and cinnamon to form crumbly mixture (it will not all clump together). Set aside.

Mix flour, sugar, salt, baking powder and fruit in medium bowl.  Add egg, milk and oil; stir until well mixed. Batter will be thick.

Place the steel base for the Omnia on a hot burner and let it preheat for about three minutes as you ready the coffee cake.

Lightly oil the aluminum food pan of the Omnia (my experience is that oil or a bit of butter or margarine does much better than non stick sprays).  Pour the batter into it and smooth it out.  Sprinkle topping over batter.

Place the lid on the food pan and carefully place the pan on the hot base.  Leave the burner on hot for one minute (60 seconds).  This is important for heating the pan and the air that is channeled over the top of the coffee cake.

Turn the burner down to just above medium (my stove has settings from 1 to 7, 7 being the hottest, and I turn it to 4).*

Bake for 30 to 35 minutes, until toothpick inserted in center comes out clean.  Resist the urge to take the lid off too often, as it lets out the hot air over the food pan when you do.

Cool at least slightly before cutting.  If cutting the coffee cake in the pan, use a nylon or silicone spatula to cut slices.  Knives will scratch the pan
Notes
The first few times you use the Omnia, you'll have to experiment a little with the temperature settings until you know how hot your burners are.  While it's very strange at first to bake without a thermostat, it works just fine.  Most people who write to me with problems are overly afraid of burning food (I know — I was!) and thus turn the burner down too low and the results aren't satisfactory.
Do NOT make a larger batch than specified  — the pan will be too full and the bottom will burn before the top is done.
DAIRY FREE
To make a dairy-free version, use canola or coconut oil instead of butter, and soy or almond milk in place of regular milk.
Nutrition Facts
Streusel Coffee Cake for the Omnia Stove Top Oven
Amount Per Serving
Calories 215
Calories from Fat 90
% Daily Value*
Fat 10g15%
Cholesterol 17mg6%
Sodium 246mg10%
Potassium 154mg4%
Carbohydrates 30g10%
Protein 2g4%
Vitamin A 45IU1%
Vitamin C 0.4mg0%
Calcium 43mg4%
Iron 0.8mg4%
* Percent Daily Values are based on a 2000 calorie diet.
Want over 800 boat-friendly recipes, over 100 substitutions, and tons of tips for cooking on a boat?


Some links in this article (including all Amazon links) are affiliate links, meaning that we earn from qualifying purchases.