The lowly clothespin has a few problems when you take it on a boat.

Number one, the little spring in it is steel which quickly rusts in salt air. And that creates two problems — rust stains on clothing and clothespins that break.
Getting ready to cruise? Prepare to Cruise (a FREE mini-course) gives you lots of free resources along with affordable recommended courses and coaching for more in-depth needs.
Number two, most don't grip the clothing particularly tightly and can pop off. At the best, clothing falls on deck and has to be rehung; worse is falling into salt water and needing to be re-washed (using more precious water); and worst is going overboard, sinking and not being found.
On a sailboat, the lifelines are the first place that clothes get hung and the jib sheets are typically second. But jib sheets are larger than normal clothesline, and most pins don't hold at all well.
And number three, the wood gets dirty over time and also stains your nice clean items.
Solutions
None of the following solutions is perfect, I'll admit. The first one eliminates most of the problems, but isn't cheap; the others each still have some problems.
Stainless clothespins. These 100% stainless clothespins won't rust or stain clothes, and they can be washed easily to get the dirt off them. They also grip much more tightly than the "normal" clothespin. The drawback is that they cost about $1 per clothespin . . . but that's less than the cost of losing a good piece of clothing or towel overboard. Available in sets of 20 from:
Amazon — a better deal if you have Amazon Prime (click to get a free 30-day trial) or are buying something else to qualify for free shipping
Lee Valley Tools — lower unit price but high shipping
Plastic clothespin with galvanized spring. These aren't 100% rust-proof, but do rust a lot less than the wooden ones with the regular spring. They also have more grip and with the larger hole size, do well on jib sheets. Finally, dirt can be easily washed off.
While I lust for the stainless clothespins, these are what I use due to the fact that I get three times as many for about the same price. You can also get plastic clothespins that look very similar to the wooden ones, but they don't have the rust-resistant galvanized springs and are just as prone to popping off due to their design as the wooden ones. The style shown here do cost a bit more but are much better. I bought mine at Amazon. (Update: These are different from mine but they're highly rated and available now).
All-wood clothespins. While these avoid the rust-staining problem, they tend to pull at clothing (especially t-shirts and other knit items) in funny ways. They also get dirty and it's next to impossible to really get them clean. I've also had lots of problems with them popping off and they don't fit well on anything thick.
That said, they are inexpensive and several readers have written to recommend them.
Low tech and limited. A very low tech solution is to pass whatever line you're using through a sleeve, leg, or belt loop of your "good" clothing and then securely tie off both ends. This works well, but you can't use the lifelines or jib sheets this way (or at least it's not easy to) and what do you do with rags, towels, sheets and other flat items? You still need some clothespins that work for them.
Read Next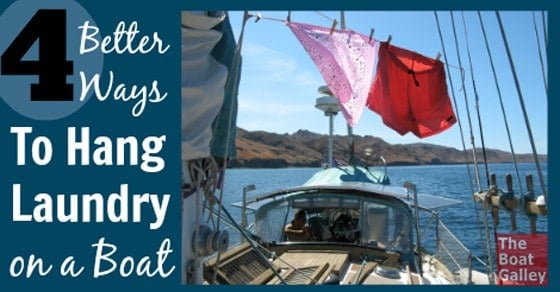 Some links above (including all Amazon links) are affiliate links, meaning that I earn from qualifying purchases. Learn more.