When cruising, there often isn't a nearby laundromat but there is a pile of dirty laundry. Some boats – the really lucky ones – have a washing machine, large capacity watermaker and the power to support them. Others, like ours, don't.
So we "hand" wash.
On our first boat, Que Tal, I used a 5-gallon bucket and initially did it all "by hand" as if I were washing delicates. I'd wash each item separately and carefully swish them around.
Yeah, that lasted for exactly one laundry day.
Talking to other cruisers, I learned to use a new (used only for laundry) toilet plunger as an agitator. Infinitely less work and the clothes got cleaner, too!
But the length of the handle on the toilet plunger meant that I was still hunched over the bucket, and it slopped water over the edge of the bucket.
Fast forward to a few months ago. As we were getting ready to leave for the Bahamas, I was going to buy a new toilet plunger to do laundry with as I knew that laundromats could be a distance apart. But somehow I managed to spot an ad for the Washing Wand – supposedly a marked improvement on washing with a plunger. It intrigued me and I bought it.
It's been a great purchase . . .
Designed to push water through a bucket a clothes, with water channels that let water go through the device so that water doesn't slop out of the bucket nearly as much.
Shovel-type handle makes it much easier to agitate – just an easier, more ergonomic movement.
Larger diameter means more effective agitation in a 5-gallon bucket.
More than once, I pulled the wooden handle out of the rubber plunger when using a toilet plunger (and when it happens once, it will keep happening more and more frequently as the rubber stretches). This is all hard plastic with the plunger molded to the handle, and the handle pieces screwing together.
Yes, it's in four pieces which make it much easier to store – and they screw together tightly.
All plastic – no metal to rust or wood to blacken.
It seems really sturdy – a similar item (different brand) that I saw locally after I'd gotten this one seemed much flimsier and the plastic more brittle.
You can buy one from Amazon –
Totally disregard their instructions that say you need two 5-gallon buckets – you only need one.
Pictures below, and then tips on how I do laundry: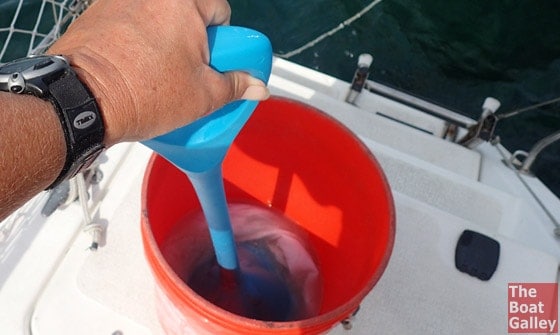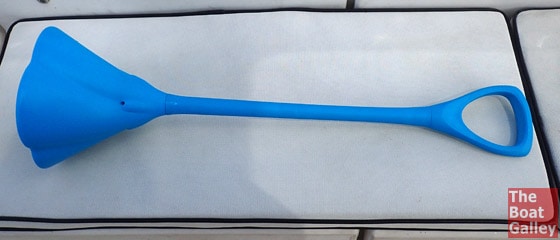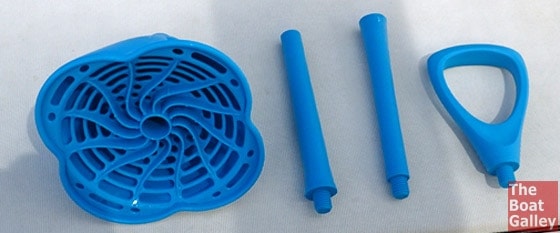 Now, no method of hand washing is going to get clothes as clean as a washing machine does. But my goal is to remove the worst of the dirt, the stink, the mildew and make them fit to wear again.
If you really want to remove stains and are willing to spend the time, a portable washboard is a good extra piece of equipment – use a little bar soap or a stain stick, scrub on the washboard, then wash as usual in the 5-gallon bucket with the Washing Wand. I don't go through the extra step with our work or sailing clothes, but a couple of people I know use a washboard similar to this one, available on Amazon.
Keeping the laundry pile from getting too big not only helps the boat smell fresh, it helps reduce the mold and mildew on the boat in general (basically, clothes that are wet with sweat just never dry out due to the salt . . . and then you combine that with salt air . . . ). I'm washing sweaty and/or boat-project filthy t-shirts, shorts, undies, rags and our pillowcases. Towels, sheets, rugs, blankets I leave for times when I do find a laundromat.
HOW I DO IT
I try to do laundry every few days so there's not too much to do – this cuts down on the amount of water I need at one time, makes it easier to wash items and allows for enough drying space (we have lifeline netting so can't hang wet clothes from the lifelines).
Late one day, I put about one tablespoon of concentrated biodegradable laundry soap in the 5-gallon bucket and add about a gallon of fresh water. Then I add the clothes and more water to cover the clothes if necessary. At this point, it's okay if the clothes are crammed in. Agitate with the Washing Wand a bit, and then let sit overnight, agitating about 20 strokes periodically (we leave the bucket and wand in the cockpit, so it tends to be when we walk by . . .).
The next morning, I take about half the clothes out, wringing as I do to keep as much water in the bucket as possible – all I'm trying to do is make more room in the bucket (in other words, the clothes I'm taking out aren't "done" yet). The clothes need space for the water to move through them as I'm agitating!
Then I use the Washing Wand and agitate 100 or so strokes. Then I take these clothes out, wringing as I do (getting as much soapy water out as possible so it doesn't go in the rinse water later). I put the other clothes back in the bucket and do the same. All the clothes are now washed. I dump the wash water.
I fill the bucket about 4" deep with fresh water and add one or two pieces of clothing at a time and agitate 20 to 30 times to rinse. Then I remove the items and wring well. Dave does another wring after mine and always gets more water out, then he hangs the items to dry. We repeat until everything is rinsed and hung to dry – if the rinse water gets particularly dirty, I discard it and get fresh.
TIPS
A big key is not to use too much soap – if you do, it will take a lot of fresh water to rinse it out. Do not use salt water, even for the washing – you'll use more fresh water to get all the salt out than it would have taken you to wash the clothes in fresh . . . and if you don't get all the salt out, your clothes will never completely dry and they will mildew instead.
If you have a little white vinegar to spare, adding 1/4 cup to the rinse water will help cut the soap, but you won't smell it on your clothes.
If I think about it, putting the soak/wash water into the bucket earlier in the day and letting it sit in the sun gives me warm water to do laundry.
Once upon a time, I used ammonia in the wash water instead of laundry soap — it used less water as you don't have to rinse ammonia out. I no longer recommend this, for two reasons: it is very hard on clothing and there is controversy over whether putting ammonia into sea water is harmful to fish (specifically their gills) or not and I'd rather err on the side of caution.
ALTERNATIVE
I've had several readers ask me about the Wonder Wash – basically, it's a hand crank washer (see it here on Amazon). I've seen a few posts from cruisers on various forums saying they love theirs and others saying they didn't find it that helpful for the amount of space it took up. I've never used one and we just don't have the space, but it certainly does look interesting.
Here's your "Quick Start" to everything you need to know when living on a boat:


Making Boat Life Better
Some links in this article (including all Amazon links) are affiliate links, meaning that we earn from qualifying purchases.