One of the big questions that new cruisers face actually has nothing to do with the boat, life aboard, or cruising. Nope. It's laundry room etiquette.
The two biggest questions? Basically, two sides of the same coin:
I was late getting back to the laundry room and someone took my clothes out of the washer. Is that considered okay?

If there are clothes just sitting in a dryer, is it okay to take them out so I can dry my clothes?
Marina laundry facilities are often crowded, especially during the peak cruising season. Lines are common — and each person usually has multiple loads to do.
If we all respect each other's time, we can all have clean laundry. And there are a few other common-sense courtesies, too.
With that in mind, the unspoken rules in most places are:
First come, first served . . . as long as you're there. If you leave, and a washer opens up, don't expect others to wait for you to return.
When you arrive, pay attention to who is already there and waiting. Know your place in the line.
When your clothes are finished washing or drying, remove them as soon as possible so others can use the machine. No one wants to spend all day doing laundry!
If you leave the laundry room while your clothes are washing or drying, that's okay. But if you're not back when they are done, expect that the next person in line will remove them so they can use the machine. If you don't want someone else touching your items, either stay in the laundry room or set an alarm (on your watch or phone) so you'll be back in time.
Before you remove someone's laundry, do a quick check to make sure they aren't just sitting right outside the laundry room.
If you remove someone's laundry, put it somewhere "safe" — on a table, in a basket or whatever — so that it doesn't get dirty. Keep loads separate in case they belong to different people.
If you take clothes out of the dryer, it's a nice gesture to fold them . . . but don't expect someone to fold yours if you leave them!
When your clothes are dry, take them all out of the dryer before starting to fold them so that someone else can use the dryer.
If folding space is limited and others also have dry clothes to fold, share the space. Don't spread your stuff all over the only table.
If there's not a lot of seating and a bunch of people, don't put laundry bags or baskets on the chairs.
One from the comments: don't sit on the folding areas and don't put your feet on them, either!
Find out ahead of time whether you need coins, tokens, cards or something else — and get them before you put clothes and soap in the washing machine.
Pay attention to the correct amount of soap to use — many machines are high efficiency and using too much soap will cause suds to overflow and go all over the floor.
Don't use fabric dye in the washers . . . the next person probably doesn't want residual dye in their clothing and doesn't want to wait for you to run an empty load or two to get it out.
If you have "gunky" rags or clothing that you are washing, be careful where you set them down while waiting for a washing machine. Don't put them where people will be putting clean clothes to fold!
If you use chlorine bleach and spill a little, wipe it up thoroughly so that it doesn't damage anything — for you or the next person.
When you take your clothes out of the dryer, clean off the lint screen so it's ready for the next person.
If a machine doesn't work, put a sign on it so the next person won't also waste their time and money . . . and be sure to tell the office so it can be fixed!
One more quick tip: If you'll be dinghying back to the boat, I highly recommend using dry bags to keep salt spray off your nice clean laundry. Trash bags just don't do as good a job, particularly if there is any water in the bottom of the dinghy or it's windy and there is a lot of spray.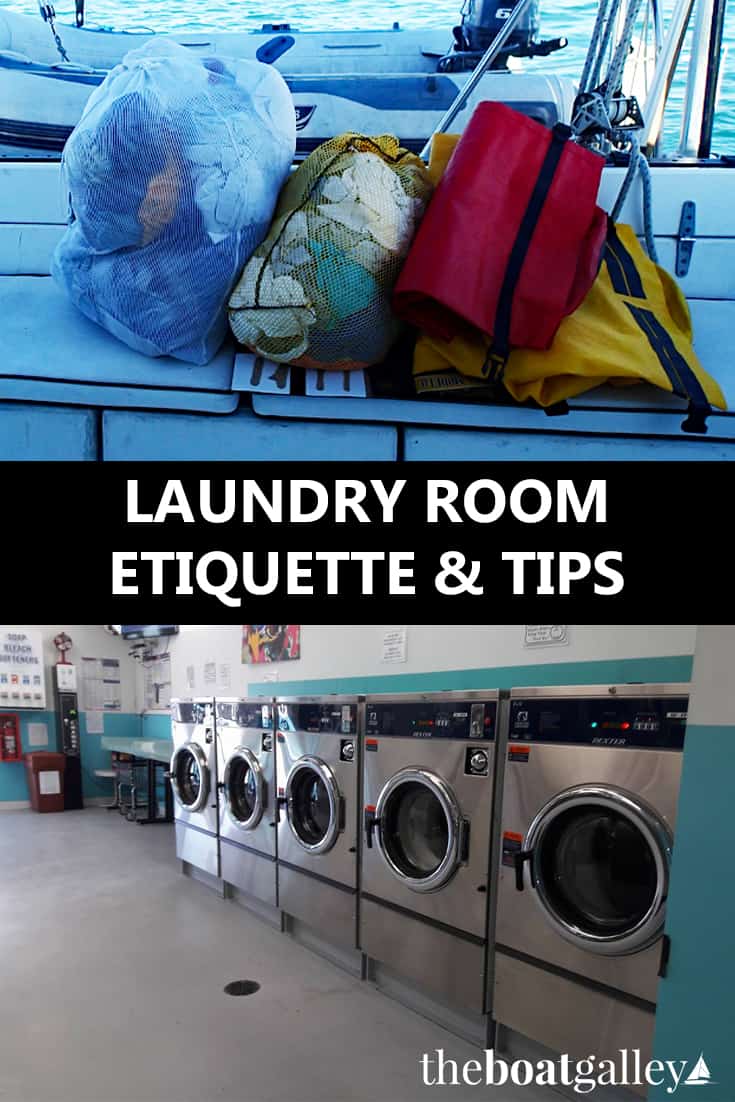 Some links above (including all Amazon links) are affiliate links, meaning that I earn from qualifying purchases. Learn more.