Getting a new clock and barometer was a seemingly small part of our boat renovation but one that really perked up the interior of our boat. Read more about our interior renovation:
Our Old Clock and Barometer
Our boat, Barefoot Gal, came with a clock that worked and a barometer that didn't. Both were made by Chelsea and had been extremely expensive (over $1,000 each according to the receipt in the owner's manual) when new back in the early 2000's. Unfortunately, no one had cleaned or polished them over the years. When we bought the boat in 2014, they were both horribly tarnished and the barometer did not work. Nothing that I tried polishing them made a dent in the tarnish.
Getting ready to cruise? Prepare to Cruise (a FREE mini-course) gives you lots of free resources along with affordable recommended courses and coaching for more in-depth needs.

When we began renovating the boat, I knew that I wanted a beautiful clock on the teak wall. I hoped professionals could clean up the clock. I contacted Chelsea to see about having both the clock and barometer serviced and refinished and even sent the clock to them for an estimate. It came back at $745 for the clock; a sight-unseen estimate on the barometer was $450. Plus shipping both ways, insurance and tax.
OUCH! Much as both of these had been lovely at one time, I was pretty sure that I could find a less expensive alternative that would look great.

When I got the refurbishment estimate, I was in Annapolis for the fall sailboat show. So I went and had a look at what Weems & Plath had to offer. I fell in love with their clocks and barometers. Beautiful and I could get a brand new clock and barometer for less than the cost to refurbish just the old clock.
On one hand, I don't like discarding something that could be repaired. But over $1,300 to ship and refurbish them? I just couldn't justify it. I would be getting new.
Choosing the New Clock and Barometer
Weems & Plath have several different clock and barometer models and I found several that I liked. The Endurance line was really appealing as it is marketed as "maintenance-free" or never needs polishing — this seems like it might be ideal for avoiding the horrible tarnish problem that our previous clock and barometer had suffered. But I loved the classic lines of the Admiral and Atlantis collections.
I dithered back and forth between the models for a while and ended up choosing an Admiral clock and Atlantis barometer. The design of both is the same except that the Admiral clocks and barometers are about 2 inches larger in diameter. The total diameter for the Admiral clock and barometer is  7-1/2″ versus 5-1/2″ for the Atlantis or the Endurance.  I thought that the larger clock would look better on the large wall — and be easier to see.
A couple more points:
The brass of the Admiral/Atlantis line is a little deeper and richer color than the Endurance.
I liked the wider rim of the Admiral/Atlantis collection.
The front of the clock unscrews to change the time, so you don't have to take it off the wall for daylight savings time or when going from one time zone to another.
Weems & Plath has a number of different lines and I don't think that any would be a bad choice, it's more what design is best for your boat. Of the three lines I looked at, the Endurance cost a little less, then the Admiral and finally the Atlantis. Altantis clocks are traditional ships's clocks, chiming every half hour although there is a "silence" switch.
All of their clocks have a quartz movement and operate on an AA battery. All the clocks and barometers include mounting hardware.
We have now had the clock and barometer for not quite three months and they are both working well. The clock is quite accurate as is the barometer. Before mounting the barometer, be sure to follow the instructions to calibrate it (basically checking the local pressure and turning a screw to set the barometer to the same).
Where to Buy a Weems & Plath Clock & Barometer
You can get Weems & Plath products directly from the company or from many nautical supply companies, such as Galleyware or West Marine. Weems & Plath also sells on Amazon and that's where I've found the best prices:
I particularly love the look of the clock and think it really sets off the big teak wall.

The barometer is on a side wall and also looks nice.

Keeping Brass Looking Good
One of my fears in buying a new clock and barometer was that they'd tarnish just like the old ones. I wondered how onerous a job it would be to keep them polished.
Kathy Trogdon, one of the Weems & Plath owners who was retiring just days after I saw her, told me that it was actually quite simple to keep brass looking good. Once a week, she said, wipe it down with a damp microfiber cloth and dry it thoroughly. Kathy said the big enemy of brass is salty air. The salt gets on the brass, causes corrosion and also attracts moisture which causes tarnish. Wipe the salt off once a week and dry the brass and it doesn't become a problem. So that I don't forget, I used IFTTT to get a reminder email every Saturday morning (see how to get reminders).
Every three to six months, they recommend polishing with their Sure Shine polish, which is available from most Weems & Plath dealers and also from Amazon: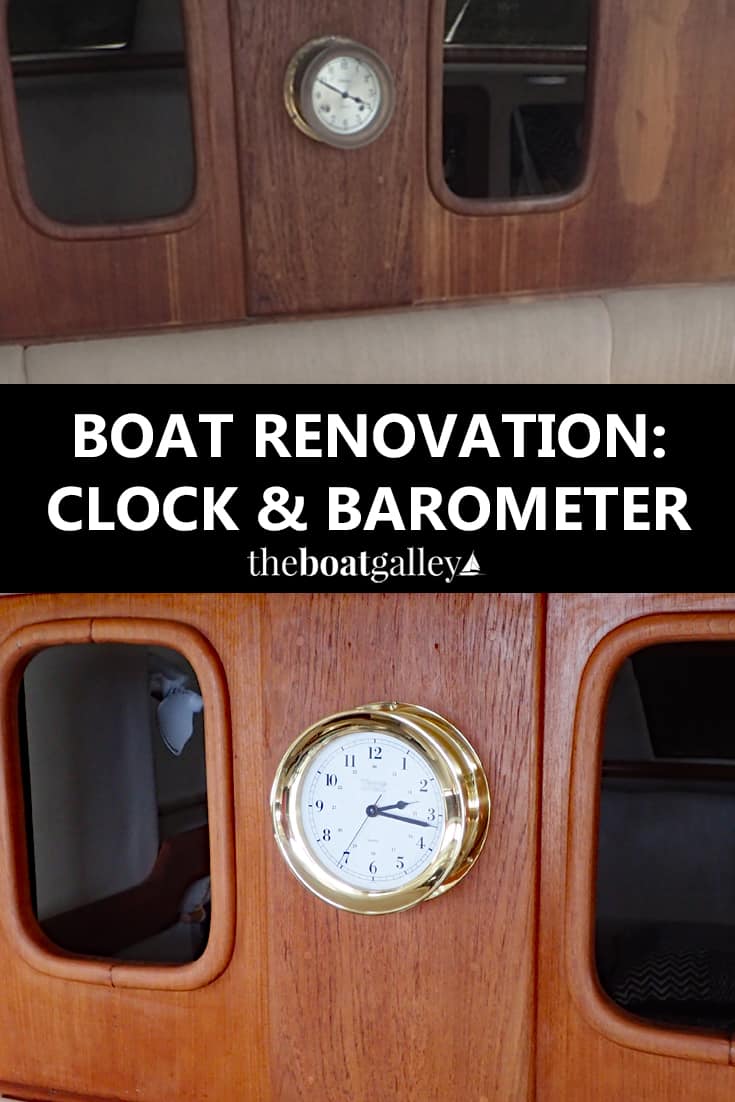 Some links above (including all Amazon links) are affiliate links, meaning that I earn from qualifying purchases. Learn more.