Reader Robert Winia aboard Tuturuga sent me this idea for chilling boxed wine without having to put the entire big box into the refrigerator:
Our boat is in France and we sail the Med. So wine management on a boat is a basic skill over here. What a lot of boaters here do is pour the box of wine in empty plastic water bottles. Storing the re-filled water bottles in the fridge is much easier then a big box.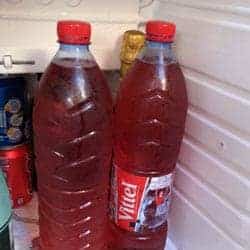 In summer it is mostly rosé wine that needs a nice chill and then drinks like water.

A plastic water bottle is not opaque, but in the fridge it is dark and the contents rarely last more then 24 hours anyway.
Decanting into water bottles also makes it easier to slip a "bottle" of wine into a cooler for happy hour on the beach or on someone else's boat. And if you don't have a refrigerator, plastic bottles are much easier to keep on ice in a cooler than the original bag, even.
Just make sure to mark the bottles so you don't mistake the wine for juice in the morning before your first cup of coffee — and if you have kids aboard, so that they don't mistake it for pop or juice!
Some links above (including all Amazon links) are affiliate links, meaning that I earn from qualifying purchases. Learn more.