One of the best things about cruising is the people you meet. Away from TV and living in the outdoors, you just do more with other people, whether it's a hike or beach stroll, a day in town or an afternoon of snorkeling.
And what a diverse group! We've become friends with people from all over the world, all stages of life (where else are unrelated 70-somethings and 20-somethings going out for a beer together?), those with small bare-bones boats to luxury yachts, single-handers and even a family of ten! Name almost any "group" – ethnic, religion, lifestyle, politics, nationality, economic status, whatever – and we probably met someone in it while cruising.
When we had to move ashore for six years to deal with medical issues, we sorely missed both the ease of making new friends and the diversity that are both an automatic part of cruising. Back living aboard and cruising full-time, the people we meet are again one of the things we love about the life.
On land, I don't think I ever invited someone I'd just met over for dinner that same evening. On a boat, you do – who knows where you'll both be going the next day?
One of my favorite recipes for short-notice entertaining – combine with a loaf of Beer Bread and a glass of white wine for a great meal.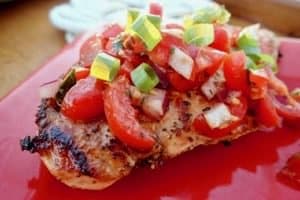 Chicken Bruschetta
The success of this recipe depends on getting flavorful tomatoes. You can use any variety you wish; I often use grape tomatoes. Fresh basil is also much better than dried. Low carb variation in the recipe notes.
Print Recipe
Pin Recipe
Ingredients
4

boneless skinless chicken breasts
Dressing/Marinade:
¼

cup

olive oil

or canola oil

2

tablespoons

balsamic vinegar

2

teaspoons

garlic paste

or 2 cloves garlic, finely minced

½

teaspoon

sugar*

2

teaspoons

Italian seasoning

½

teaspoon

salt

¼

teaspoon

coarse ground pepper
Bruschetta:
1

cup

diced fresh tomatoes

2

tablespoons

minced red onion

2

tablespoons

finely torn fresh basil

or 2 teaspoons dried basil

1

tablespoon

finely sliced green onion top, for garnish
Instructions
If chicken breasts are thick, begin by flattening them. To do this, place them (one at a time) in a zippered plastic bag and lightly pound with a hammer until 1/2" to 3/4" thick. Place all four chicken breasts into a zippered plastic bag or other plastic container for marinating.

Thoroughly mix the Dressing/Marinade ingredients in a cup or small bowl. Pour about half of it into the bag with the chicken breasts. Seal the bag and turn it over several times to coat the chicken well. Place the bag with the chicken in the refrigerator.

The chicken can marinate up to two hours and the bruschetta topping can also be made in advance.

Place the tomatoes and onions for the bruschetta in a small bowl (if using dried basil, add it now also) and pour the remaining dressing over them. Toss to mix. Cover and refrigerate until time to serve.

Chicken can be cooked on the grill or in a skillet. Test for doneness with an instant-read thermometer inserted in the thickest part of the breast; chicken is done when it reads 165° F.
Grill.
Grill marinated chicken breasts over a medium-high fire for about 5 minutes per side.
Skillet.
Heat skillet over almost-high heat. When a few drops of water sizzle in pan, add chicken breasts and cook about 5 minutes per side.

If using fresh basil, add it to the bruschetta now and gently mix.

To serve, place chicken breasts on serving plate or individual plates. Spoon one-quarter of the bruschetta mixture over each one, then garnish with a few green onion slices.
Notes
*A tiny bit of sugar brings out the tomato flavor. Sugar substitutes don't have the same effect.
LOW CARB: Use Allulose instead of the sugar and substitute red wine vinegar for the balsamic. Keep the portion of bruschetta tiny — about a tablespoon is all I can eat as a very-low carb diabetic.
Want over 800 boat-friendly recipes, over 100 substitutions, and tons of tips for cooking on a boat?


Some links in this article (including all Amazon links) are affiliate links, meaning that we earn from qualifying purchases.