If you're heading out on a bareboat charter (or renting a condo for some land travel), I've got a few things that you might want to add to your packing list.
You see, the charter companies all say they've got everything you need for the kitchen/galley.  But my experience is that while you can get by with what's there, I'm happier if I bring along a few things so that I know I've got some basic tools that I like.
Knife and Sharpener.  I like using sharp knives, and I've never found one on a bareboat charter.  I think they just get knocked around a bit and some may be a little careless in using them, and there is never a knife sharpener.  Now, I don't take my best knife with me, but I do take a decent one and a sharpener.   If you're planning to catch any fish, be sure to take a fillet knife (see my favorite); I've never seen one on a charter boat that is not a sportfishing charter.  If you don't want to take one of your knives, at least take an inexpensive sharpener so you can "improve" whatever knives are there.  If you take a knife, remember that it has to go in checked luggage!
Can Opener.  It is absolutely horrible to wake up your first morning, go to make a pot of coffee to enjoy in a beautiful anchorage, and discover that the can opener doesn't work and you can't open the can of coffee.  Can openers are often beaten up on charter boats or just don't work from the salt air.  Again, it's not hard to stick a manual one in your luggage (see my favorite) and then you know you'll be able to open that can of coffee — and anything else in a can.
Insulated Mugs.  On our first charter, we learned that coffee quickly goes cold in a "normal" mug if there's even the slightest breeze.  Taking insulated mugs for everyone will make those mornings in the cockpit all that much better!  Pack other small items inside the mugs so you don't waste space. See my favorite mug here.
Vegetable Peeler.  Our first charter boat didn't have a vegetable peeler on board, a fact that we discovered when we went to peel potatoes for dinner.  We ended up doing the job with a paring knife, which took quite a bit longer.  Ever since then, I take a peeler with me, and about half the time find that I need it.
Plastic Food Containers.  These really help to keep food organized in the refrigerator.  Charter boats usually have one or two on board; on our first charter, we were able to beg a few more from the company as they'd just gotten some and hadn't put them all onto boats yet.  But on subsequent trips, we packed some of our clothes into plastic containers and then put them in the suitcases.  We found that they are also great on the way home for packing and protecting somewhat fragile souvenirs.
Dish Rag.  Okay, I'm spoiled by my Scrubr non-stinky dish rag . . . both in how it just never stinks and how well it cleans dishes.  On our our last trip, I found myself wishing I had it every time I did dishes.  It's tiny, so next time I'm taking it!
Meal Plan and Recipes.  If you've planned your meals in advance (I heartily recommend it), be sure to take a copy of your provisioning list, meal plan and recipes.  I also have my Kindle copy of The Boat Galley Cookbook with me on both a tablet and my smart phone in case I need to look up a substitution or find a different recipe that works with the provisions that I actually find (and "finding" a fish on the end of the line is always a good reason to change the meal plan).
Flashlight/Head Lamp and Spare Batteries.  Whether it's trying to find something in the refrigerator or grilling after dark, there are so many times that a small flashlight or head lamp is useful on a boat.  We use them every day!
Packing List.  Be sure to take a list of what all you took with you!  Particularly if you take some galley tools with you, it's easy to forget about them when you pack up.  If you check the packing list before you leave the boat, you can be sure you're taking everything you came with . . . plus tons of great memories!
Are there other things you always take on charter?  Leave a note in the comments!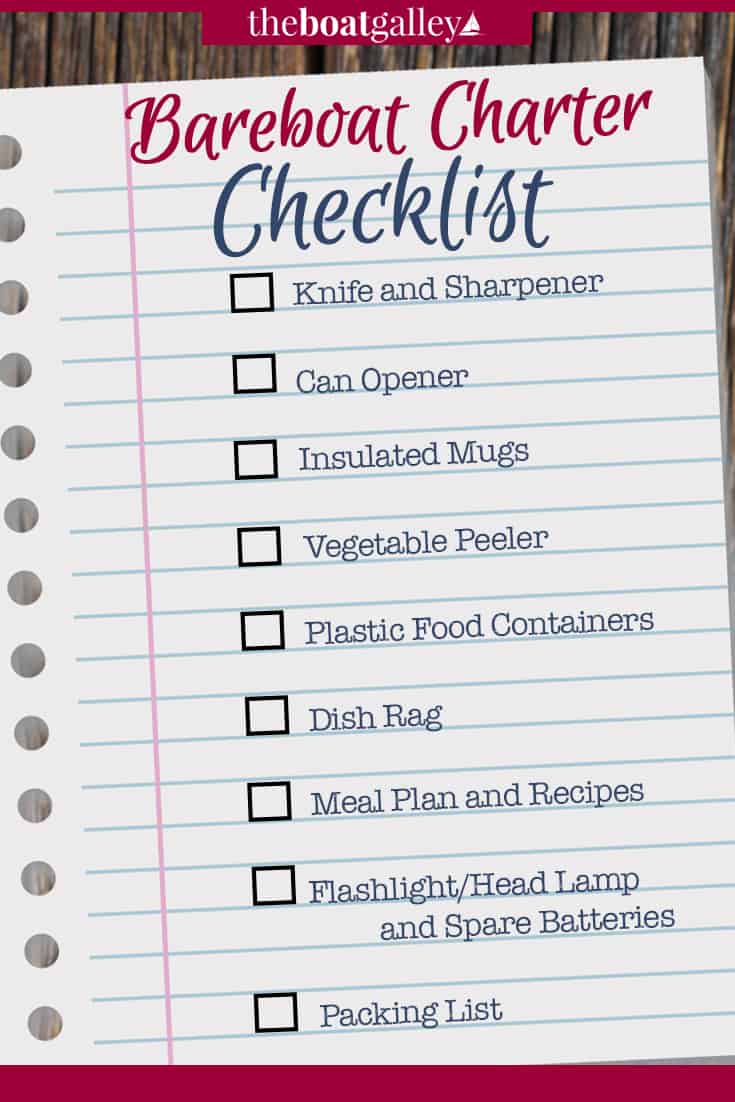 Some links above (including all Amazon links) are affiliate links, meaning that I earn from qualifying purchases. Learn more.