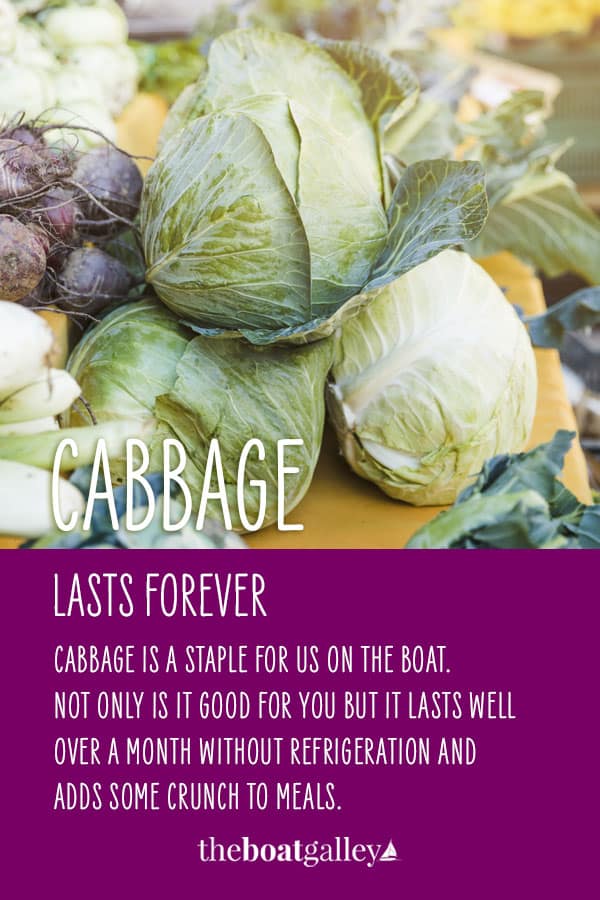 Did you know that you can easily store cabbage without refrigeration?
Cabbage is a staple for us on the boat. Not only is it good for you but it lasts well over a month without refrigeration and adds some often-needed crunch to meals.
Are you struggling to live with a small refrigerator? Eating Well with a Tiny Fridge is a step-by-step course full of galley-tested strategies that teaches you what foods can safely be stored without refrigeration, how to do it, and how to maximize the refrigerator space you do have. Just $29.
Storing Cabbage
It takes nothing special to store cabbage without refrigeration. Just stick the head somewhere that it won't get too bumped around. Some people recommend wrapping it in newspaper; I've never even done that. And it does really well without being refrigerated.
Don't put it in a plastic bag, as condensation will form and then the cabbage will mold and rot.
If you can get cabbage that hasn't been refrigerated, that's best as condensate won't form on the outside leaves. Most of the time, though, I'm buying cabbage in the grocery store and it's been chilled. By storing it just out in the open, I've never had a problem — the condensate just evaporates.
This head of cabbage had been in my hanging veggie bins for just over a month when I cut into it. I hadn't done anything special to it — just brought it home and stuck it in the bin.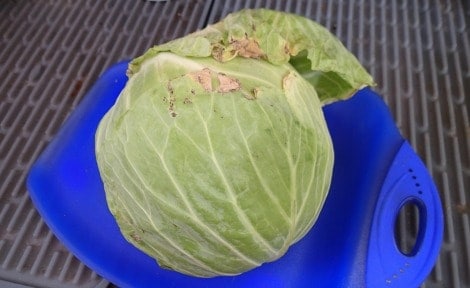 Good For You
Cabbage is a good source of Vitamin C (one serving gives 54% of the daily requirement), Vitamin K (85%) and fiber, with almost no calories.
If you're cruising in remote locations, with a lot of canned vegetables, dietary fiber can be hard to get and digestion can suffer as a result. Both diarrhea and constipation can be problems and the fiber in cabbage can help with both.
Add Crunch to Your Meals
Whether you're crossing an ocean or just cruising in remote locations without easy access to grocery stores, one of the biggest complaints is a lack of texture and crunch in foods as the stores of fresh veggies are used up.
Cabbage salads add the needed crunch and texture. If the cabbage seems a little wilted, soak it in water for 20 minutes to an hour and it will crisp back up (it wilts as the water in it evaporates and soaking lets it reabsorb water). Chopping it first will speed up the crisping, but it's harder to dry it off if it's chopped first.
Boat-Friendly Cabbage Recipes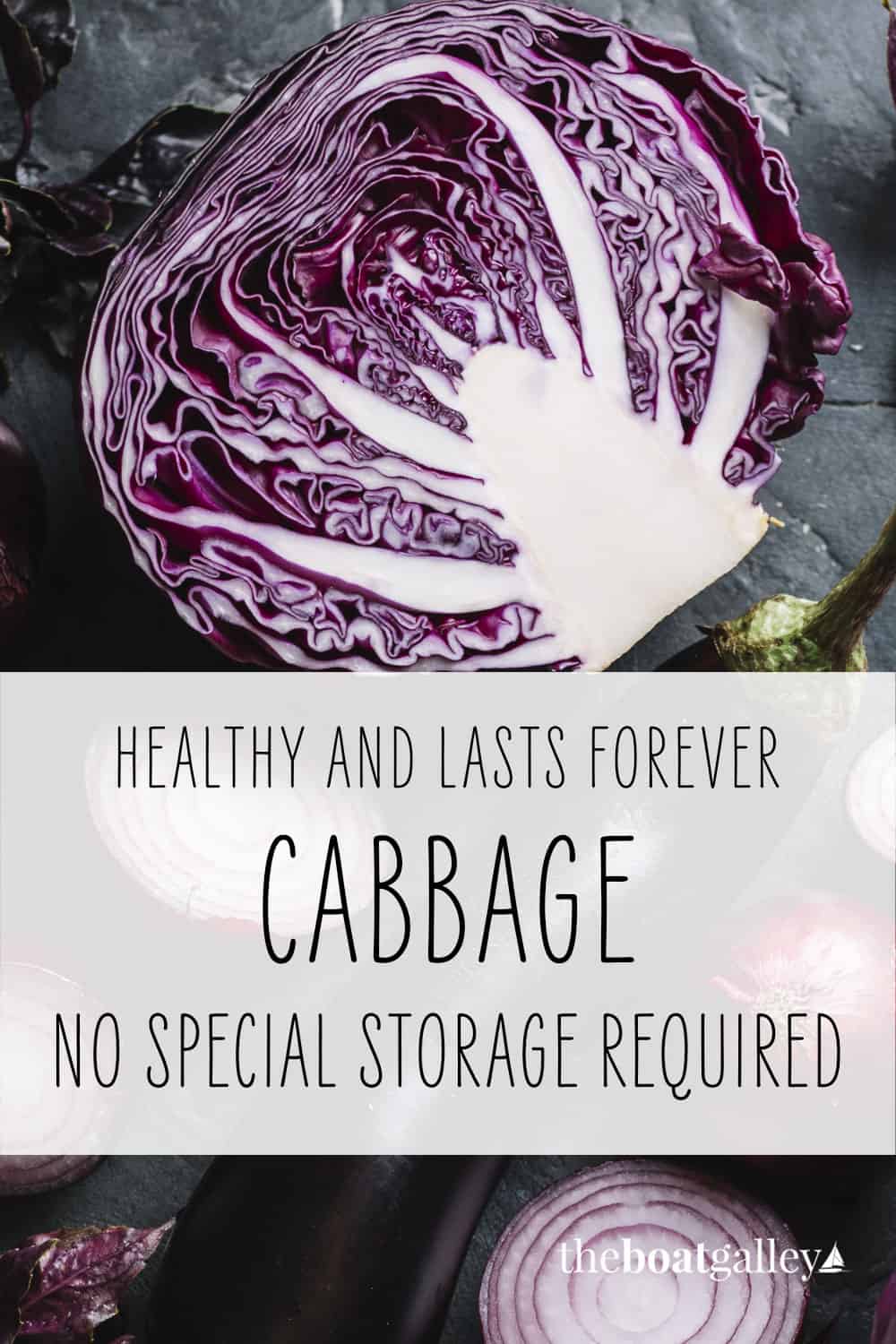 ---
Our FREE Provisioning Spreadsheet
Wondering how much of what foods to take on your next trip? Know just how much to buy of what — all arranged by grocery store aisle — with our handy Provisioning Spreadsheet. Includes detailed instructions to edit it for your favorite foods, how much your family eats, and how long you'll be gone. No spreadsheet skills needed!
It's FREE — get it here.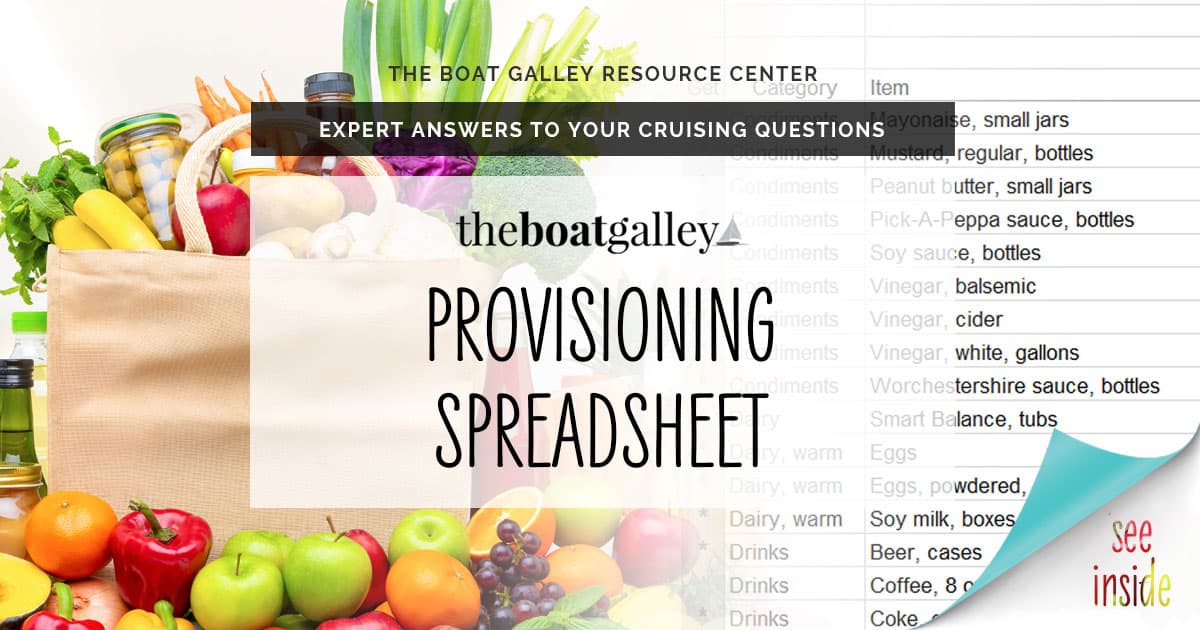 Want more help with your small refrigerator? Take a look at my online course, Eating Well With A Tiny Fridge.

Some links above (including all Amazon links) are affiliate links, meaning that I earn from qualifying purchases. Learn more.