Several years before we bought a cruising boat, I remember reading an article that said to learn how to make several different salads from cabbage if you intended to go cruising, as cabbage held up a lot better than lettuce on a boat. And in 6 years of full-time cruising, I learned the truth of that statement!
One of my favorite cabbage salads was what my mom called "Company Coleslaw," meaning that it was a little more special than the everyday varieties that were just cabbage (and maybe a little shredded carrot) with either a mayonnaise or vinaigrette dressing.
Few people have ever had it, which makes it great to take to pitch-in dinners where everyone likes to get new ideas for food that works well on the boat. Well, maybe a few more have tried it now: in December 2006, Cruising World published my recipe. It's just one of the THIRTEEN recipes for cabbage salad that Jan and I have included in The Boat Galley Cookbook.
Company Coleslaw
"Dinner on RDreamz at 6!"
A dinghy greeted us as ¿Qué Tal?, our Tayana 37, entered the Hot Springs anchorage in the Sea of Cortez. We'd never met the smiling and waving couple before, yet their first words were an invitation to dinner in less than an hour.
Were they serious? Yes.
As soon as my husband Dave and I got our anchor down, Royce and Pam called on the VHF to introduce themselves. They wanted us to join the other two boats in the anchorage for a get-acquainted dinner aboard RDreamz, their 50-foot schooner.
Pam said she had everything for dinner; I shouldn't bring anything.
"Unless," she added with a laugh, "you can conjure up a salad." Pam thought she was joking. How could I make a salad more than two weeks since we'd been to town?
Little did she know I had a dozen salad recipes that don't require lettuce or other "tender" vegetables that don't store well while cruising. My Company Coleslaw would be perfect with the pork roast Pam had.
Since that night over a year ago, we've shared a lot with Royce and Pam. We're now anchored beside them in Bahia del Sol, El Salvador – almost 1500 miles from where we first met them. And I just got a call on the VHF – "Movie on RDreamz at 7!"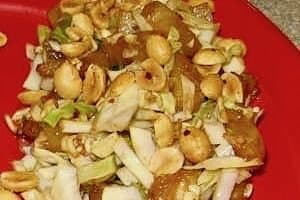 Company Coleslaw
Not your everyday coleslaw, but still easy to make with readily-available ingredients. Delicious!
Print Recipe
Pin Recipe
Ingredients
1/2

cup

mayonnaise

1

small can

pineapple chunks

4

cups

shredded cabbage

1/4

cup

roasted, salted peanuts
Instructions
Place mayonnaise in medium bowl. Drain pineapple, reserving the juice. Add pineapple to bowl and mix. Add enough of the reserved juice so that the mayonnaise has the consistency of catsup (the rest of the juice is not needed). Add cabbage and toss well. Chill before serving if possible.

Immediately before serving, add peanuts and toss.
Notes
Substitutions:
Instead of canned pineapple, use fresh. Or try mandarin oranges, mangoes, seedless grapes, apples, cooked or canned beets.
If there isn't enough fruit juice to thin the mayonnaise, use milk.
Pecans, slivered almonds or raisins can be used instead of peanuts.
Nutrition Facts
Company Coleslaw
Amount Per Serving
Calories 260
Calories from Fat 225
% Daily Value*
Fat 25g38%
Cholesterol 11mg4%
Sodium 229mg10%
Potassium 189mg5%
Carbohydrates 5g2%
Protein 3g6%
Vitamin A 85IU2%
Vitamin C 25.7mg31%
Calcium 37mg4%
Iron 0.6mg3%
* Percent Daily Values are based on a 2000 calorie diet.
Want over 800 boat-friendly recipes, over 100 substitutions, and tons of tips for cooking on a boat?


Some links in this article (including all Amazon links) are affiliate links, meaning that we earn from qualifying purchases.