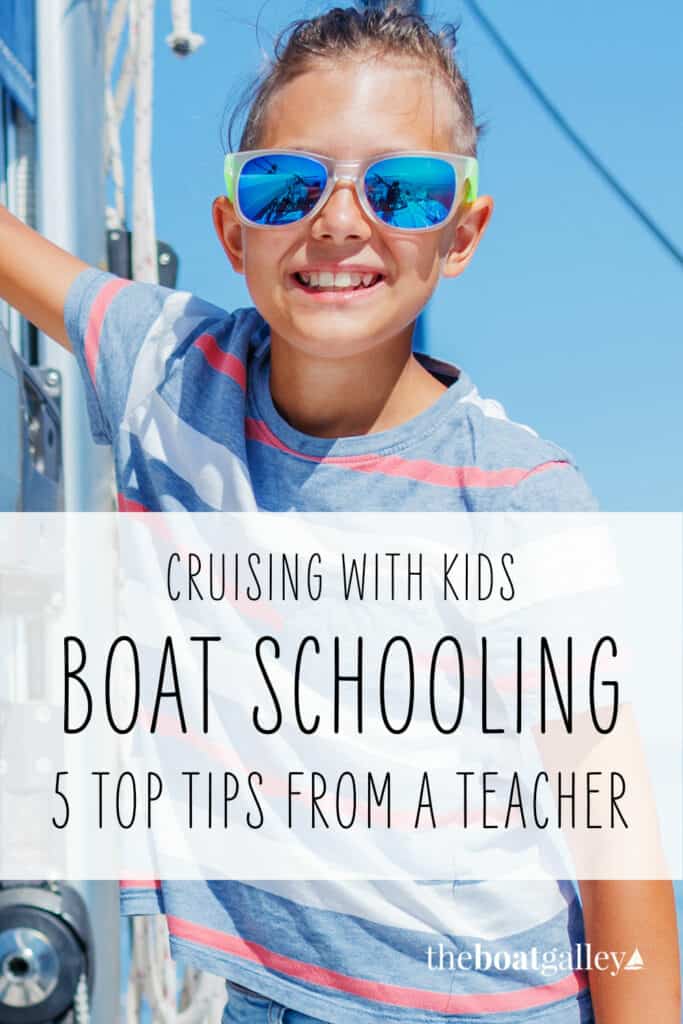 It's not easy for cruising parents to become teachers–especially if they've never done it before. But based on the exceptional young people we've met while cruising, it's well worth the effort.
In today's guest post, Emily, a former primary school teacher and current cruiser shares her best tips to help parents become educators.
---
"In the end, kids won't remember the fancy things you bought them. They'll remember the time you spent with them."
A Teacher's Lessons
As a primary school teacher for over 12 years, I thought I had seen and done it all. I've taught in hats and gloves when the heating broke in the middle of winter. I've taught outside during a huge thunderstorm. I've even taught from halfway up a climbing wall (though I'd be lying if I said it was one of my most coherent lessons!). But one thing I had never even considered was teaching on a boat.
When I left the classroom for my own adventure, I didn't expect to find families teaching their kids from their boats. Although on sabbatical, the teacher in me couldn't help but get involved. I had so many questions. How did teaching on a boat work? And how did parents, with no teaching experience at all, manage to juggle sailing and boat school.
Learning From Each Other
It turned out that I wasn't the only one with questions! While living aboard my new-to-me sailboat I exchanged my teaching knowledge for much-needed sailing and boat maintenance advice. I discovered a whole host of families feeling understandably overwhelmed by the pressures that teaching from a boat brings. They were (pun intended), lost at sea when it came to boat school.
While I enjoyed teaching boat kids their lessons every week, my teaching experience was most useful for the parents. When we all left for summer sails, the boat school parents would have to feel their way through teaching. Things that had taken me years of training and practice to understand. Many things that seemed obvious to me as a teacher caused worry and frustration for boat school parents.
Questions ranged from educational-based queries, such as why isn't my child retaining their spellings? To more admin-based dilemmas like how to fit teaching around sailing or how to teach on longer passages.
Since moving onboard, I have worked with numerous boat school families, both with parents and children. And I've built up a good understanding of the unique challenges boat school brings. It's been exciting to work on finding solutions to their problems. And even more exciting to see their children flourish because of changes made.
Boat School Top Tips
I've detailed my top five tips for boat schooling primary school-aged kids below. If you need specific advice or support (every child is so different) check out my boat school coaching service, Emily's Ark. It provides parents with the support they need to get the most out of teaching their kids while still having the adventures of a lifetime.
#1 Take Lessons Outside
Children don't have to sit at a table with a pencil in hand to be learning. I would go so far as to say that this is when they're learning the least, especially when they're younger. Where ever possible, take your boat school outside.
As a trained Forest School leader, I taught many lessons in the woods. I've since adapted my training to teaching on the beach. And I have spent several winters with a classroom of children roaming the sandy shores in search of buried treasure, building rafts in floating and sinking materials experiments, making bug hotels, and discovering how fire is made while toasting marshmallows and telling campfire stories.
Learning through doing is one of the most effective ways of teaching. Room might be tight for resources on board. But you'll find most tools you need outside. So take your teaching onto the beach or even into the cockpit and you'll all enjoy boat school more!
#2 Don't "over school'"
When children go to school all day they're only really learning for a fraction of that day. There are so many distractions in a classroom. And although it might seem as though they're concentrating for a full day, they honestly aren't! They're chatting to their friends when the teacher's looking the other way. Or they're gazing out the window at the kids playing sport outside. They might even be seeing how far they can put a pencil up their nose.
When you teach children one on one, their attention can't wander because you're right there nagging them to get on! This means their learning time is concentrated compared to a normal school day. Keep your teaching time to a few hours maximum depending on the age of the child. If you try and teach for the whole day, your children will end up completely exhausted, and so will you!
#3 Kids learn slowly
As I said before, every child is different. But on the whole, kids learn slowly. I understand it's frustrating when you taught them something just a few days ago and now they don't remember it. But teaching is all about over-learning and over-learning again.
Think about babies, and how they're happy dropping things on the floor over and over. You're bored after the first few goes, but for them, it is endlessly entertaining. They need to repeat the task many times before they've learned it.
It's the same for your kids when they're learning something new. They might have been able to add together 5 and 5 last week, but they need to try it every day in many different ways until they understand how to do it. Use objects, give them the task in word problems, act it out. You get the idea!
#4 Get creative
A common problem I've come across when it comes to boat school is that children simply aren't enjoying their education. A lot of homeschool curriculums can be "dry" if delivered straight from the book. They have to be designed for anyone to teach them. And they can lack a lot of what makes teaching and learning fun.
If your child isn't enjoying school then it's time to change things up. No one learns when they're bored. There are easy ways to adapt the program you're following to spark your child's passions and learning preferences. Decide on a topic together, for example. Give them a choice of several themes like the rainforest, knights and castles, or space. Then design lessons around that theme.

A lesson on measuring can become a design technology lesson where you build a castle to specific measurements. A lesson on adjectives can become drawing an imaginary planet and using adjectives to describe it.
For further help designing a more exciting curriculum to suit your child check out the services I offer on my boat school coaching page.
#5 Be kind to yourself
I have had the opportunity to see first-hand the benefits of bringing children up on a boat. And if I am lucky enough to have children of my own, I won't hesitate to school them on board. Children attending school on a boat have the world as their classroom. As teachers, you have so many perfect opportunities to encourage hands-on, practical learning that will teach children so much more than they could ever learn inside a classroom-based environment.
Remember, though, that you can't be the perfect teacher all of the time. There will be plenty of times that you're short-tempered. Or that your child looks at you blankly when you try to explain something for the third time. Perhaps you feel you simply can't be bothered.
If you're having a bad teaching day then please be kind to yourself. Take a step back, let them watch an educational channel on YouTube, or give them a simple art or construction task while you have a much-needed cup of tea and a biscuit.
More than a perfect teacher kids need a real parent. And real parents need regular breaks from their teacher day jobs!
---
Emily Nancolas is sailing the world in her Kadey Krogen 38 sailboat, Hot Chocolate. She is currently island hopping in Greece and slowly heading west in preparation to cross the Atlantic. Before moving on board 2 years ago, Emily was a full-time primary school teacher (ages 4-13), Head of Key Stage 1, and Forest School leader for 12 years.
Related:
Some links in this article (including all Amazon links) are affiliate links, meaning that we earn from qualifying purchases.