Over the years, we've met a ton of boat kids and frankly, almost all of them have been fun, mature, responsible and some of the neatest people we've met.
Still, if you are thinking of cruising, the question often comes up as to whether it's better to go with the kids or wait until the kids are off on their own. The two big questions about taking kids are what to do about school and whether there will be other kids around. And yes, non-cruisers may think the real question is "Are you crazy?"
Get Discover Living on a Boat (free mini-course). Explore whether cruising is right for you, from the lifestyle to the cost and ways to afford it.
Go cruising now and take the kids! Trade sunsets, snorkeling and real responsibility for video games and organized sports.
Dave and I were bitten by the cruising bug long after his kids were grown (and I don't have any), so I can't offer first hand advice on the topic. But we've known several hundred cruising kids along the way . . . and I only know of one family where it just didn't work.
You know your own kids and their personalities, and you're probably the best judge of how it will work. A big part of it is the parents' attitude, too. If you're nervous about it, they'll pick up on that. But seriously, it's not a weird lifestyle and there are plenty of resources to help you.
Why Cruise with Kids?
Cruising benefits kids as they are given responsibility — real responsibility — at an early age and learn how to work as a team. They stand watches, first with parents, then short solos in good weather and later as a full member of the crew. And believe me, once they are old enough to help, having the extra eyes and hands is always a good thing!
Instead of being overprotective, parents teach kids the skills they need to try new things . . . and recover from difficulties. Problem-solving becomes second nature. The kids experience the rewards of hard work.
Cruising kids see the real-world applications of what they are learning. When they have questions, they learn how to find answers. Pretty much everything becomes a learning experience.
They see different cultures — even if you never leave your home country. If you do cruise to foreign lands, they'll pick up a foreign language. They make friends with the local kids and other boat kids — and age differences tend not to matter.
In short, boat kids are mature beyond their years but still have typical kid fun. And having the kids along benefits the parents too as you see the world through your children's eyes. And kids are natural ice breakers, making friends everywhere.
What about homeschooling — or should I say boat schooling? If your kids are project-oriented, they will positively thrive with most homeschooling, especially as the material can be tailoring both to the child's way of learning and what is happening wherever you are. Yes, some "boxed" homeschool programs are primarily worksheet based, but nothing says you have to use one of those. Check out a great resource below.
Just like every other decision from the boat you buy to where you cruise, having kids aboard will affect the trip. But it's by no means impossible and can add greatly to the adventure.
Here are two good books and two blogs to help you envision cruising with your kids and give you the details to make it be a success.
Books
Voyaging with Kids: a guide to family life afloat — new in 2015, the book on cruising with kids, written by three cruisers who are doing just that. It covers just about every question you might have, including how to deal with the naysayers back home. Buy it on Amazon (print and Kindle); read my review here.
Homeschool Teacher — new in 2016, written by a world cruiser with a background in teaching. Acclaimed for providing practical information and real answers to the question of "can I teach my kids?" Buy it on Amazon (print only).
Blogs
There are tons of families cruising or just weekending on their boats and many have blogs about what they're doing. Two stand out for giving how-to information:
Sailing Totem — a family of 5 who have been cruising now for 8 years and most of a circumnavigation. Mom Behan is one of the authors of Voyaging with Kids. See particularly her section on Homeschooling. She and her husband Jamie also offer a very cost-effective personal mentoring service for families thinking of cruising.
Windtraveler — they started cruising as a couple and now (January 2017) have a 4-year-old and twin 2-year-olds on their third boat. While Sailing Totem has info on grade schoolers and teens, Windtraveler is all about babies and toddlers. Check out Brittany's Baby on Board section.
Want proof that you're not crazy to think about cruising with kids? Check out Behan's monster list of cruising family blogs — there are a lot of people already doing it!

---
Our FREE Provisioning Spreadsheet
Wondering how much of what foods to take on your next trip? Know just how much to buy of what — all arranged by grocery store aisle — with our handy Provisioning Spreadsheet. Includes detailed instructions to edit it for your favorite foods, how much your family eats, and how long you'll be gone. No spreadsheet skills needed!
It's FREE — get it here.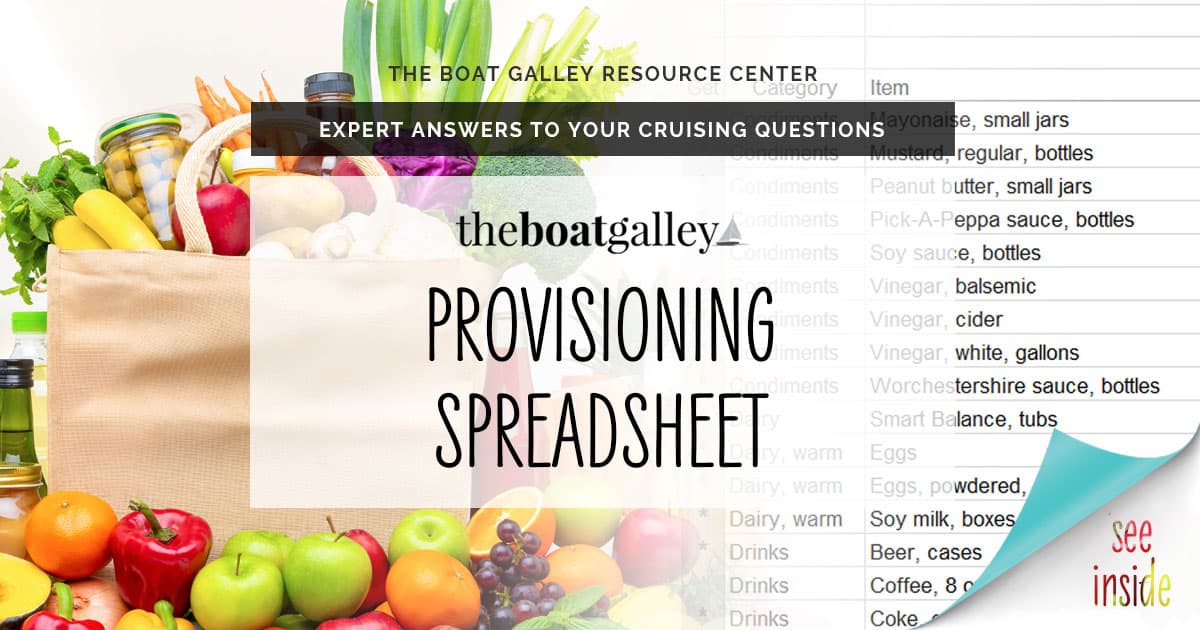 Some links above (including all Amazon links) are affiliate links, meaning that I earn from qualifying purchases. Learn more.