This summer, Kate Laird contacted me to review her new book, Homeschool Teacher. While she has homeschooled her kids aboard their boat for over ten years (they're in the Antarctic in the photo above!), I don't have kids and thus know nothing of the realities of homeschooling. So instead of me reviewing the book, I asked if she could tell me a bit about why she wrote it and what it contains.
Here's her reply.
---
Homeschool Teacher: A Practical Guide to Inspiring Academic Excellence can help families sailing with children figure out the homeschool options.
We set out on our sailboat Seal when our daughters were four and two, and I've homeschooled them all the way through, as we've sailed from the east coast of the US to Alaska via Greenland, Antarctica and New Zealand. (I've restricted Homeschool Teacher to grades K-8, or ages 4-14, since high school is still a work in progress.)

When I began homeschooling, the options felt very limited. A week after my college graduation in 1990, my first job was tutoring three children while sailing across the Pacific, so I'd even had the benefit of a trial run, but still I struggled with developing a school program that would emphasize both academic achievement and plenty of free time to learn about the world as we traveled. Most homeschooling programs seem to emphasize one of the two poles: all-day classical education or child-led unschooling. Neither worked for our family.
Homeschool Teacher blends those academics and child-led learning. I think of my philosophy as "unschool when you can, teach when you must," and I'm not willing to sacrifice either formal education or time exploring the world. The book covers how one learns, tips for teaching, guidance for each subject-area, how to choose the best curriculum for your family and situation, and above all, how to make school rigorous and interesting, academic and practical.
Whether you choose to create your own curriculum or buy a pre-packaged program, Homeschool Teacher can help you teach your children as you sail the world.
Table of Contents
Introduction
How We Learn
Principles of Teaching
What and When to Teach
Reading
About Writing
Writing Assignment Ideas
Writing and Rewriting Toolbox
Writing-related Skills
Mathematics
History
Science
Second (or Third) Languages
Managing the Classroom
Standards and Objectives
Budget & Ordering Supplies
Traveling Families
For International Readers
Links
Buy the book
About the Author
Kate Laird graduated from Harvard with a degree in history, a good set of study skills, and a 100-ton captain's license. Her first teaching job began seven days after graduation, tutoring three children on a sailboat crossing the Pacific. That "year off" turned into twenty-five, as she worked on boats around the world, sometimes pausing to write about it.
In the middle, she taught for another two years at the University of New Hampshire, while earning an MA in English, but then didn't think much more about education until it came time to teach her two daughters. The last twelve years have been devoted to their educations, as the family worked and traveled on the edges of civilization from Greenland to Antarctica, Tierra del Fuego to New Zealand, through the South Pacific to Japan, and now to Alaska.
You can find her online at www.katelairdbooks.com.

---
Our FREE Provisioning Spreadsheet
Wondering how much of what foods to take on your next trip? Know just how much to buy of what — all arranged by grocery store aisle — with our handy Provisioning Spreadsheet. Includes detailed instructions to edit it for your favorite foods, how much your family eats, and how long you'll be gone. No spreadsheet skills needed!
It's FREE — get it here.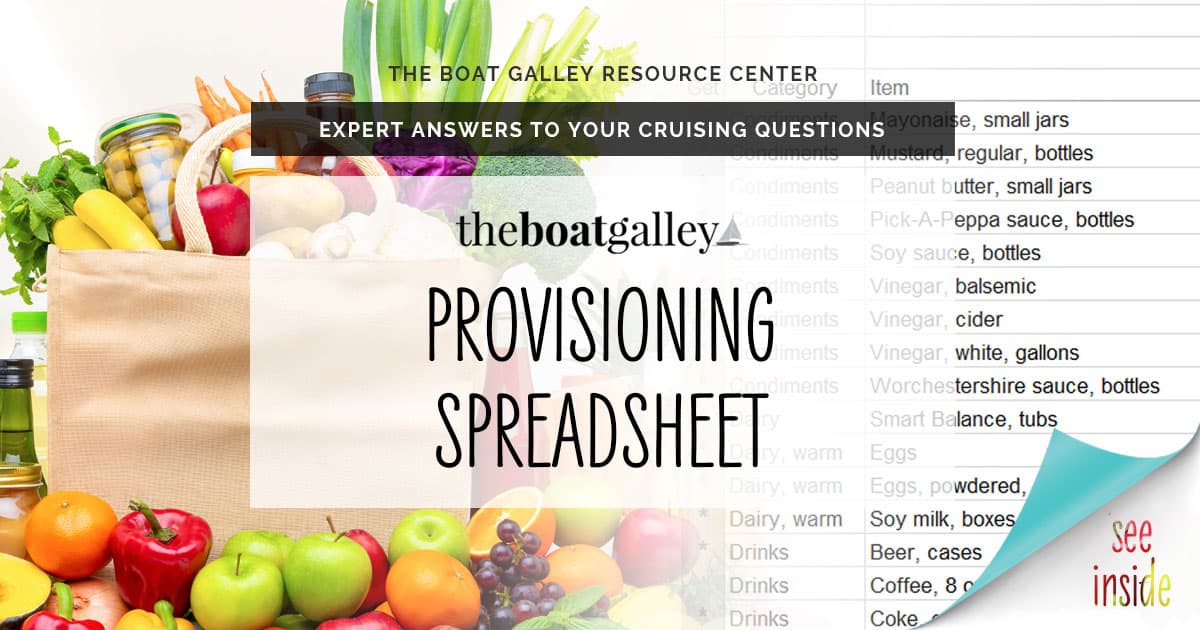 Some links above (including all Amazon links) are affiliate links, meaning that I earn from qualifying purchases. Learn more.