Would you be prepared if you had to abandon ship?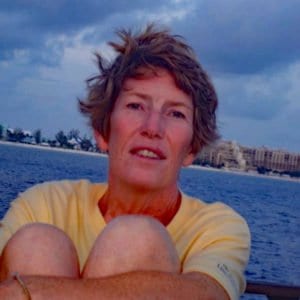 In June 2018, I met Cyndy Carter over dinner in Marathon, Florida. An experienced captain, she told me the story of having to abandon ship just a month before.
A TBG reader, Cyndy wanted me to know how much a couple of tips that I'd given in articles had paid off big time for her and her crew. I asked if she would be willing to share her story to show what abandoning ship is really like and she graciously agreed.
Here's her story in her own words with only slight editing from me (she told me I could edit the story except for the parts where TBG articles had provided invaluable tips):
---
Preparation
Leading up to May 4, 2018, I had been checking the weather for days waiting for a weather window appropriate for my inexperienced crew's first overnight passage. We had been doing easy day sails and simple shakedowns to be sure he understood the basics and that the boat was ready to be a bit offshore.
I never thought to check the pressure systems in the Bahamas (first mistake) to look for high or low pressure systems that might influence the Gulf of Mexico. There was one small spot of weather that looked like it might last an hour or so with potential squalls. I've been through squalls, including ghosting, and wasn't worried. So I picked what appeared to be good wind and weather for an easy 84nm overnight from Marco Island to Marathon.
Navigation was carefully mapped and explained to crew. Bailout points were waypointed (thanks Carolyn). The weather appeared to be so good so I chose to not lay jacklines (next mistake and a big one).
We left under a blue sky with a light downwind breeze of 10 knots that allowed us to fly wing on wing without poles or preventers (next mistake). This was going to be great!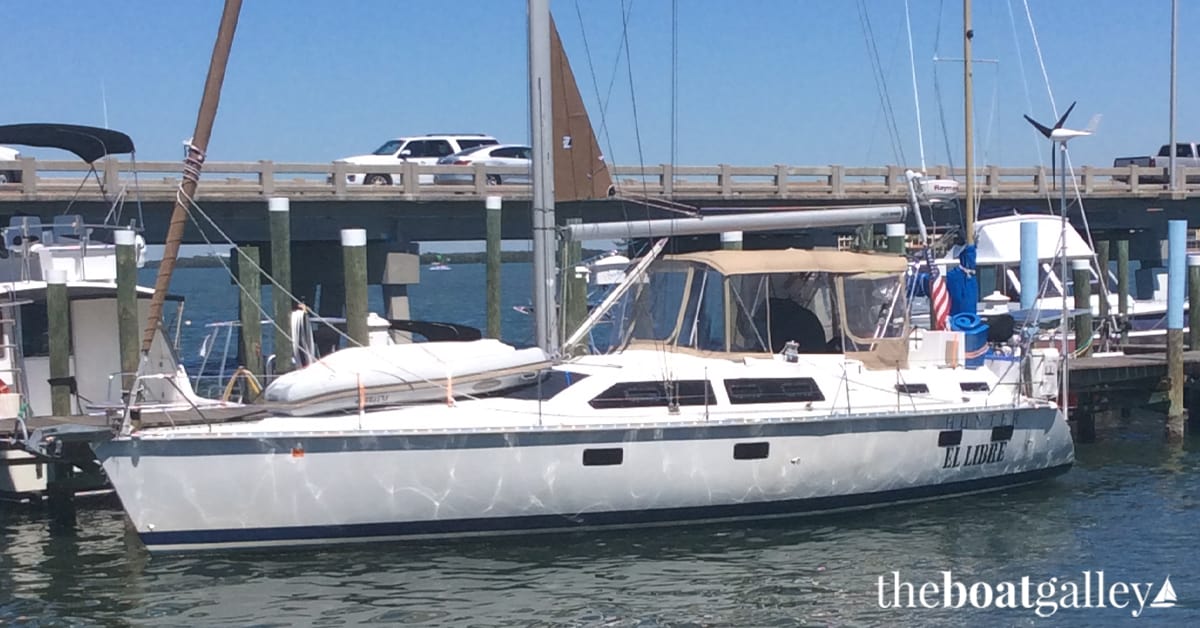 The Storm Hits
About 3 hours later, there was a low pressure in the Gulf that pulled the backside of a large storm in the Bahamas right into our position. We went from 10knots true to 35 knots sustained in less than one minute.
El Libre has in-mast reefing and my crew tried to get the main reefed. I struggled to keep the boat in position, and then the main jammed. My crew went on deck to clear it as I watched my ability to see shrink.
Once the main was cleared, we started to reef the furling jib. The wind was shifting directions so quickly I wasn't sure enough of my crew's ability to helm to let him have the wheel. As he was trying to reef the jib with the wind whipping he released the both sheets which instantly knotted into a huge ball wrapped around a shroud. We did manage to get enough of the jib in that we only had a handkerchief sail out.
I asked my crew to reef the main more if he possibly could. There was so much pressure on the main that the roller furling line broke the Lewmar winch. Sigh, this wasn't going well. He did manage to get more sail in by using another winch that was very awkward.
At this point, it was starting to get dark. With a sustained wind of 35 knots gusting higher, I decided to turn around, go back to a bailout point that I had marked on the chart and figure things out the next day. We started the engine and headed for shore. Two hours later we had traveled less than 4 miles and had buried the bow to the mast so many times we lost the navigation lights and switched to the tricolor on top. Glad I had opted for the redundancy.
To smooth out the boat I turned to surf the waves and review my options. I did not relish the idea of going forward in full dark, with no jack lines, to try to untangle the knot and restore our ability to sail. We chose to motor towards our destination.
The Engine Dies
An hour later, the engine died with a *bang* (we found out later the fuel pump went out and now carry spares). Now we had no engine and no sails and we are out of VHF signal range.
We surfed under bare poles making 3.5 knots under only the tiniest of sails I've ever had out. There was no letup in the storm we were in. We were soaked from rain and bow spray.
I watched the chart plotter, periodically calling out pan-pans and asking if there was anyone who could relay to TowBoat US that we were going to need help negotiating the reef and the 7-Mile Bridge heading into Marathon. No answer.
Calling for Help
I initiated the DSC (distress) button on the VHF. We were in what the Florida Coast Guard calls "the dead zone" without a SAT phone. After a total of 6 hours and heading quickly for the reef, I was out of ideas. I hit the button on the EPIRB at about 5 AM.
I remember thinking over and over, the very last words I had said to my nervous son were "we will be safe, I promise you" and here I was feeling decidedly unsafe for the first time in over 4000nm with over 2000 of those offshore in blue water in the Atlantic.
I had pulled out the huge ocean vests hours ago, donned mine and forced my crew to put his on over the top of his Mustang HIT because both inflatables have an integrated harness and we were wearing tethers. Now it was just a matter of waiting and hoping the Coast Guard got to us before we got to the reef. We were going to have to abandon ship.
The Coast Guard Arrives
About 9AM I spotted the Coast Guard helicopter as my crew sat on the deck trying to untangle the huge ball of sheets. The CG hailed us and said we were a long way from where the EPIRB went off. When the chopper arrived they asked politely if it was me that had the DSC going and I was asked to please turn it off.
The para-rescue swimmer dropped into the water and I kept a careful eye on him. When the boat went flying past him, I flipped the boat around as fast as I could and got a thumbs up from the helicopter pilot. Somehow, the rescue swimmer managed to swim to us in the waves. I was glad that the boat has a stepped transom because it would have been difficult to get him up the high freeboard. Once on board and after evaluating the full situation, he informed us that a Coast Guard speed boat was on its way to assist.
He then recommended we leave the boat by helicopter. I asked if it would be an option to get assistance from the crew of the boat and leave on the boat. He expressed that it was his recommendation that we leave, but I was worried about my boat. It's my home. I don't even own a car much less a house. We were allowed to wait.
Within minutes the boat arrived. One crewman got aboard to assist. We were still moving quite fast but it was decided to drop anchor and leave. I was worried about what would happen if an anchor was dropped at that speed. In retrospect, I should have turned on the anchor light.
Leaving El Libre
We were told we could not take the ditch bag. This is where Carolyn Shearlock saved me so many problems and headaches . . .
Carolyn has written several times about packing the ditch bag. I even used a tip from her and got the ditch bag for free when I ordered the EPIRB! I studied the articles and learned from the best!
She recommended having a waterproof container with the absolute essentials (phones, wallets, cash, 1 week of medicine, passports, ID, vital papers) and shoes sitting at the very top of the bag. I never wear shoes on the boat and under a countdown by the Coast Guard I never would have thought of them! We were allowed one small backpack. That was it.
I grabbed the waterproof container and shoes and stuffed them in the bag as the Coast Guard said "time's up, we go NOW". Okay, I'm good, got this . . . all thanks to Carolyn. I can never say how important this was. As my crew worried because he couldn't find his wallet I was able to remain as calm as is possible and said let's go. One minute that's all we had. (I had dropped his wallet in the box and forgotten about it)
As we got into the rubber boat the Coast Guard dropped the anchor . . . ALL of it, 300 feet released into the waves. As the Rocna hit and grabbed the force of it rolled the keel up out of the water. All I could think was I am so glad I tied the anchor off and kept that knot inspected. My crew said he thought, the bottom looks pretty clean. Surprising what thoughts strike you as time slows to a crawl. We got the autopilot turned off that I had forgotten. And as we moved away I wondered if I would ever see my home again.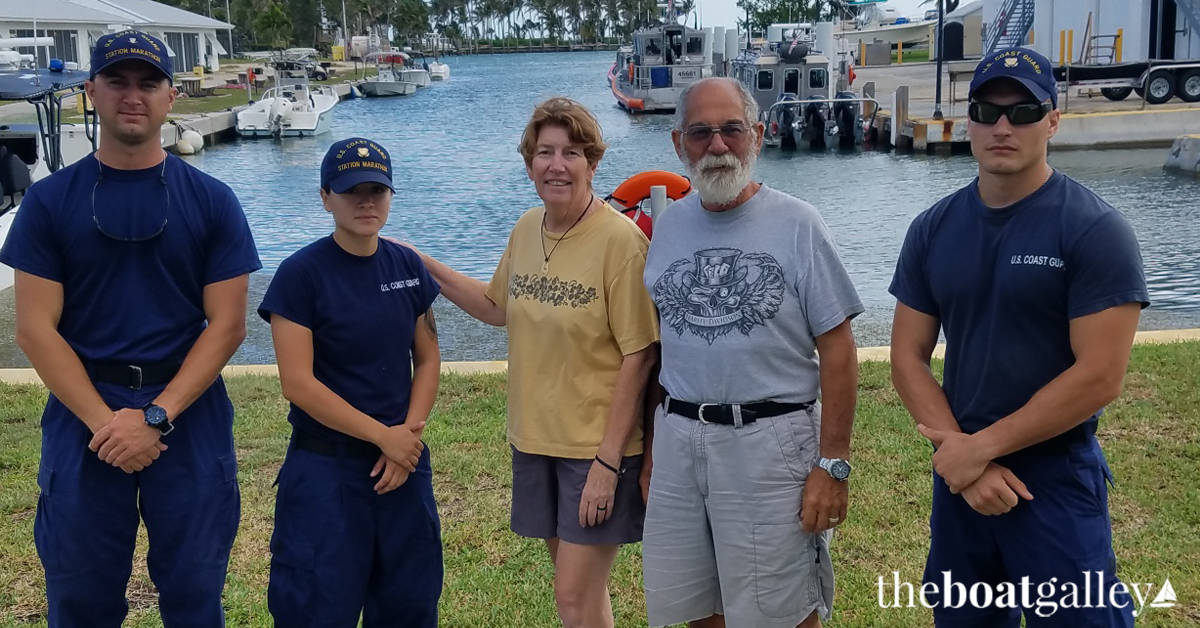 When we got close enough to shore to get a cell signal I called TowBoatUS. They took my information and the GPS location of the boat and called the local captains. Seriously, the first words out of their mouth were "You need to call your insurance, not us. We are not going out in this." I told them that I was going to wait on that.
We arrived at the hotel with the dirty clothes we were wearing, 4 life jackets with tethers still attached, our shoes and that precious box with everything we needed. Thank you again Carolyn, I can never thank you enough.
Recovering El Libre
Two days later TowBoatUS went out to look, leaving me with the words "if it's not exactly in this location, we are not going to look for it." Okay, fair enough, but I trust my Rocna and my Mantus swivel. While we were waiting, we called everyone that the Coast Guard called when the EPIRB went off (at 2AM for one on the west coast). They'd been on the contact list for verification that the boat was indeed on passage in the Gulf. We let them know that we were okay and waiting for news about the boat.
What felt like hours later I got a SAT phone call, "we see a mast" Then TowBoatUS called to say they found the boat exactly where it was supposed to be. They were bringing my home to me. (Yes, there were tears)
So goes the tale of how I lost 295 feet of excellent ground tackle to Neptune. El Libre was keel wrapped and the Rocna was probably 15 feet under the mud. What it cost to replace it was money well spent.
Lessons Learned
I learned valuable lessons on giving better commands to inexperienced crew, NEVER skipping a safety item (jacklines) and keeping on trying when you've run out of options. I also learned that if you have obviously prepared the Coast Guard only asks for your Certificate of Documentation number.
This would not be complete without a heart-felt thank you to the men and women of the US Coast Guard for all that they do when you've done everything you can and there are no choices left.
Give your boat its best chance in hurricane season:


Making Boat Life Better
Some links in this article (including all Amazon links) are affiliate links, meaning that we earn from qualifying purchases.