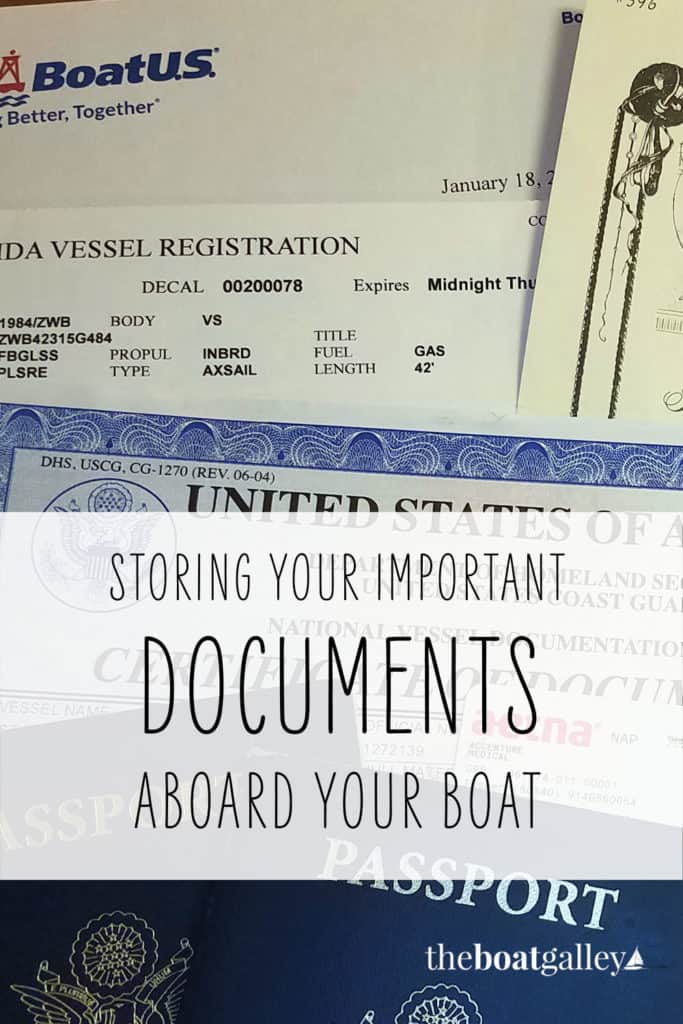 If you're living aboard full time, where's the best way for storing documents on a boat? Wills and so forth you may keep in a safe deposit box somewhere.
But what about the documents you need to have with you?
Passports
Boat documentation
Boat insurance
Health insurance cards (duplicates – also have one in wallet)
Living wills
Medical history
Pet documents (rabies, health certificates, etc.)
Car documents (if you have a car)
Cruising Mexico on our previous boat, we kept all these in a notebook tucked in a nice secure spot.
Great! But what if the boat caught fire or started sinking?
In the event of an emergency where we'd have to abandon the boat, we'd need those documents. But we weren't likely to be digging them out from the locker under the settee as we left. Ooops! Not a good storage place.
This was brought home to us as more than one person we knew did have a disaster befall them and wound up without anything they needed. Simply put, a disaster is bad enough. A disaster without documents is even worse.
At the time, we made copies of all our documents and sent them to a relative "just in case."
Last summer, we had a better idea as we were building our ditch bag. Instead of keeping the documents in a folder in a locker, we put them in a case and put them in the ditch bag.
The ditch bag is always in an accessible place (a basic rule on board) and so if we need items routinely, they're easy to get to. And if we ever have to abandon ship, the ditch bag is the most thing we'll be grabbing.
NOTE: We also have copies with a relative and one in the cloud (with password protection) as backup . . . just in case. But having the originals – particularly of passports – is preferable.
Read Next
Here's your "Quick Start" to everything you need to know when living on a boat:


Making Boat Life Better
Some links in this article (including all Amazon links) are affiliate links, meaning that we earn from qualifying purchases.