Our new-to-us boat came with a foot high stack of manuals in one locker, a notebook of engine info in another, a folder of documents on a shelf . . . and the seller handed me another stack that he'd brought from his house. Then we had the our Coast Guard documentation, Florida registration, and owner's manuals from gear we brought aboard.
Need help figuring out how to store everything on your boat? Storage Solutions for Life Afloat (online course) can help you make a seamless transition to living aboard.
YIKES! We were drowning in paper!

On our previous boat, former owners had created a series of notebooks with binder pockets to organize all the material. The only problem was that the binder pockets were paper and tore fairly easily with the weight of the heavier manuals.
My first thought was to see if I could get similar folders but non-tearing plastic to use in notebooks and while I could (see picture at right), I also started figuring that between the cost of the notebooks and the not-exactly-cheap folders, this was going to get expensive quickly. I had a LOT to organize.
Instead, I found heavy-duty plastic 13-pocket accordion folders at the local Dollar General for under $4 each. These were also better since they had label tabs on them and could expand far further than the binder pockets.  I bought three. [Note: I later found similar folders at an office supply store for $13 each, so it does pay to shop around. If you can't find them at a decent price otherwise, Amazon carries them for a little more than I paid – and you can get them in all one color.]
Then I started sorting the manuals into general piles – engine, galley, plumbing and toilet, etc. Then we delved deeper into each one, sorting by individual pieces of equipment and throwing away duplicate manuals (7 identical fans on the boat, 7 manuals – we really only needed one). In some cases, we found manuals for gear that was no longer on the boat (the original engine when she'd been repowered four years ago). Again, we got rid of it – no need to confuse ourselves when looking something up.
Then we put things into the accordion folders, labeled the tabs and I labeled the outside of the folders with what was inside. I tried to group like items together – here, galley gear, water systems (filters, hot water heater, watermaker, etc.) and the head.

We ended up with six folders, including one that has the boat documentation, state registration (boat and dinghy) and insurance. They fit nicely into a storage cubby at the foot of our bed – and with all the duplicates and no-longer-on-the-boat information removed, the stack is less than a foot high.
I also put a label with the general category on what would be the exposed side so that it was easier to just pull out the correct folder from the stack. Maybe someday I'll do prettier labels but blue tape and a Sharpie worked well for now!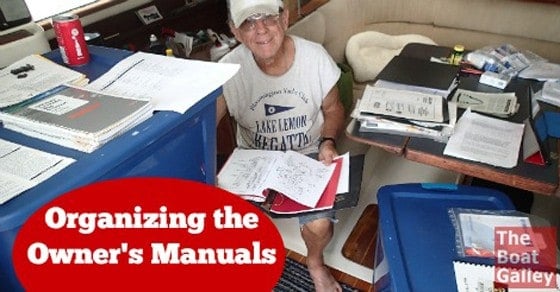 Get answers to all your storage questions in Storage Solutions for Life Aboard! Online course with all materials available immediately to help you end the piles of "stuff" that have no permanent places. Many of the ideas you can implement today. Real help, real fast.

Some links above (including all Amazon links) are affiliate links, meaning that I earn from qualifying purchases. Learn more.