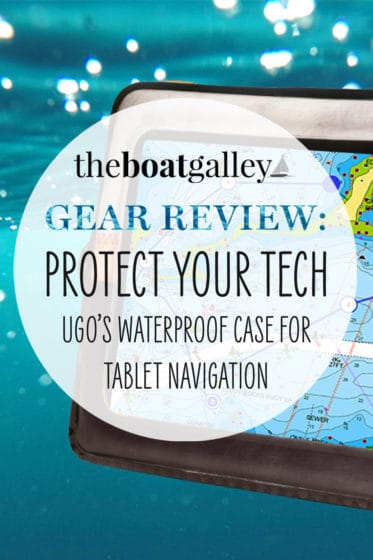 Looking for a truly waterproof case for your iPad or another tablet? If you use your tablet for navigation, as we do with AquaMaps, several features are critically important:
Able to use the tablet without taking it out of the case
No overheating
Able to charge while still being watertight
Really and truly waterproof — even in torrential rain or if a wave soaks the cockpit
Since I use the same case for taking my iPad to shore, there are a couple more features I'm looking for:
Will it float if I accidentally drop it in the water when going from the dinghy to dock?
It is easy to carry?
Using the ugo Waterproof Tablet Case
The women at ugo — Melanie and Vicky — have been working on a tablet case for over a year. I have had one of their phone cases for about three years and love it (doubly so when it kept my phone safe as we cleaned up after Hurricane Irma and again when I fell into the water going from the dinghy to the dock).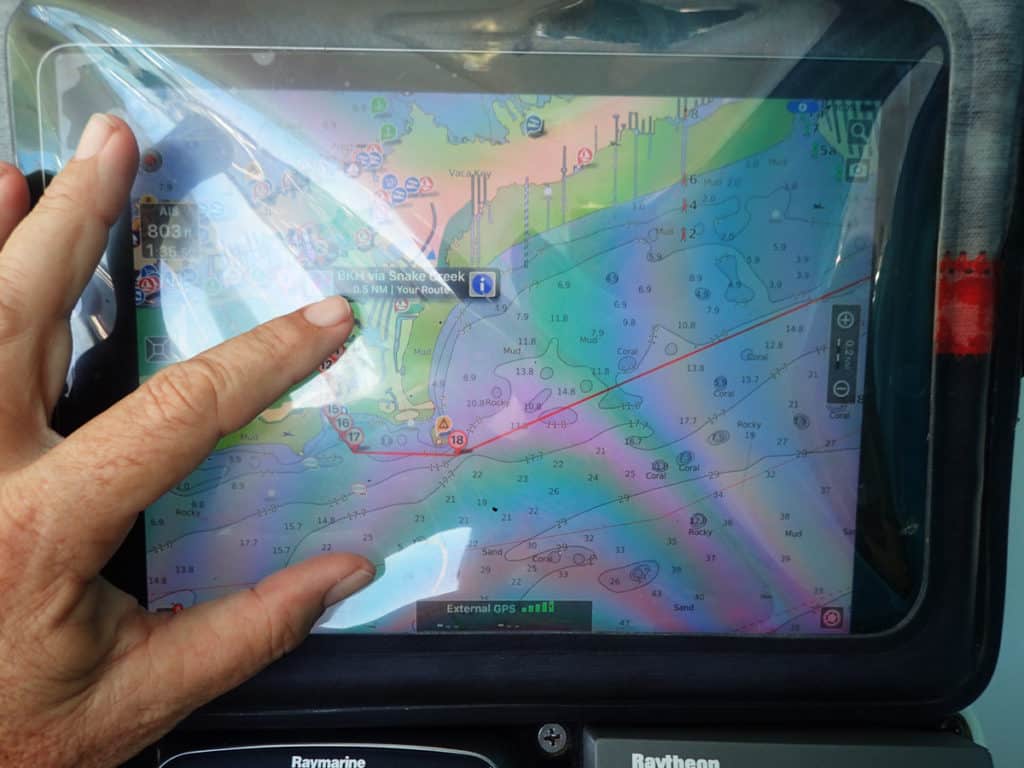 When I heard that their new case was debuting at the Annapolis Boat Show, I made it a point to pick one up first thing. And it got put to use that same day, in my booth. We were running all the booth transactions through my iPad and it worked perfectly for people to sign the credit card transactions onscreen with no fear of anything being spilled on it. The next day, it rained. Again, no problem with the ugo protecting the tech.
A couple of days later, I stopped by the ugo booth again and talked a bit longer to Vicky. She said, "I want to show you something." She proceeded to put the laptop and iPad they were using to run the booth on in her tablet case, along with all her notes and papers from the show and zipped it up tightly. Then she walked me to the edge of the dock and threw the case in the water. It floated despite the weight of everything in it. We chatted for a few minutes — she said she had no worries about water seeping in — and then finally pulled the case out, wiped it off, and opened the zipper. Not a drop of water inside and all her devices worked perfectly. To me, that says a lot that they were willing to demonstrate with all their booth electronics inside — no backups.
ugo Waterproof Tablet Case Features
I've now been using the case for almost 3 months. I love it! Key features:
My iPad is fully functional while in the case.
Any device in the case will still pair to a Bluetooth device outside it.
My iPad connects perfectly to wifi when in the case.
I can slip an external battery and cord into the case and charge my iPad — there's plenty of room for the cord to be plugged in. (NOTE: If you pass the cord outside the case by not closing the zipper completely, the case will not be totally waterproof.)
Special heat-absorbing materials keep my iPad from overheating even with the zipper totally closed.
It floats even with a full load of tech — two iPads, two phones, and an external battery.
It has a shoulder strap and also a hand strap on the back. I've found that I use that hand strap frequently!
Pockets inside for money and credit cards, plus enough room for keys, lip balm, and other small items.
I have absolutely no worries about using my iPad in the cockpit even in snotty weather, and dinghy trips with it don't worry me.
Be sure to periodically use a dab of the included zip lube, which makes it easy to zip the case up tightly — that last quarter inch is critical to fully lock out water (and sand).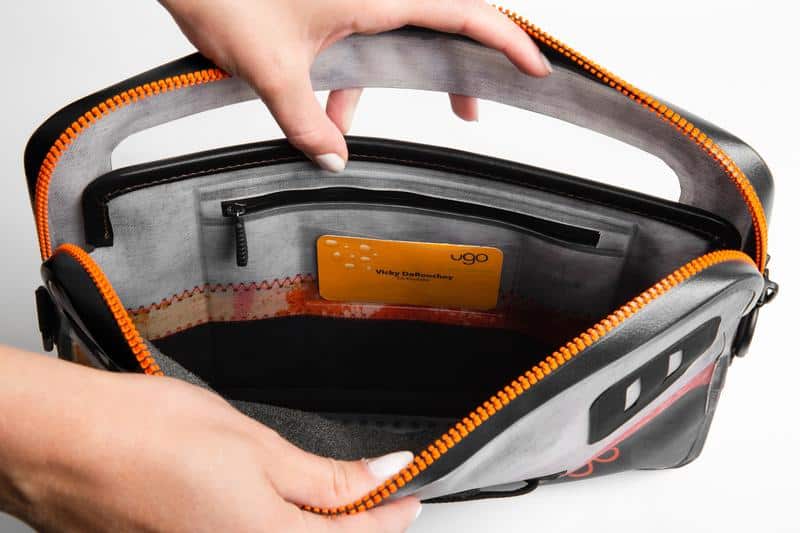 Buying the ugo Waterproof Tablet Case
At $159 for the case ($179 for the XL, which can hold a 13″ laptop), it's not cheap. But it's built to last and to protect your expensive electronics. Their phone case has had ZERO failures to date and it's built with the same materials and drysuit zipper as the tablet case. I know when my ugo phone case saved my $400 phone when I fell in, I thought the case was a fantastic investment.
ugo is a sponsor of The Boat Galley Newsletter and The Boat Galley podcast and offers readers 20% off — use coupon code BG20 at checkout.
You can also buy the ugo regular tablet case and the ugo XL tablet case at Amazon. But you will not receive the discount.
Disclosure: ugowear is a sponsor of The Boat Galley and gave me the tablet case for review purposes. However, I will never give a good review just because I was given something. Protecting electronics is serious business when you use them for navigation. I truly do love this case and use it every day. Don't tell Mel and Vic, but I'd buy one in a heartbeat if they hadn't given it to me!
Here's your "Quick Start" to everything you need to know when living on a boat:


Making Boat Life Better
Some links in this article (including all Amazon links) are affiliate links, meaning that we earn from qualifying purchases.