Sunscreen. That's one thing my mind this week.
You see, recently Dave had to have a bit of skin cancer cut off his ear. It seems that skin cancer is almost an "occupational hazard" for cruisers. I'll be honest – both Dave and I tend to wear ball caps, (Amazon) which protect our eyes from glare but do little to guard against skin cancer on the face, ears and neck (this cap is the exception) (Amazon)..  
We need to wear sunscreen (Amazon) as well. We know it. But we just tend to forget to put it on before we walk outside. So we're trying something new: keeping it in a really obnoxiously visible place right by the door. Tucked in a locker in the head just wasn't doing a very good job of reminding us! 
And on the topic of sunscreen, please be careful with the type that you use. Many cause irreparable damage to coral! When snorkeling, we wear a lycra suit (Amazon) that covers most of our bodies, then only need a bit of sunscreen – again, on our ears and neck. Now it's obvious to use a reef safe sunscreen (Amazon) if you're going to be swimming or snorkeling, but when you live on a boat it's equally important ALL the time since all our gray water (shower or sink runoff) goes into the ocean too.  
If you want some suggestions on lycras or reef-safe sunscreen, I've written about them here.
Second thing I'm thinking about is the hurricane season. It's something we don't really want to think about but have to. If you're in the Caribbean or on the east coast of the US, you can't avoid it. Same thing for the west coast of Central America and Mexico, and all the way out to Hawaii.  
The thing is, NOW is the time to start your preparations, not when a storm is bearing down on you. The Boat Galley's Comprehensive Hurricane Prep for Boaters details the pre-season planning (including making a hurricane plan for your insurance company) through weather watching, actual storm prep, and post-storm safety. It also covers how we cruise during hurricane season.
This online course is a greatly expanded version of the one I teach at Cruiser's University, and you can go through it whenever it's convenient and at your own pace – you have lifetime access. Learn more and sign up here. 
Of course, I'm hoping to end with a mild hurricane season. But if I've learned anything, it's to hope for the best but prepare for the worst. 
---
Be sure to subscribe to The Boat Galley newsletter to keep up with what we're up to and get helpful tips and encouragement from the water.
---
Our FREE Provisioning Spreadsheet
Wondering how much of what foods to take on your next trip? Know just how much to buy of what — all arranged by grocery store aisle — with our handy Provisioning Spreadsheet. Includes detailed instructions to edit it for your favorite foods, how much your family eats, and how long you'll be gone. No spreadsheet skills needed!
It's FREE — get it here.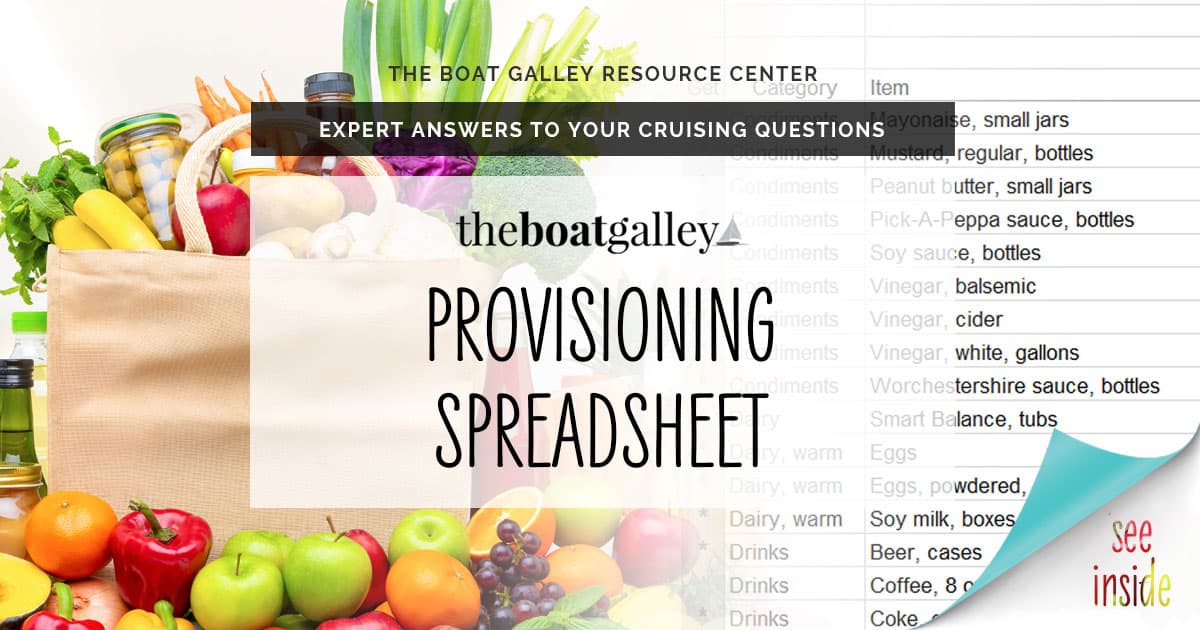 Some links above (including all Amazon links) are affiliate links, meaning that I earn from qualifying purchases. Learn more.