I just plain like toast for breakfast, whether it's homemade bread, bagels, English muffins or even Bimbo.  But we didn't want a toaster aboard our boat, both for space and electricity considerations.  No problem—there are at least 4 ways to make toast without a toaster!
All of these methods produce good results IF you pay constant attention to the toast. Unlike using a toaster, you just can't pop the toast in and do other stuff while waiting for it to be ready. The key to good toast (golden and crunchy on the outside and still soft and moist on the inside) is high heat, and that means the bread can go from white to burnt in just seconds.
Method 1 – Stove Top Toaster:
This is my favorite method, and the one I now use every day. I use the GSI Stove Top Toaster, which does a much better job than the 4-slice ones you may have seen in the past. You have to pay attention and flip the piece of bread at the right time, but since the bread is horizontal over the flame there is no problem with one edge being burnt while the other edge isn't even starting to toast.
Read more about the GSI Stove Top Toaster here. Buy it here on Amazon.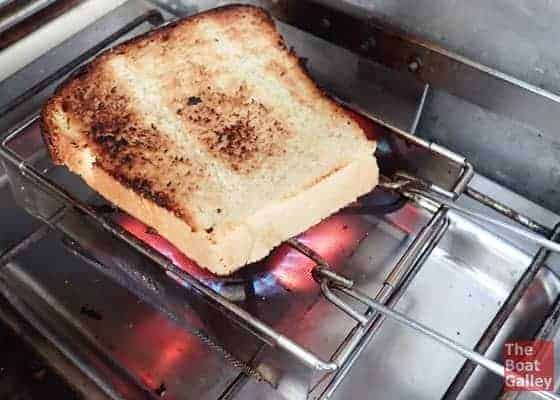 Method 2 – Broiler:
Of course, for this to work, you have to have a broiler, which some boat ovens don't.
Move oven rack to top position. Preheat broiler until it is red hot.
Slide the rack out, place bread slices on it, then slide it back in.
Keep the oven door cracked and watch for the bread to become golden—the exact time will depend on the heat of your broiler, distance to the rack and moisture in the bread. It generally takes somewhere between 30 and 60 seconds.
Slide the rack out, quickly flip the bread and slide it back it in. (Don't try to reach into the oven to flip the bread – it's too easy to burn yourself!)
Watch for the second side to turn golden. It will take less time than the first side did.
Remove and serve.
Method 3 – Dry in a Skillet:
I've used this method on occasion, but I don't like it as well as it can blacken the pan.
Heat skillet over high heat. Skillet must be hot before you put the bread in it.
Place bread in skillet without oil.
Turn bread over when bottom is golden.
When second side is toasted, remove and serve.
Method 4 – Grilled Bread:
This is a great way to make garlic toast to accompany a meal. Just sprinkle the butter with a little garlic powder, or mix finely minced garlic or garlic paste into the butter. Other good flavorings are cinnamon, onion or dill.
Heat skillet over medium-high heat.
Lightly butter one side of a slice of bread, like you would do for a grilled cheese sandwich. When the skillet is hot, put the bread in the pan, buttered side down.
While the first side is cooking, lightly butter the second side.
Flip with a spatula when the first side is golden.
When second side is also golden, remove from the pan and serve.
Read more about this in Grilled Garlic Bread.
Just remember, no matter what technique you choose, you have to watch the toast constantly!
Here's your "Quick Start" to everything you need to know when living on a boat:


Making Boat Life Better
Some links in this article (including all Amazon links) are affiliate links, meaning that we earn from qualifying purchases.