I love English muffins and as a teen, I tried my hand at making them. I learned that they tended to be finicky and it took forever to cook them four at a time on a griddle. So I figured that I'd almost never have them on the boat — they were virtually non-existent in Mexico.
Then I discovered English Muffin Bread. Every bit as good, but WAY, WAY easier to make. Don't even have to knead the dough and it rises very quickly. In 70-degree weather, a loaf only takes an hour and a half from thought to eating; in typical tropical temps, only about an hour. Yeah, I can do that and have a hot loaf for breakfast!
The recipe for making a loaf in a conventional oven is in the PDF sample of The Boat Galley Cookbook (along with 32 other recipes) — you can get it here (for those who wonder, when you sign up for it with your email address, you'll get ONE email immediately in case you had a problem with the download and another a couple of days later, and you get a subscription to The Boat Galley newsletter if you don't already have one but that's all — no spam, I don't sell the addresses, etc.).
So, what if you don't have a conventional oven on the boat?? Are you consigned to making English muffins on the griddle with the time it takes and the heat it puts into the boat??
Of course, the answer is NO . . . you can make English Muffin Bread in the Omnia Stove Top Oven.
Read more about the Omnia here or buy it from either of these two sellers:
Omnia Stove Top Baking Oven from Sea Dog Boating Solutions – Note: Sea Dog Boating Solutions no longer sells the Omnia Oven. But they do sell some Omnia accessories.
I've done some experimenting and adapted the recipe so it's sized correctly for the Omnia. And as you can see in the photos at the top of this article, it turns out deliciously.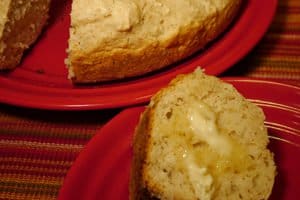 English Muffin Bread for the Omnia Stove Top Oven
Much easier to make than true English muffins, this tastes every bit as good.
Print Recipe
Ingredients
1

packet

yeast

(2-1/2 teaspoons if using bread machine yeast or bulk yeast)

1/2

tablespoon

sugar

1

teaspoon

salt

1

teaspoon

baking powder

2-1/2

cups

white flour

(can use up to half whole wheat flour)

1

cup

milk

OR water

1/2

cup

water

(in addition to the milk or water above)

Cornmeal, oatmeal or a bit of extra flour for pan
Instructions
Prepare the aluminum food pan of the Omnia by greasing it with a bit or butter, margarine or oil and then add approximate one teaspoon of cornmeal and shake the pan so that the entire inside is coated.

Mix the yeast, sugar, salt, baking powder and the flour in a large bowl. Add the milk and water. Stir until thoroughly mixed. DON'T KNEAD.  Place dough into the prepared pan.

Put the cover on the pan and let the dough rise until doubled, about 45 minutes if the temperature is about 70° F. (21 C.) (the time will be shorter if it's hotter; longer if it's cooler).

When the dough is almost doubled, place the steel base for the Omnia on a hot burner and let it preheat for about three minutes.

Place the food pan on the hot base.  Leave the burner on hot for one minute (60 seconds).  This is important for heating the pan and the air that is channeled over the top of the bread.

Turn the burner down to just above medium (my stove has settings from 1 to 7, 7 being the hottest, and I turn it to 4).

Bake the bread for about 35 minutes. The easiest way to tell if it is done is to stick an instant-read thermometer in the center of the loaf. It will read between 195° F. and 200° F. (90 to 93 C.) when done.

If you don't have a thermometer, the top should appear dry and you'll see a bit of golden brown along the edges of the top (next to the pan).  Stick a knife into the center of the loaf and make sure there is no raw dough on it when you pull it out.

Remove the pan from the stove and turn the loaf out onto a cooling rack, cutting board or plate (if you leave it in the pan, the bottom and side crusts will get soggy instead of being crunchy).

Let cool at least a few minutes before cutting. Serve warm or toasted.
Notes
To make this dairy-free, use water, almond milk or soy milk in place of the regular milk.
Nutrition Facts
English Muffin Bread for the Omnia Stove Top Oven
Amount Per Serving
Calories 65
% Daily Value*
Fat 0g0%
Cholesterol 2mg1%
Sodium 244mg10%
Potassium 92mg3%
Carbohydrates 11g4%
Protein 2g4%
Vitamin A 40IU1%
Calcium 47mg5%
Iron 0.6mg3%
* Percent Daily Values are based on a 2000 calorie diet.
Want over 800 boat-friendly recipes, over 100 substitutions, and tons of tips for cooking on a boat?


Some links in this article (including all Amazon links) are affiliate links, meaning that we earn from qualifying purchases.