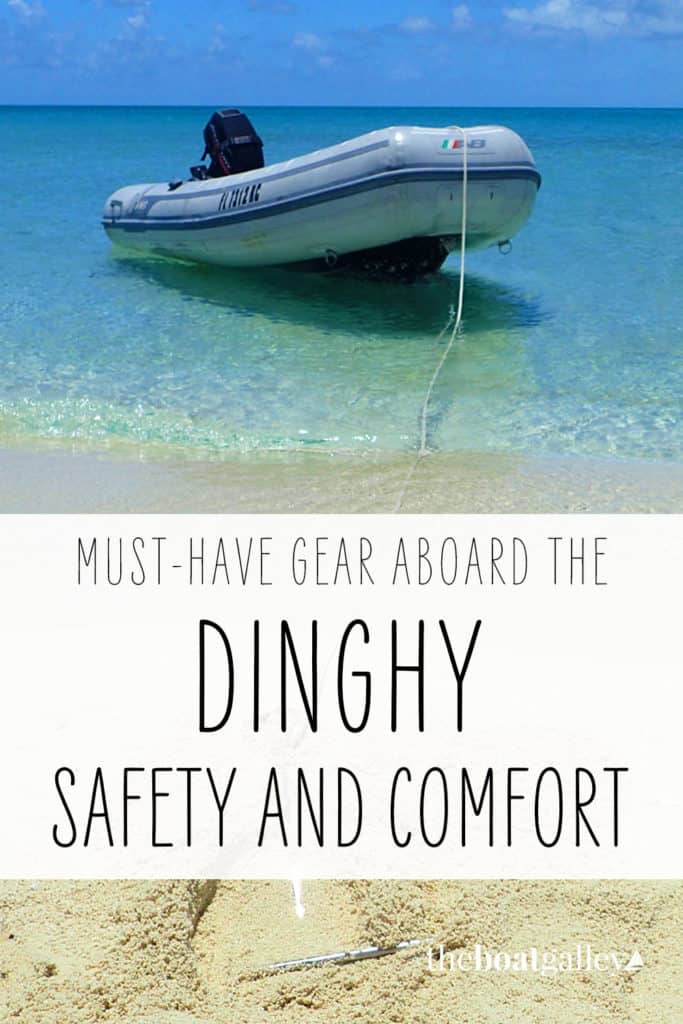 What safety gear do you carry when you head off in the dinghy? That was the question that I got from some new cruisers who had a bit of a scare when their dinghy engine quit, the tide was taking them out and they realized they didn't have oars, an anchor or any way to call for help. Luckily they were in an area with lots of other boats, someone saw them, and they got a tow back to their boat.
Here's what Dave and I carry, as our basic kit on the dinghy . . . plus anything we need for our planned activities.
LEGAL REQUIREMENTS
Everywhere has slightly different rules, but the bare bones usually includes (check laws as may apply to you):
Life jackets (PFDs) for each person
Sound device
Registration
If motorized, a fire extinguisher
Lights if you'll be out after dark (the light requirements vary considerably from state to state and country to country, so be sure to check whenever you change locale)
Bailing device – many states have size requirements but if not, one to two quarts is usually a good size; cut the bottom out of a detergent or water bottle
Some places may require flares or other signaling devices
So that keeps you legal . . . and in places that may not have laws, it's a good starting point. But you really need a few other things . . . and the more remote the area you're in, and the fewer other people nearby, the more additional gear you're wise to carry.
BASIC DINGHY SAFETY GEAR
If you run out of gas or have engine troubles . . . and the tide/wind are going the wrong way . . . what's to keep you from going out to sea? What if you fall out of the dinghy?
Engine kill lanyard (and wear it!)
Oars
Anchor and plenty of rode (we love our easily stowed Mantus dinghy anchor and rode)*
Handheld VHF; possibly cell phone in waterproof case
Way to get in the dinghy from the water – don't just assume you can pull yourself in. It takes more upper-body strength than you think, and some dinghies (particularly hard dinghies) can be very tippy. Try your setup in a safe place before you really need it! And if you're going to use a ladder of some type, make sure you can launch it from the water – should you go overboard accidentally when alone in the dinghy, you have to be able to get back in by yourself.
NOTE: To effectively row, you need a seat in the dinghy. Many people, such as us, take the seat out of the dinghy to make it easier to carry "stuff." In this case, the oars work better as paddles – one on each side or if you're alone, at the bow and alternating sides.
ADDITIONAL SAFETY AND SECURITY
Cable and lock in places where there is a theft problem
Bow line – and we like having a stern line too as sometimes it's helpful to tie up bow and stern
Water bottles (if your motor conks out or the current is too strong for you to row, don't compound the problem by getting dehydrated)
Sunscreen (ditto with sunburn)
Roll of duct tape – it can make an emergency patch as well as an emergency bandage
Before heading out in the dinghy – particularly for a longer excursion – be sure to check your gas level and that the VHF is charged.
*FULL DISCLOSURE: Mantus sponsors The Boat Galley and we earn a bit on Mantus purchases through the links here. However, we wouldn't be using Mantus products if we didn't think they were the best . . . someday our lives may literally depend on our anchor choice!
Read Next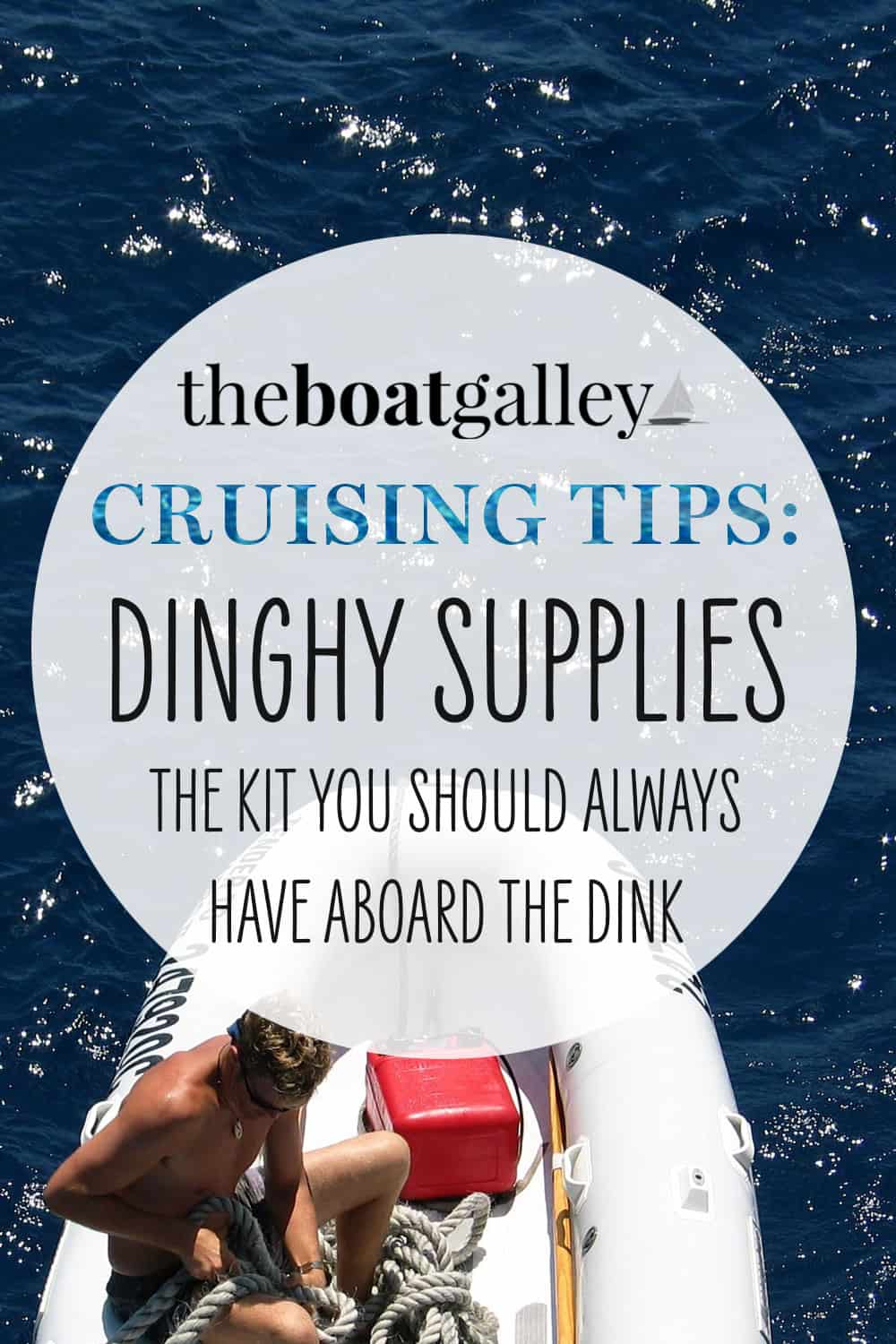 Feel like you don't have a clue where to start when the outboard won't run? This guide is for you! A great resource to keep in the dinghy — Outboard Troubleshooting for Non-Mechanics. Know exactly what to try when your outboard won't start! Waterproof and fuel-proof, easy to use. Now sold on Amazon; can be shipped worldwide.


Some links above (including all Amazon links) are affiliate links, meaning that I earn from qualifying purchases. Learn more.