Wearing the outboard kill switch is important. If you're the driver — particularly if you're alone — and happen to fall out, it's likely that the dinghy will travel in a circle and hit you.
Believe me, you don't want to be hit by a prop. As a teenager, twice I helped rescue someone who had been hit and I never want to see injuries like those again (one was a diver and one a water-skier; dinghies weren't involved).
I know of one incident in the Bahamas about 5 years ago where one boater was killed after falling out of his circling dinghy and a rescuer was seriously injured. I've recently heard of a couple more very serious injuries, and numerous near-misses. In another case, the dinghy went straight and the driver was left over a half mile offshore . . . a long swim not to mention needing to replace the dinghy.
The kill switch instantly stops the motor when the lanyard is pulled. So the dinghy doesn't circle back to hit you or head out to parts unknown. It simply stops right near you.
But the kill switch only works if you wear the leash. And that's the problem.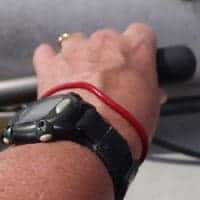 People generally wear the lanyard around their wrist, as in the photo at right. If you reach to grab something out of the water, or grab the dog who's about to jump overboard, you'll probably pull the clip out. And then the motor stops, you have to put the clip back in, start the motor and then go on your way . . . maybe to have it all happen again.
So people don't wear them.
Here's a better idea if you need your hands free: slip the lanyard around your ankle.
If you go overboard, it'll still stop the motor, but you're not as likely to kill the motor just by reaching for something.
Most of the time, I do wear the kill switch (some call it a deadman) on my wrist. At our sailing club, however, I often pull the marks after races using our dinghy. And that means coasting up to the mark, standing up and grabbing it and pulling it into the dink.
And yeah, it used to be that I wouldn't wear the deadman because in reaching for the mark, I'd inevitably kill the motor. I knew I should wear it, but it was just too annoying.
Here I was, running full speed from one buoy to another, standing in the boat, leaning over and pulling buoys, and I wasn't wearing the kill switch? Dumb, dumb, dumb. One day it hit me that nothing said I had to loop it around my wrist . . . why not my ankle? Works for me!
Do you make it a habit to wear the kill switch? Got any tips for remembering to always put it on?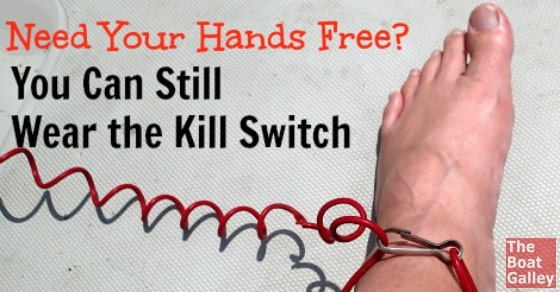 Some links above (including all Amazon links) are affiliate links, meaning that I earn from qualifying purchases. Learn more.