Snorkeling has been a big part of cruising for me. And I've learned that not all snorkeling gear is created the same. Comfort and durability are key, but don't have to break the bank.
You can buy inexpensive snorkeling gear sets for $30 or less, with a mask, snorkel and very basic fins. They're okay as an introduction to snorkeling but better gear will make it much more enjoyable. But you don't have to jump all the way to the most expensive snorkeling gear, either. Decent gear means that you'll spend a lot less time adjusting it to try to get it to fit and it will last far longer (my fins are 19 years old!) as well as be more comfortable. Plus it'll help you be more efficient and use less energy — so you can snorkel longer and see more.
If you want a better all-in-one snorkeling gear package (mask, snorkel and adjustable fins) that still won't break the bank, look at this one by Cressi:
My thoughts on what makes some snorkeling gear better than others, along with several of my choices (most are new models of my older gear).
Mask
Your mask is arguably the most important part of your snorkeling gear. A mask that leaks is miserable. You're constantly having to get water out, either by purging or by actually dumping water out. The silicone that is being used in the mask seals today are much improved from the plastics of 20 years ago, and it's now much easier to get a mask that seals easily.
First off, make sure that no hair is under the mask — this can be a real problem for guys with beards and/or mustaches. Silicone masks are much better sealing even with facial hair than plastic and PVC.
Then, to check the fit on dry land, put the mask on without the strap around your head and breathe in. Hold your breath and take your hands away. If the mask stays in place, you're golden. If it falls, try a different one.
I do NOT recommend a full-face mask unless you are positive that you will absolutely, positively never try to dive below the surface. The full-face masks are very dangerous for that due to CO2 buildup. Literally, people have died. Since most snorkelers end up doing at least some free diving, buying a full-face mask is usually a waste of money.
My choice for a snorkel or dive mask:
When you buy a mask, you have to scrub a coating off the inside before using it. Toothpaste usually works well; you'll need to do it 2 or 3 times. Rinse the mask and make sure that water flows smoothly over the inside — doesn't "miss" some places. If so, it'll fog when you use it (even with anti-fog measures). You can also buy a special mask scrub (this came as a freebie with the last mask I bought and I'll admit it did work more easily than the toothpaste):
Outside of that anti-fog that I got as part of the 2-pack, I've never used the stuff. Spit works every bit as well.
Snorkel
Great features are a really flexible silicone "bend" in the snorkel (less tiring to hold the mouthpiece as it's not trying to pull out) and a dry-valve to keep water out. I had to get a new snorkel about 8 years ago when mine slid overboard on a day trip in Hawaii. The silicone in the new one makes it ten times better than my old one!
Prescription mask
If you have contacts, you can just wear them with a regular mask. I did this for years. A couple of years ago, I decided that since I was wearing my contacts only for snorkeling, why not just get a prescription mask instead. It might be a function of my exact eye problems, but I find the prescription mask to be much better than using contacts.
I got the EVO package from Divers Direct in Key Largo as you can get different right and left prescriptions — and I have a big difference in eyes. The snorkel that comes with it is decent, but the Cressi (above) has a better dry valve in my opinion.
You'll have to install the lenses; don't forget to scrub that coating off!
Fins and booties
If your mask is the most important part of your snorkeling gear, fins are a close second. Good fins are comfortable, will save you energy and are a safety consideration if snorkeling in current.
"Snorkel" fins tend to be smaller and "dive" fins larger. I prefer dive fins for free diving and the possibility that I might get into current. They give a lot more thrust.
I also prefer adjustable fins that you wear booties with. The ones with a molded footbed can't be repaired if the foot opening tears — a real problem if you are cruising remote spots.
My fins are no longer made but like everything else, newer ones are better and more comfortable. Unfortunately, it can be hard to find full-sized dive fins sized to fit a women's foot (say, women's 9 or under). Tusa makes great ones in their Solla line (according to friends who own them) with a full range of sizes. Check their website for a size chart.
Through the years, I've had a variety of dive booties — with near-daily use six months of the year, they'll last two to three years. These Mares ones have held up well and are comfortable; bonus is that they come in a huge range of sizes.
Spare parts
You absolutely want a spare parts kit for your snorkeling gear. It needs to have a mask strap, fin strap, snorkel strap (the thing that holds the snorkel to the mask strap). I've needed them all at various times — plus some cable ties to replace a fin buckle. The parts in this kit can be used on pretty much any brand gear:
Dive flag
Snorkeling from your dinghy? Fly a dive flag to let other dinghies know to watch out for you! We fly it from the PVC pole that holds the dinghy light.
Lycra
I always wear a dive lycra for sun protection instead of sunscreen (most sunscreens kill coral!). You can read more about the one I'm currently wearing — be sure to check out the size chart on the ordering page as these run small!
Cap
If your hair is long enough to get in your eyes, throw on a cap (if you clean the bottom of your boat, it'll keep the scrapings out of your hair, too). I prefer lycra to "rubber" — the rubber ones don't last long in tropical sun and the Lycra is more comfortable, too. Bright colors make it easier for boats to see you.
Weights
If you're going to free dive at all, wearing a few pounds of weight will really make it easier to get down. You don't want so much weight that you're negatively — or even neutrally — buoyant. You still want to be positively buoyant, just less so.
I use a pocketed weight belt with soft "shot" weights. They're much more comfortable than solid weights. Get weights in 1 or 2 pound bags so that you can fine-tune the amount of weight you're wearing.
Fish books
Dave says there are three types of fish: pretty fish, ugly fish and scary fish. I want to know more. Hands down, Paul Humann's fish and sea life books are the best. If you get really hooked, you may want additional info (in the Sea of Cortez, I had 5 or 6 different books as each had a different focus). I do NOT recommend getting electronic editions — I did when I forgot to get a fish book before we went to the Bahamas and it was better than not having a guide, but paper books are MUCH easier to use.
Be sure to pick the right book for your area:
Cruising somewhere else? There are fish guides for almost everywhere. Grab one before heading heading to an out-of-the-way spot!
Camera
I love having an underwater camera for helping me identify fish and also recording the beauty of the underwater world. Sixteen years later, and I'm on my fifth waterproof camera. Each one just keeps getter better — fantastic optics, higher resolution, better image stabilization, better underwater color correction and smaller. Having a waterproof camera on a boat is great as I keep it in the cockpit underway, take it in the dinghy and so on — it also keeps sand out on the beach.
The Olympus Tough TG series also allows you to use filters — a polarizing filter is great for above-water shots (it acts just like polarized sunglasses do to reduce glare). It's waterproof to 50 feet as is (150 feet with their special housing), dustproof and withstands drops to 6 feet. It also takes great video.
I've had the TG-2, 3 and 4, and they have held up really well in the marine environment. Just be sure that the waterproof lock on the card and power slots are actually locked before you jump in (yes, operator error was why I had to replace the TG-2). The TG-5 is the current model and is better than ever. Rather than a floating strap that I found a pain to deal with, I use a long strap that I wear cross-body. The camera comes in red and black; I prefer red as it is easier to spot against a black bag.
Enjoy your time exploring the underwater world!
---
Our FREE Provisioning Spreadsheet
Wondering how much of what foods to take on your next trip? Know just how much to buy of what — all arranged by grocery store aisle — with our handy Provisioning Spreadsheet. Includes detailed instructions to edit it for your favorite foods, how much your family eats, and how long you'll be gone. No spreadsheet skills needed!
It's FREE — get it here.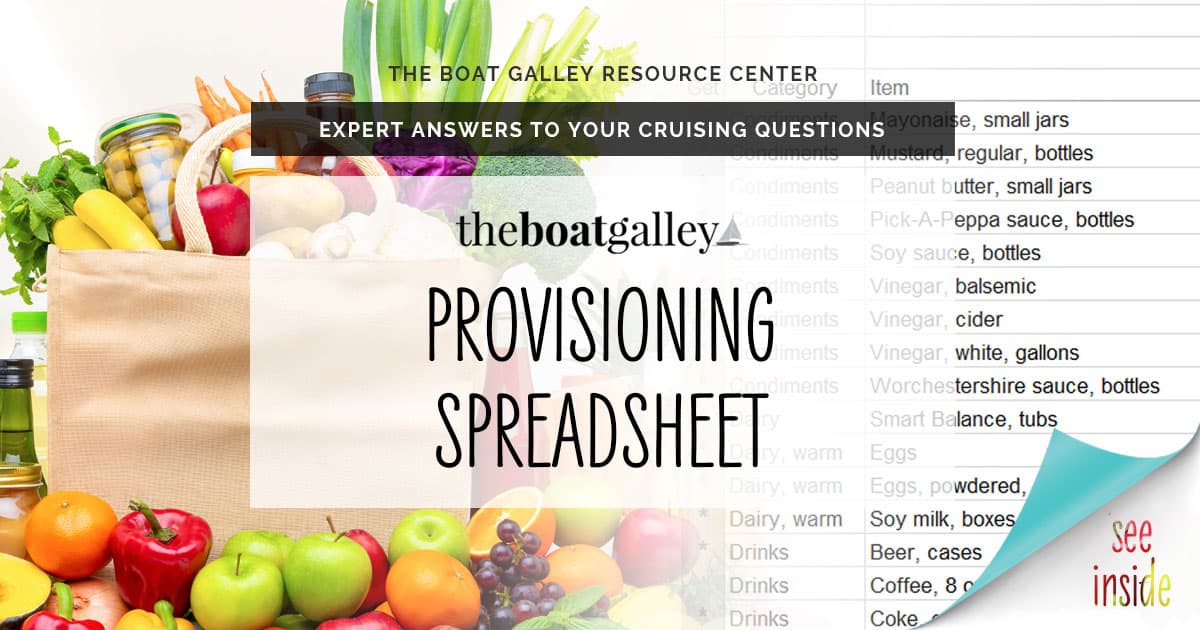 Some links above (including all Amazon links) are affiliate links, meaning that I earn from qualifying purchases. Learn more.