We didn't know we needed this screwdriver set until we had it. When we moved aboard Barefoot Gal, Dave took several screwdrivers with him (for some reason, even though I use them too, I call all the tools "Dave's"). All the common sizes of spade (straight) and Phillips. A few had interchangeable bits.

A fairly similar collection to what we'd had aboard our previous boat, Que Tal. Sometimes we'd wish we had a smaller bit, and more than once we used a Dremel tool to slot a screw when we didn't have the correct bit.
Then Dave's brother came to visit for a few days around Dave's birthday. Keith is a real handyman, and he brought a present for Dave: the Tekton 135-piece Screwdriver Kit.
Dave told his brother thanks and privately wondered if it would be useful enough to keep on the boat. After all, space is limited, and he already had those other screwdrivers.
All I can say is that there's no longer any question: it's not just worthy of its space, but has become a treasured tool. The longer Dave has had it, the more he loves it. And while he'll keep a few of his "old" screwdrivers in the rack by the door to grab for simple things, he has given several of his old ones away.
So why do we like this set so much?
We always have the right tip. There's a bit for virtually everything imaginable and in numerous different sizes. Here's what's included (numbers in parentheses indicate multiples of the same bit):

1-pc. Ratchet Screwdriver Handle
13-pc. Flat: 3/32, 7/64, 1/8, 9/64, 5/32, 3/16, 7/32, 1/4, 9/32, 5/16 in.; 1, 1.5, 2.5 mm
13-pc. Phillips: ; #000, #00, #0 (2), #1 (2), #2 (3), #3, #4; Drywall: #2 (2)
4-pc. Square: S-0, 1, 2, 3
18-pc. Star: T3, 4, 5 (2), 5.5, 6, 7, 8, 9, 10, 15, 20, 25, 27, 30, 35, 40, 45, 50
5-pc. Pozi: PZ-0, 1, 2, 3, 4
12-pc. Hex: (Inch) 1/16, 5/64, 3/32, 7/64, 1/8, 9/64, 5/32, 3/16, 7/32, 1/4, 9/32, 5/16 in.
10-pc. Hex (Metric): 1.5, 2, 2.5, 3, 4, 5, 5.5, 6, 7, 8 mm
5-pc. Clutch: 1/8, 5/32, 3/16, 1/4, 7/32 in.
9-pc. Tamper Star: TR6, 7, 8 (2), 9, 10 (2), 15 (2), 20, 25, 27, 30, 35, 40
6-pc. Tamper Hex (Inch): 5/32, 9/64, 1/8, 7/64, 3/32, 5/64 in.
6-pc. Tamper Hex (Metric): 2, 2.5, 3, 4, 5, 6 mm
4-pc. Tri-Wing: TRI 0,1 (2), 2, 3, 4
4-pc. Spanner: 4, 6, 8, 10 mm
3-pc. Torq: 6, 8, 10 mm
2-pc. Pentalobe: PL 0.8, 1.2 mm
2-pc. Nut Drivers: 4, 5 mm
1-pc. Precision screwdriver (this works for eyeglasses)
1-pc. Spudger
1-pc. 1/4 in. Hex x 1/4 in. Dr. Socket Adapter
1-pc. Magnetic extension bit holder
5-pc. Cases and organizers
I can't overemphasize the importance of always having the right size tip — neither Dave nor I realized how often we actully used a wrong one because it was the best fit we had. We are much, much less likely to destroy a screw head by using an incorrect size since we got this set. Stripped screw heads such as this generally occur by using the wrong screwdriver.

I'm not saying we'll never have another stripped screw head, just that we've greatly improved our odds. And that translates to getting jobs done faster, with less stress and greater safety.
Good quality at a good price. The set is available for less than $35. Nothing has broken (although a few Amazon reviewers do mention bits breaking, we haven't had any and we've used some of them numerous times on very stubborn screws). None of the tips have become rounded or developed burrs, although I'm sure that with time, some of the ones that we use "all the time" will get rounded — and that's why the most used sizes of bits have multiples.
Rachet handle. The racheting handle speeds up many jobs — no need to reposition the screwdriver when your wrist reaches the limit of its twist! This is particularly helpful in tight places or where you just can't see the screw head. You can set it to forward (drive the screw in), locked (acts like a regular screwdriver) or reverse (backs a screw out). Both Dave and I find the handle to be a comfortable size in our hands.
Allen bits. The set includes hex bits that can be used with Allen-head screws. Many times this is more convenient than using an L-shaped Allen wrench.
Versatile. Most of the bits can be used in a drill with the included adapter.
Compact. The whole set is 8″ x 8″ x 2″. With just one handle and interchangeable bits, it doesn't take up much space for the variety you get.
We don't lose small parts. The case snugly holds the tips and related parts. We don't lose any when the boat rocks or when we've accidentally knocked the case off the cockpit seat. Also, since there's a slot for every piece, it's easy to spot if one is missing . . . and find it right then, not when it's urgently needed.
Dave says that with this kit, the only other screwdrivers he needs are his "very large" (I'm not sure exactly what size) straight and Phillips screwdrivers. While he occasionally uses these as actual screwdrivers, more often the straight one is used as a mini-prybar, and the Phillips one is used to line up larger holes.
He also uses a "regular" screwdriver with his screw holders occasionally to get a screw started where he can't hold it with his fingers, but once it's started, he'll switch to using this driver to avoid stripping it.
Most "home improvement" or tool stores carry the Tekton line; they may or may not carry this specific screwdriver kit. It's easily available both on Amazon and Ebay for about the same price: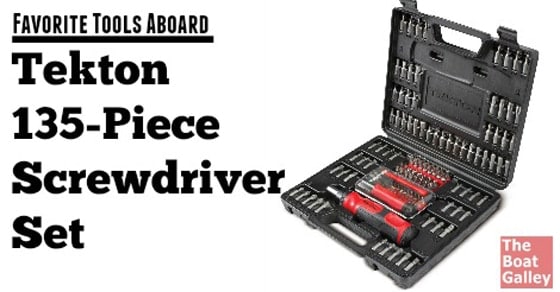 Making Boat Life Better
Some links in this article (including all Amazon links) are affiliate links, meaning that we earn from qualifying purchases.