Have you ever thought about what would happen if you had an accident, heart attack, stroke, broken bone? Or even if you just fainted when you're ashore while cruising? I have. And for me, the solution is the Road ID.
When the Worst Happens
No one like to think of worst case scenarios. But if something happened to you…
Would you have any ID on you? If you're swimming, hiking or exploring, chances are you won't. Kids are less likely to have ID, something to consider if they are old enough to be off the boat on their own.
If you do have ID, would it connect you to your boat? Would first responders or helpful bystanders know who to contact? Your driver's license or even your passport doesn't really help with this.
If you're unconscious, would medical personnel know of any pertinent medical history or what medications you take?
Perhaps even more importantly, would medical personnel know of any (potentially fatal) drug allergies?
If your significant other was with you or contacted, would they remember all the info in the stress of the moment? This includes your medical history, medications, allergies, insurance and more.
Do you have kids or pets onboard that would have to be taken care of in an emergency?
And if a pet got separated, would it have any ID that would connect it to you on the boat?
I'm not trying to be gloom and doom here, but these were concerns that Dave and I had while cruising. We all hope we never have an emergency, but they do happen.
ID Options
And none of our regular ID — were we to be carrying it, which we often didn't — connected us to the boat, to each other, to next of kin, to our medical histories or drug allergies. And if we were both incapacitated, would anyone know to check on Paz?
Our first solution was to get engraved dog tags. We included the name of the boat, our blood type, Dave's brother's phone number as our emergency contact (not only does he always have his cell phone with him, he's a doctor) and for me, a "no penicillin" note. Better than nothing, but still missing a lot.
Three years ago, we discovered a much better system: RoadID.
Introducing Road ID
RoadID is like a liferaft. You hope you never use it for its intended purpose. But if you should need it, you'd be really glad you had it.
RoadID was originally designed by and for elite cyclists (road racers that do things like the Tour de France) both during training rides and competitions. Since then, it has spread to other sports and activities, such as hikers and overseas travelers. And originally, if offered 6 lines of text similar to our dog tags. But it offered it on wrist bands, ankle bands and shoe tags as well.
Road ID Interactive
The big improvement came with Road ID Interactive. This is what Dave and I have and what I highly recommend. As explained by RoadID:
Road ID Interactive allows you to build a fully updateable, secure Emergency Response Profile (ERP) that is available to first responders 24 hours a day 365 days a year. You can still customize the first 1-3 lines of an Interactive ID (depending on the model chosen). The last 4 lines, however, are reserved to provide instructions on how to access your ERP in an emergency situation.
The initial tag costs $15 to $30, depending on the style you choose, and includes the first year of membership in the ERP database. Future years are $10 and you can opt for automatic renewal — helpful if you're off cruising when it's time to renew. Shipping is just $1.49 in the US and Canada and they offer worldwide shipping. You can also buy one as a gift.
How it Works
Here's my wristband. The blanked out line is Dave's cell phone since we're cruising in areas with cell coverage. And you can have more than one tag linked to the same data, if you want. Say you're a part-year cruiser, you could have one with a cell number and one with a boat name. Dave has a "dog-tag" style one and there are several other styles. I wear mine 24/7 (except when "dressed up") so I never have to remember to put it on.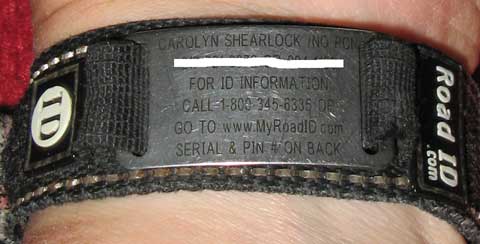 The plates are all stainless and they are laser engraved, with a lifetime guarantee. The bands or neck chains may have to be replaced over time (mine is just over 3 years old and it's almost time to replace the wrist band). I have since switched to the silicone wrist band. These will stand up to life aboard!
Information to Store
You can customize the first two lines to say anything you want. They do give recommendations on the "Build Your ID" page. They have several choices for the "For ID Information" line, plus you can create your own text if you are in a non-English speaking country (must use the English alphabet, though). The phone number line has options for US toll-free, US regular (which can be called from anywhere in the world), Mexico, England, Australia, New Zealand and the Netherlands. The serial number and PIN on the hidden side are what enable someone to get your information — either by phone or internet.
Your Emergency Response Profile contains all the info you might want someone to have in case of an emergency:
Vital Statistics: Name, date of birth, blood type and whether you're an organ donor.
Photo: so they know it's the right person!
Address: You can have multiple addresses, so you can have a "home" address, and even more than one "marina" address — be sure to include the boat name here!
ID info: There are spaces for insurance info, passport number and the like.
Emergency Contacts: You can list up to 5.
Physicians: Particularly helpful if you have any chronic conditions.
Medical Profile: Including allergies, prescription and over the counter medications, medical conditions and medical history.
Additional Info: There is a large space where you can add any info you wish about just about anything — we used it to provide info on overseas evacuation insurance, the dog (including instructions that if she has been injured, we'll pay for vet care), and our living wills.
Admittedly it takes a bit of time to initially enter all the info — but you are in total control of what information is entered. We make a point to review the info each year on our birthday to make sure that it's up to date.
Don't Forget your Pets
And now, Road ID offers tags for pets. When we cruised, we simply had a standard dog tag made for Paz with "Yate Que Tal" instead of a phone number (she'll have a "Barefoot Gal" tag when we're on the new boat). But if you want to provide more detailed info, this is an option.
Road ID for You
To get your Road ID, you can click on any of the links on this page. If you want to see a demo of the Road ID Interactive (unfortunately, it's not available as a YouTube video that I can embed), click here or any link on this page, which will take you to Road ID's home page. Then click on "Products" on the left side of the screen. In roughly the middle of the screen, you'll see a box highlighting the Road ID Interactive with a blue button to "View a Demo of Road ID Interactive" — just click it.
If you don't get Road ID, I hope you'll at least think about the whole ID issue — and don't just put it on a list to "get around to someday." Accidents and illnesses do happen.
Some links in this article (including all Amazon links) are affiliate links, meaning that we earn from qualifying purchases.