After Tami Florer read my article about cruising with diabetes and then the one about lymphedema, she wrote to me asking if I'd be interested in her story of cruising with rheumatoid arthritis.
She said:
Get Discover Living on a Boat (free mini-course). Explore whether cruising is right for you, from the lifestyle to the cost and ways to afford it.
"The only reason I am willing to share this story is because I really thought it was not possible to do extensive cruising with my medical condition. It really is possible with a little leg work and determination.  I would hope that all sailors or cruisers like me would look into options to fulfill life's dreams."
---

Starting Our Sailing Adventure
Shortly after I was diagnosed with rheumatoid arthritis, I met my wonderful husband at a sailing party at the Portland Yacht Club. We had so much in common: both eldest children in our families, both grew up sailing, and each has a strong passion for adventure. To top it off my new friend (now husband) owned a sailboat, which for me was very intriguing. Sailing together and going on adventures. What could be better?
We sailed as much as possible on his boat up and down and around the Columbia River—always talking about future plans to sail further than the river. His adventures included traveling offshore several times. I knew in my heart that I would be somewhat limited in my ability to go cruising with rheumatoid arthritis and in how far I could go.

Together we purchased a Beneteau 40 with plans to go cruising and sailing as much as my disease would allow. To get started with this new plan, we dove into research about rheumatoid arthritis and met with my specialist a couple of times explaining my new craving of sailing with this disease. How did we make it work?
Cruising With Rheumatoid Arthritis
Upon meeting again with the specialist, and my monthly visit to have a hospital administered infusion, I thought I was experiencing a remission. Rheumatoid arthritis does not have a cure but can go into a kind of remission. This period can last months or weeks. Yippee! This was our opportunity to take off.

On May 14, 2014, we departed early morning over the Columbia River bar. I did use a scopolamine patch for this leg of the trip. (having checked with a medical specialist prior to traveling). We arrived in Victoria a few days later. We enjoyed our time in Victoria, but we both wanted to keep moving. Our next adventure took us up into Alaska and back to Puget Sound. I was feeling fine during this time. We hiked, sailed and explored. Life was good.

We decided to go ahead with plans to sail south. We headed out the straits south to San Diego. Shorthanded ocean passages can, in itself, be challenging. This is where things began to change for me. Two hours on watch and two hours off took its toll.

We left Monterey California intending to stop in Santa Barbara. It was October and many Baja Ha Ha boats were at the marina. We pushed on to Oxnard as the marina was full in Santa Barbara. We arrived around 2:00 a.m. exhausted and slept in late the next morning.
Facing A Setback
Upon waking, I knew it was bad. My arthritis decided it was not in remission any longer. I had woken up feeling extreme inflammation and pain. Luckily, my specialist had provided a non-inflammation medication and pain meds just in case. Our next choice was to go back to monthly hospital administered infusions.

I remembered hearing about how you could get these infusions outside your home area. A pilot had mentioned it in one of my previous appointments. So we did some research and with my specialist's approval, we were able to find a hospital that would administer my medication in California.
Remaining in southern California until spring, we sailed back and forth from Catalina Island and down the Southern California coast to the mainland to receive my medication. I was feeling back to normal now.

In the spring of 2015, we trucked our boat back to Seattle. With this new traveling medication knowledge we thought, "why not try Alaska again?" This is where planning really is important.
Wow! Fantastic! We felt excited about the possibility of continuing cruising.
Making It Work
Arriving again at our favorite place in Victoria, we discovered an infusion hospital in Seattle. The Clipper ride to Seattle to receive my medication and then return was an overnight trip. I have family who kindly let me stay with them and provided rides to and from the ferry. Infused and back to Victoria, we had one month to explore. before receiving my next infusion in Ketchikan.
Infusions require an order from a specialist, a preauthorization from the insurance company, and an appointment in the infusion center prior to arrival. It made cruising through British Columbia a bit rushed. But I'll take it.

With very strategic planning, we were able to cruise and sail to Juneau, Sitka, and back to Ketchikan before heading south to the San Juan Islands for the winter. With careful planning, the experience was amazing. I am so lucky to have an understanding partner. Even with a medical condition, we were able to cruise and explore.

Now I receive my medication in a daily pill, allowing us to get out again and maybe go a little farther on our boat together.

We might not have traveled the world, but we snorkeled on Catalina Island, hiked on remote beaches in British Columbia, saw grizzly and black bears, bald eagles and tons of whales. Sailed through ice, saw the night stars in the ocean.

We plan to head out again this spring.

I am thankful for every moment that my husband and I spend on our sailboat whether it is at the dock or on our adventures together.

In making cruising work while having rheumatoid arthritis, I learned a lot. I located infusion centers at the website 2infuse.com to set up treatment sites along the way. Some of my medication companies provide a co-pay plan, which helped a lot. And I got a lot of help from my specialist.
It took many hours of our research to find ways to make cruising with rheumatoid arthritis work. But it was definitely worth it.

Pin it now! Save it for later!

---
Our FREE Provisioning Spreadsheet
Wondering how much of what foods to take on your next trip? Know just how much to buy of what — all arranged by grocery store aisle — with our handy Provisioning Spreadsheet. Includes detailed instructions to edit it for your favorite foods, how much your family eats, and how long you'll be gone. No spreadsheet skills needed!
It's FREE — get it here.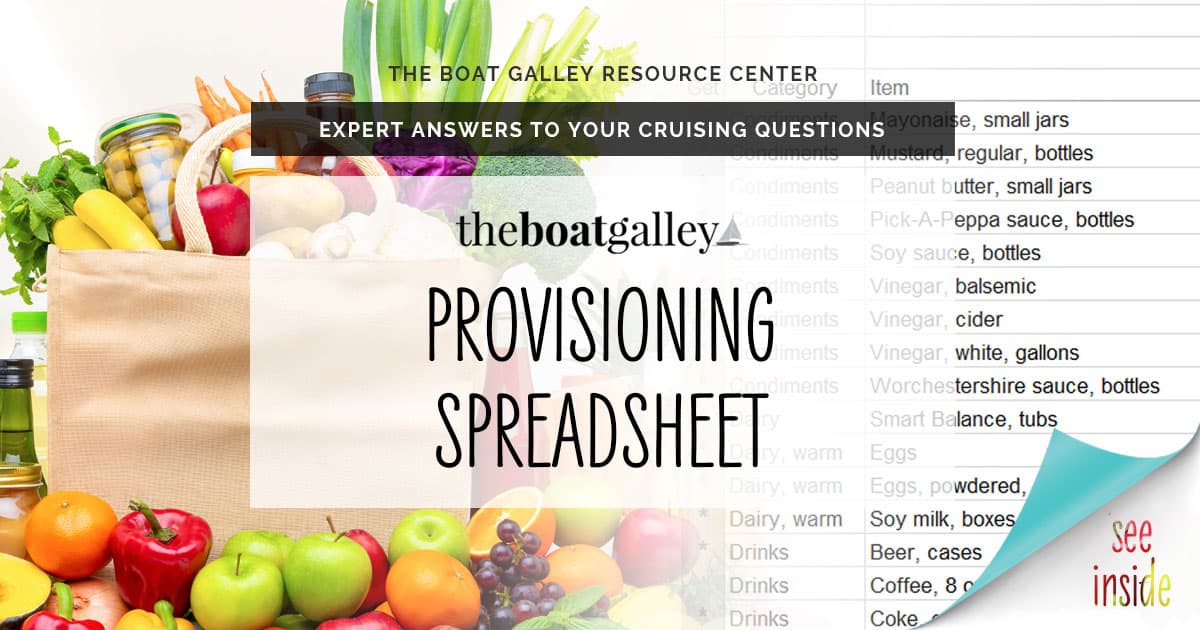 Some links above (including all Amazon links) are affiliate links, meaning that I earn from qualifying purchases. Learn more.