You reach in the refrigerator for a cold drink and think that the cans don't feel as cold as usual.  You write it off to just not remembering when you put them in, or the fact that it's a really hot day, or that you put a lot of warm stuff in the refrigerator . . . whatever.
But a little later when you go to get something else out, you can't deny the fact:  it's not as cold in there as it should be.  Maybe the frost on the chill plate is melting.  Maybe things in the freezer are thawing.  Uh-oh. [I know, I know . . . if you don't have refrigeration, you don't have these problems.]
And your first thought is that it's a problem with the refrigerator.  [Well, duh . . . the refrigerator is not keeping cold so it's OBVIOUSLY a problem with the refrigerator!]
So you start by pulling out the owner's manual, any repair books you have or maybe you proceed straight to the big guns and call the refrigerator technician.
All of the above happened to us.  The refrigerator had been working just fine and the weather hadn't suddenly turned hot, nor was there any obvious explanation for the problem.  So we assumed that the refrigerator needed to be recharged.  We read up on the procedure, borrowed gauges and proceeded to do it.  No improvement.
We then decided that the problem was beyond us and called in the refrigerator repairman.  He figured that we had added too much refrigerant, so evacuated it all and then recharged it, leaving us with instructions on how to let out a tiny bit more gas if it still wasn't cooling right. And he told us to allow 24 to 48 hours for everything to "settle out."
Two days later, it was obvious that refrigeration was worse, not better.  And now the refrigerator was running literally all the time, and eating up every bit of power we had.  Normally, our solar panels could keep up with our power needs but now they weren't.  We were having to run the engine for a couple of hours a day — yikes!
And so we just turned the refrigerator off, except when we were actually testing something on it.  Drinks went in a cooler (luckily we were anchored in a town and could get ice) and we otherwise did without refrigeration.
That's when we had the big revelation:  even without the refrigerator on, our batteries were drained overnight. While the solar panels were putting power into the batteries, the batteries weren't holding the charge and thus the voltage was down most of the day (mid-day the voltage was up when the sun was at its peak with the solar panels).
So how did this affect the refrigerator?  With low voltage, the compressor didn't operate efficiently and thus the box didn't cool as well.  The thermostat kept saying that the box wasn't cool, and told the compressor to run longer.  The compressor running longer took more battery power, dropping the voltage still further.  And the circle continued ever downward . . .
Three days later, we had new batteries (I'll spare the details of the fun we had other than to say that Dave used almost all his "sailor who worked in a steel mill" words as we got the old ones out and the new ones in to a very inaccessible compartment and hooked them all up) and a few hours later we had a COLD BEER from the refrigerator!
Moral of the story:  If your refrigerator isn't as cold as it was, and is running more and more with no apparent cause such as suddenly hotter weather, it might not be a problem with the refrigerator but with your batteries.
After the fact, we discovered that the "troubleshooting panel" on the refrigerator compressor did have a light for low voltage, but we missed seeing it because of the way that the unit was mounted.  We later helped some other cruisers figure out similar problems by knowing to look for this.  One note, though:  to check for low voltage, all charging sources (solar, wind, alternator or generator) have to be off, typically for a half hour or longer.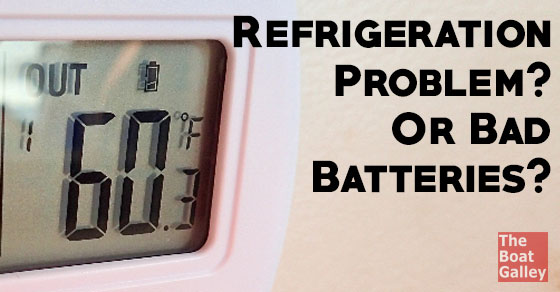 ---
Our FREE Provisioning Spreadsheet
Wondering how much of what foods to take on your next trip? Know just how much to buy of what — all arranged by grocery store aisle — with our handy Provisioning Spreadsheet. Includes detailed instructions to edit it for your favorite foods, how much your family eats, and how long you'll be gone. No spreadsheet skills needed!
It's FREE — get it here.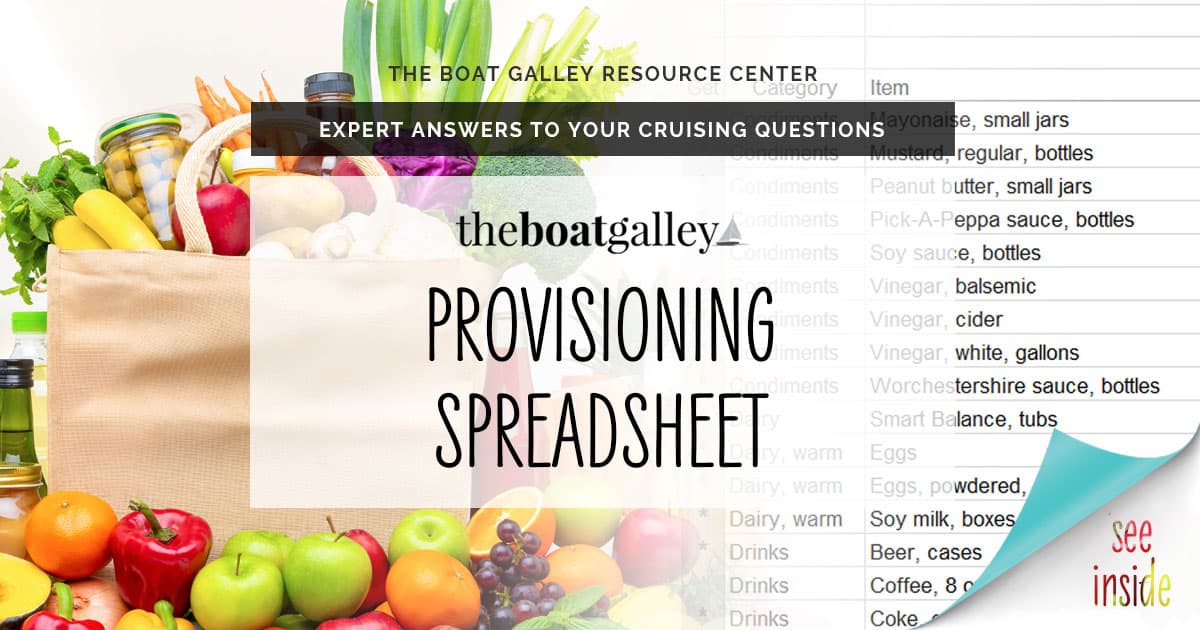 Some links above (including all Amazon links) are affiliate links, meaning that I earn from qualifying purchases. Learn more.