I have always hated using PVC because it's such a pain to cut with a hacksaw.  It takes forever, and then my cuts never go straight.
One of the top "article ideas" that's been on my list almost since I began TBG was a safe way to store wine bottles, glasses and similar things.  It was a great project that Dave & I did on Que Tal.  About a year ago I bought the supplies to do another version as a demo and take photos to use here.  You can see that article here.
A year ago, huh?
Yeah.  I kept putting it off since it involved cutting several pieces of PVC.  I kept hoping that Dave would take pity on me and volunteer to do it.  But no — I married a smart man and he kept his mouth shut.  He doesn't like cutting 4″ PVC any more than I do.
So I finally decided I might as well get to it.  And as I got the hacksaw out, I knocked another saw down.  And when I put it back, I saw it had a nice picture on the cover of someone cutting PVC with it.
So I figured I'd try it.  Heck, it couldn't be any worse than the hacksaw.  And as I sawed, one phrase kept going through my head: hot knife through butter
And, because it cuts so easily, it was no problem to have straight cuts instead of the meandering "girly" curves I usually made.  I was using it on some thin-wall PVC for the project and wanted to be sure that it wasn't the thinner wall that made it easier.  So I found a piece of scrap regular wall — and it worked just as well.  In fact, maybe better as it didn't have to go through that black liner.
So what is it?  It's a Shark Pullsaw — Dave bought it when we moved aboard Que Tal and loved it for cutting wood quickly and easily.  Neither one of us had thought to use it on PVC before today.  The package calls it a "carpentry saw" and the teeth are larger than those of a hacksaw, which I'm sure helps it cut so much more easily.  It is also a rougher cut — but a few swipes of sandpaper took care of that.
If I remember correctly, we originally bought it at Home Depot.  I just checked, and it's apparently still made as Amazon carries the exact same saw (and of 30 reviews, 28 are 5-star and 2 are 4-star — an almost-unheard of rave!).  Whereas most saws cut on the push, this cuts on the pull — a more powerful motion for almost everyone.  And the blade is SHARP — be sure to keep the blade guard on it (we've had the saw for 10 years now, still with the same blade, no sharpening). If you can't find it near you — or just prefer to order online rather than go to the store:
UPDATE: This was one of the first tools that Dave laid out to bring with us to Barefoot Gal!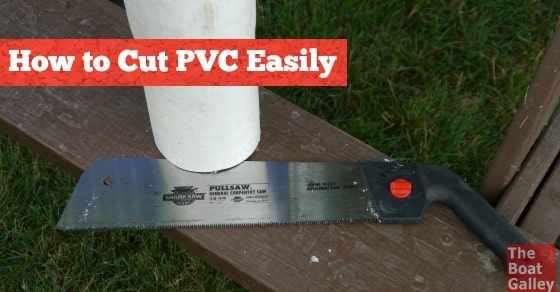 Making Boat Life Better
Some links in this article (including all Amazon links) are affiliate links, meaning that we earn from qualifying purchases.