When I was growing up, the only hot sauce I knew of was Tabasco.  And I hated it.  Not the spiciness of it, but simply the flavor.
As I got out on my own, I learned that there were other hot sauces out there, but frankly I assumed that they'd taste more or less like Tabasco and stayed away from them.  (I know that many people love Tabasco — my husband is one — but it just hits me wrong.)
In 2002, I had a revelation.  We were in Baja and met a couple camping on the beach — he was Jamaican, she Canadian.  They invited us to dinner one night — and served us fish with "hot sauce."  Since the sauce was already on the fish, I didn't have much of a choice and took a first, tentative bite.
It was good.  Really good.  And while the "hot sauce" had a bit of spice to it, it was more tangy than hot.  That was when I learned about Pickapeppa Sauce (it's Jamaican, explaining how they had it).
Since then, I've tried lots of other hot sauces now that I know they don't all taste like Tabasco.  But I always return to Pickapeppa as my favorite.  And the good news is that it's getting more and more widely available every year.  Lots of places sell it online in the US and well as in stores; I'm told it's fairly easy to find on most Caribbean islands.  I never found it in Mexico, but it was easy to slip several bottles into my luggage on trips to see family.
I use Pickapeppa in lots of dishes — Tuxedo Soup and other bean soups, meatloaf, crabcakes, jambalaya, gumbo, fish, in barbecue sauces and more.  It adds flavor without undue heat.  A number of friends who tell me they don't like Tabasco have liked Pickapeppa — to the point where they've asked me where to buy it!
I know that taste is all a matter of individual preference, but if you're like me and haven't really liked the hot sauces you've tried, think about trying Pickapeppa.  I like their original best (the bottle in the photo at the top of this article), but their Spicy Mango is pretty good lightly brushed on grilled chicken, too.  NOTE: there is also a Pickapeppa Hot Mango Sauce and a Hot Pepper Sauce — both of these are quite spicy; I don't like the "Hot Pepper Sauce."
I can find the original Pickapeppa in one local grocery store (town of 20,000) and often see it in gourmet shops when traveling.  It's also available online: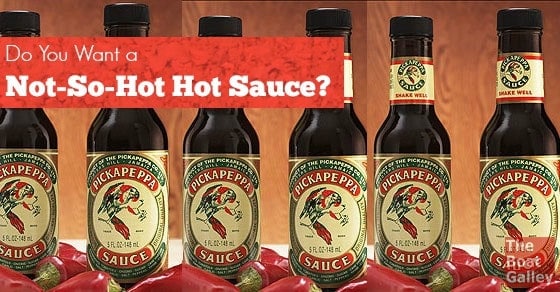 Some links above (including all Amazon links) are affiliate links, meaning that I earn from qualifying purchases. Learn more.