This is a guest contribution by Elizabeth Aristeguieta.
NOTE: The manual food processor reviewed here is no longer available. The best one currently available is the the Ultra Chef Express Food Chopper (Amazon).
---
Besides being an avid sailor, I also love to cook so I am always looking for gadgets that I can use on a boat that won't take up much space or battery life, and that are perfect for use on a moving boat. The Kitchen King Pro Complete Food Preparation Station ticks off all of the boxes!
This is a manual food processor that has suction cups on its base. With it, you can chop, slice, dice, spin and mix/whip.[
The suction cups make this processor perfect for use on your moving boat. The base simply adheres to the counter top, then you place and lock the bowl in the base and you can mix, whip, spin, or slice away with ease.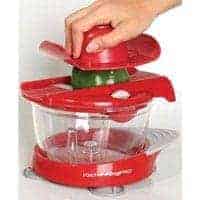 I have used this to make tapenade, tzatziki and pesto so far and it was so easy to use! The easy pour spout made it easy to add the olive oil to the pesto and tapenade and because of the suction cup base, I could continue to mix while pouring. A huge advantage over competing products. I can't wait to try and make aioli with this processor.
The eleven (11) piece kit comes with two (2) bowls, one (1) lid with built-in egg separator and handle, two (2) storage lids, one (1) mandoline slicer lid, one (1) suction-cup base, one (1) hand guard, one (1) salad spinner, one (1) tri-blade, one (1) whipping blade, one (1) spoonula, and one (1) manual/recipe booklet.
The entire kit is very affordable. The best part is you do not need to use any power (except arm power) to operate the processor thereby saving the draw on your house batteries. Plus I love to prep food from the cockpit to enjoy the outdoors and scenery so this is perfect to use from your cockpit table too. The handle really moves very smoothly and I did not feel any hesitation in the blades while making any of the sauces. Truly easier than using a winch handle!
For storage, most of the parts fit into the bowls except for the mandoline lid. So while it's not perfect, it is pretty close.
I have tried other similar models on charter trips that did not turn as well and did not have the suction cup feature that the Kitchen King Pro has to keep the bowl steady. That feature alone had me sold even before I used it and determined it was a great product all the way around.
The Kitchen King Pro Complete Food Preparation Station is no longer available. The best alternative is the Ultra Chef Express Food Chopper (Amazon).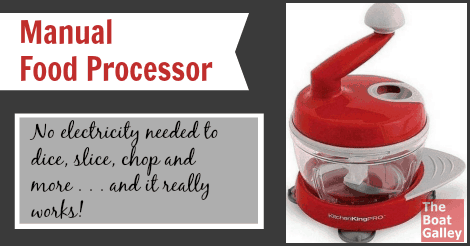 Some links above (including all Amazon links) are affiliate links, meaning that I earn from qualifying purchases. Learn more.