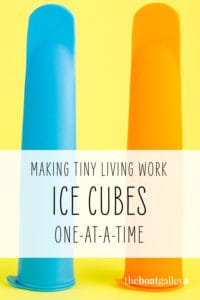 Ever wished you could just make a single ice cube? I know I did on Que Tal. Our freezer just wasn't large enough for me to give room to a whole ice cube tray — even the vertical ones that came with it. I needed the tiny bit of freezer space to store meat and seafood safely!
A couple of years ago, I had yet another one of those "why didn't I think of that?" moments, proving once again that the combined wisdom of TBG readers is amazing.  I had written about Fun Pops and the fact that you could just tuck one in at a time . . . and mentioned that if you don't just want pure sugar water, you can buy molds and freeze fruit juices and purees.

Sue Klumb then commented on TBG's Facebook page that she uses them to make individual ice cubes. DUH! Perfect for those with tiny freezers — just one individual ice cube with a mold that can be tucked in almost anywhere.
And so I bought a set of 4 molds (Amazon, of course, no local shop carried them). The ones I bought are no longer sold but these are almost identical:
They are a little pricier than a few of the other brands (although not nearly as expensive as the $60+ vertical ice cube trays!) . . . and a little smaller too. Actually, it was the fact that they are smaller that made me choose them — holding just under a half cup, they make a large single ice cube. Any larger and it wouldn't fit well into my glasses (the wine glass in the photo at top isn't what I normally use the ice in . . . but it's about the only clear glass I have for a photo!). And smaller is certainly better for fitting into a boat freezer. Other things I like about these:
Each mold is about the size of a spice jar, although not exactly the same shape.
The molds are separate and don't have to be put in a stand or base — many sets have several molds that fit into a large base and are horribly space inefficient.
They're made from food grade silicone. A few people commented about a smell and there was a slight odor when I first took them out of the box. I stuck them in water with some baking soda for about a half hour, let them dry and the smell was gone.
The caps fit tightly — I've never had one leak but admittedly I don't lay them on their side (the company says you can with no leakage).
Exactly how long it takes to make a cube will depend on your freezer and how warm the water is to start. Mine took less than four hours.
To get the ice cube out, hold the mold in your hands for about 30 seconds to warm it slightly. Pull the cap off, using the tab. Then squeeze gently with one hand while keeping your other hand over the open end. The first time I made an ice cube, I didn't keep a hand over the opening, and my cube went flying out as if from a slingshot . . . skidded across the carpet, picking up all sorts of lint and stopping right in front of our dog who couldn't believe her good fortune! (In Guatemala, the guys at the bar nicknamed her "Hielo" for her love of ice cubes).
Based on my experience with other silicone kitchen gear and the Amazon reviews, my guess is that these will last for years and years as long as you don't do something to puncture one. The silicone will give a little as the liquid freezes, so I just don't envision one splitting . . . and since silicone is "soft" it's not going to shatter even if you drop it when frozen (as hard plastic will do).
I cannot believe it took me this long to figure out how to make individual ice cubes, but I'm certainly happy that Sue shared this. UPDATE: we're still using the molds and still loving them, over four years later!
Of course, you can use the molds for lots of other things:
Frozen yogurt — my favorite summer treat!
Frozen juice — not just fruit juice, but think of things like V-8 and tomato juice, too
Frozen pureed fruit — we love frozen applesauce
Frozen Gatorade
And — from reader Candy Ann Williams — you can make "pickle-sicles" — chop up or puree dill pickles and freeze with their juice. Wonderful on a hot day!
Want some help with that tiny refrigerator? Check out our step-by-step how-to:


Making Boat Life Better
Some links in this article (including all Amazon links) are affiliate links, meaning that we earn from qualifying purchases.