Learn how to keep track of your provisions. Find out if you need a stores list. Plus tips for keeping cans rust free.
Links:
Care and Feeding of Sailing Crew (Amazon)
Grip-It Non-Slip (Amazon)
Spray Varnish (Amazon)
Restaurant Matting (Amazon)
Prefer to Read? Transcript Below.


Sponsor: 
Infinity
, the most trusted name in woven vinyl flooring in the marine industry. Since 2008, Infinity has offered boat owners premier flooring options proven to withstand even the most demanding environments. Each of their products is equipped with UV-stable fade resistance and antimicrobial technology, giving them both durability and style that can't be matched. Thinking about kicking carpet to the curb? Make the switch to Infinity and see the difference true luxury makes. Use the coupon code "PODCAST" for 50% off samples.
Be sure to subscribe
 to The Boat Galley podcast to get new episodes automatically in your podcast player.
Music:
 "Slow Down" by 
Yvette Craig
---
Transcript:
Just before I sat down to record this podcast, I hunted through 40-foot long Sahula's settee lockers for the can of whole cream I want to use for dinner. I laughed as I realized this is a very different boat than either 24'4″ Seraffyn or 29'9″ Taleisin which both took me around the world. During the course of the six months I've been cruising and handling most of the cooking on board Sahula, I've gradually adopted the same storage arrangements.
The following chapter from my book, The Care and Feeding of Sailing Crew, was actually written while I was on a 49-day passage between Japan and Canada on little Seraffyn. Through the years and through three new editions of Care and Feeding, I've updated the information, adding new ideas I learned as I continued to voyage. This podcast includes even more recent ideas I garnered as I crossed the Tasman and Coral seas this year (2018). I hope it gives you some ideas for storing provisions when you are ready to set sail.
 We are moving beautifully, but as we come over the top of some waves, the motion is enough to make things in the oven scoot from side to side. A spare bread tin holds the pots in place; a nest of crumpled aluminum foil keeps squash and potatoes from rolling around.
The rain increased this morning. With the runoff from the mainsail collection system, we filled our water tanks completely. We now have as much freshwater on board as when we left Yokohama—and only 3,000 miles to go. The rain continued after our tanks were full. The seas were quite calm, so I decided to collect some extra rainwater in my big cooking pots and spare buckets and give both us and the boat a cleanup and a wipe-down.
As usual, I started by inspecting our stores locker. Seraffyn has four main food-storage lockers, one under each quarter berth. Each holds about 10 cases of food. We also have a larger locker under the head of the forward bunk, plus a smaller locker under a settee, which I use for all of our eggs and daily supplies (rice, flour, sugar, and so on). Larry has the opposite settee locker for tool storage, and I often have to fight him when he tries to encroach on my stores lockers with things like a new transformer/converter for his electric drill.
I don't use any kind of stores list. Instead, in the two quarter-berth lockers, which are subdivided naturally by the boat's frames, I have certain areas for categories of stores. Starting from aft on the port side, I fill the locker with condiments (vinegar, ketchup, spices, mustard, cornstarch, bread crumbs). Forward of that go the noodles. Then there is a section for canned tomato products, followed by canned and packaged vegetables, then fruits, milk products, and finally treats (cake mixes, candy, dried fruits).
On the starboard side, from aft to forward, are packaged beverages (tea, coffee, cocoa), soups, beans, main-course items, toiletries, and flashlight batteries.
When I stock up, I put six of each item in the quarter-berth lockers. The others, along with the large supply of rice, sugar, and flour, go in the big forward bunk locker.
Once every week I check the quarter-berth lockers, making sure no packages are split. If any cans are showing signs of rust, I use them as soon as possible. I note what items are in short supply and "go shopping" in the big bin forward.
I prefer to plan my meals the same way once we run out of fresh food. I look over the cans and packages in the locker until something catches my eye.
Many people prefer a stores list, and that would probably be a good idea with a larger boat and larger crew for extended cruising. When a boat has 25 or 30 possible storage lockers in which items can be hiding, many will be forgotten. If you do use a stores list, only one person should be in charge of taking items from lockers and crossing them off the list. And a systematic schedule has to be arranged to make sure each storage locker is checked at least every two weeks. It doesn't take more than that for a slow drip from condensation to create havoc with a case of packaged noodles or for a rusty can to stain the paintwork.
One final warning if you use a stores list: Don't start preparing a meal until you have all your ingredients out of their various lockers. Zillah, who worked as a cook on the magnificent charter schooner Carina, told me of one near-disaster when she planned an elaborate Cordon Bleu dinner for the discerning pair of charterers who were paying the equivalent of US$7,000 a week for their cruise. Because of 60-foot Carina's multitude of lockers and exotic supply of stores, a stores book is used religiously. Unfortunately, however, when it came time to put the wine-filled casserole in the oven, topped with a special cheese, Zillah checked her book to find that the cheese was in the locker under the charterers' bunk. The female charterer was in her bunk sound asleep. Dinner was two hours late that evening—the time fortunately filled by an unusually good sunset and a prolonged cocktail hour.
On most cruising boats, this wouldn't be a problem, but you might plan a meal only to find the one can that you need has already been used and not crossed off the list, or it has been ruined by rust.
We don't prepare our cans in any way before we store them on board or when we are delivering boats. On deliveries, the cans are rarely on board more than three to five weeks, so they don't have time to rust. There usually are more than enough lockers so that we don't have to worry about their getting into the bilges and losing their labels. On Seraffyn, which had a wooden hull with no leaks and little condensation, we rarely found more than one or two cans during any year that had to be tossed overboard. And that was usually because I forgot to check one corner of the locker for too many days. To further help keep cans from rusting, we washed each locker thoroughly with fresh water once a year. 
On Taleisin, with its larger storage lockers, I actually find I lose more cans to rusting than I did on Seraffyn. This is due to the larger quantity of packaged and canned goods we carry. I don't use up canned products as quickly, and, with the added depth of the larger lockers, I don't notice the first signs of rust in the lower layers and thus use the affected cans first, as I did before. Another easily avoidable problem intruded into my storage planning on board Taleisin because of the bronze flooring and strapping we used in her construction. I found that beer cans, which are made of aluminum, developed holes within two weeks if they rested against the metal. An insulating barrier of plastic matting solved that problem. 
If, on the other hand, your boat has fiberglass or metal storage lockers, rust and soggy labels could be a problem. The first solution is to line your lockers with plastic, open-weave matting, which will insulate the cans from the hull. If this is not enough and your cans start to show signs of rust (not just slight discoloration, but real rust), then, before the next trip, line up the cans with the labels secured tightly and spray each can and label with varnish spray or lacquer before storing them away. This is extremely time-consuming, but if you are laying on stores for six or eight months and your boat is a damp one, it could prevent a lot of waste. I do not believe in removing labels—not only does this take time, but it also means that all the cans look alike, and a quick survey of your can locker won't tell you where your deficiencies are.
To protect our lockers and hull from being chafed or stained by canned goods, I line each one with the nonskid plastic matting that is sold as an underlay to keep small carpets from skidding on wooden floors (purchased from Wal-Mart or Target stores in the United States). This material is thicker material than the plastic nonskid sold for use on galley tables, and it has two extra advantages: The matting lets condensation or moisture filter down into the bilge without touching cans, and it stops them from rattling and shifting, so their labels stay intact.
Avoid storing cans of any sort in the bilge unless your bilges are so large that the cans can be stored right in their cases. There is nothing more unappetizing for the cook than having to reach into a dusty, greasy bilge and sort through wet cans. If you must store individual cans in the bilge because of lack of space, then it is best to remove the labels from the cans, mark the tops, and varnish each can before you set sail.
Canned goods are safe to use for up to 11/2 years if they show no signs of rusting through. If the ends of any cans bulge or become puffy, discard them. But if every can in your locker gets puffed ends within the space of a few days, figure out whether there has been a large temperature increase in the seawater. If there has been, the canned food is safe and the puffing has been caused only by internal expansion. We learned this when we sailed out of the 72-degree waters of the Mediterranean into the 88-degree waters of the Red Sea. Every can in the below-the-waterline lockers puffed up within two days. We used them anyway, with no ill results. Three weeks later, in the 78-degree Indian Ocean, they all resumed their normal sizes and shapes.

---
Our FREE Provisioning Spreadsheet
Wondering how much of what foods to take on your next trip? Know just how much to buy of what — all arranged by grocery store aisle — with our handy Provisioning Spreadsheet. Includes detailed instructions to edit it for your favorite foods, how much your family eats, and how long you'll be gone. No spreadsheet skills needed!
It's FREE — get it here.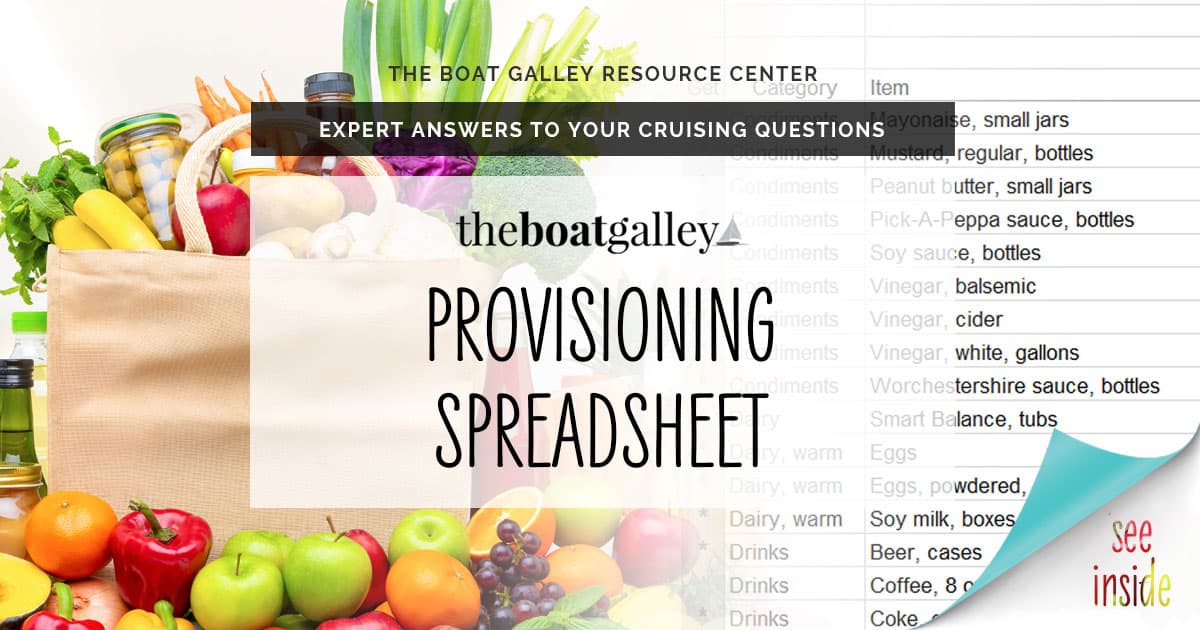 Some links above (including all Amazon links) are affiliate links, meaning that I earn from qualifying purchases. Learn more.