Cruising allows you to discover new favorite foods as you travel. Whether you're getting your first taste of lion fish or jicama, it helps to have someone show you how to prepare it properly. In today's post, Amy Alton shares techniques to help you prepare breadfruit along with a couple recipes that allow you to make the most of it.
---
If you've cruised the South Pacific, you've probably noticed a breadfruit tree and admired its qualities; the trees grow tall with glossy, lobed leaves in a multitude of green shades. But the fruit looks odd hanging off the ends of the branches, weighing the tree down.It's round, hard, and heavy, with scaly green skin. But this fruit, originally native to New Guinea, holds a wealth of nutrients in its versatile flesh.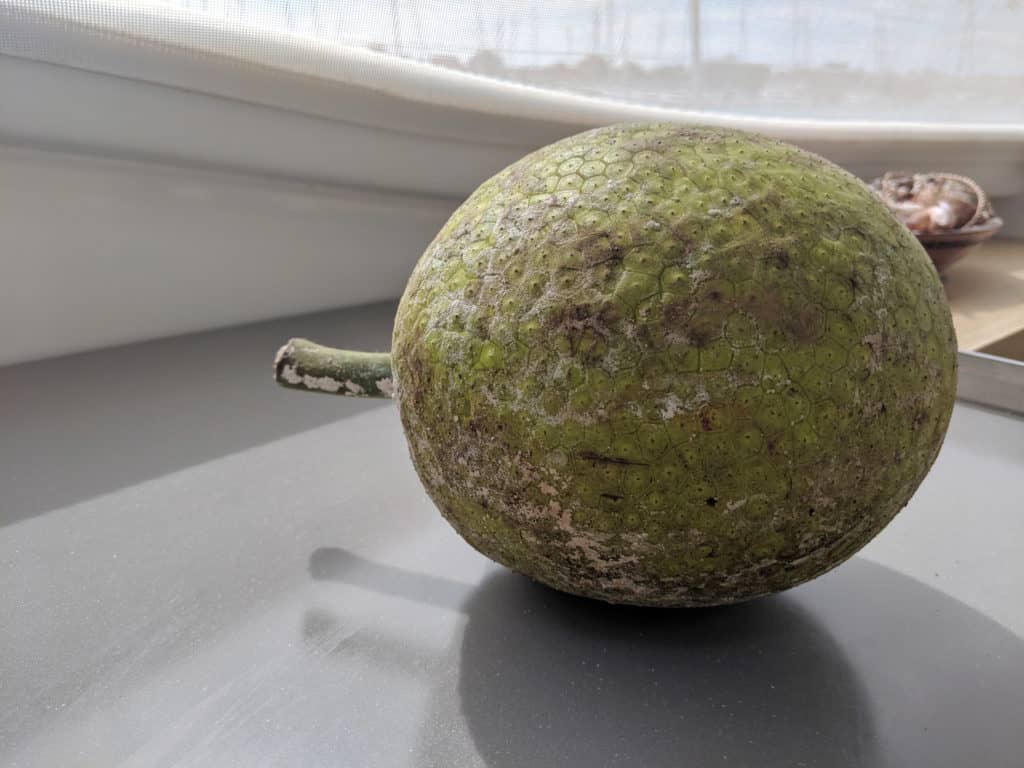 The plant spread throughout Asia and the Pacific and eventually was brought to the Caribbean by the British. It grows well in the tropics and is one of the highest-yielding fruit plants. It produces throughout the year and one tree can yield up to 450 pounds of fruit. This has provided the world with an easy-to-grow, high carbohydrate food source.
When I encounter breadfruit, it's usually at the local vegetable market. Most commonly it's sold when fairly large (soccer ball size), green and mature. Baby breadfruit tastes like artichokes, while soft and brown ripe ones taste sweet. The standard offering tastes like sweet potatoes.
Breadfruit is high in complex carbohydrates and has a lower glycemic index compared to other white starches. Just a ½ cup of breadfruit provides 25% of your daily recommended fiber intake. Easting local breadfruit is a great way to eat healthily and cut down on the carbon footprint of your food.
How to Prepare the Breadfruit
These instructions are for your typical mature breadfruit. It's much like preparing a pineapple with its hard outer skin and an inner core.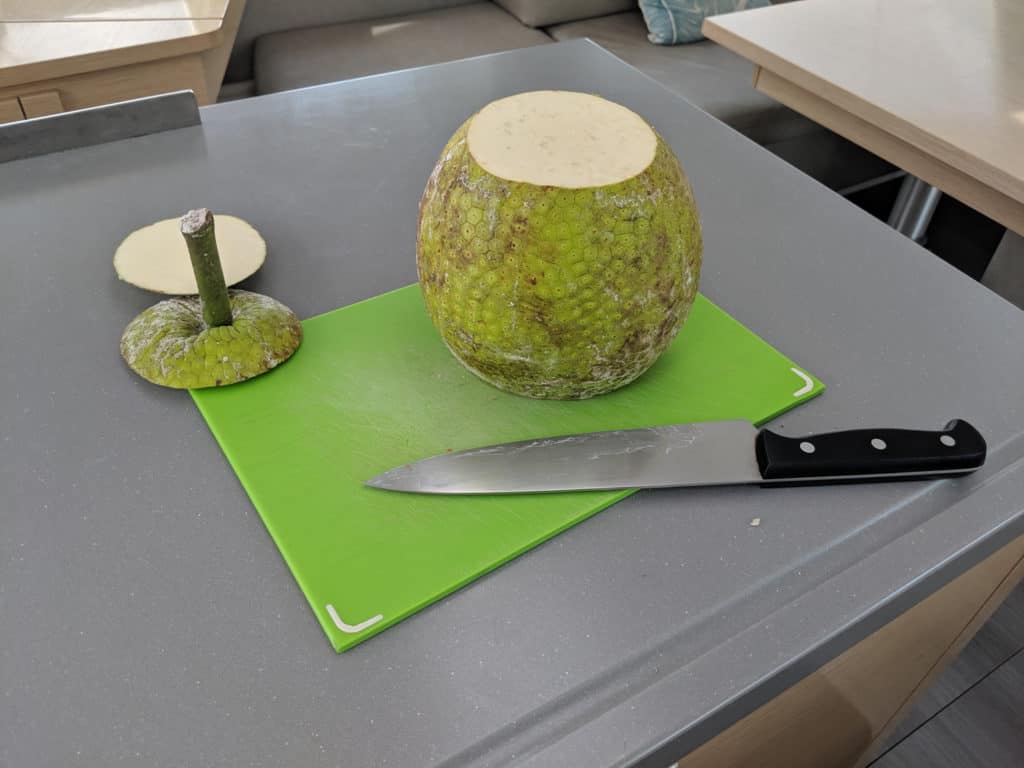 First, I cut the top and bottom off.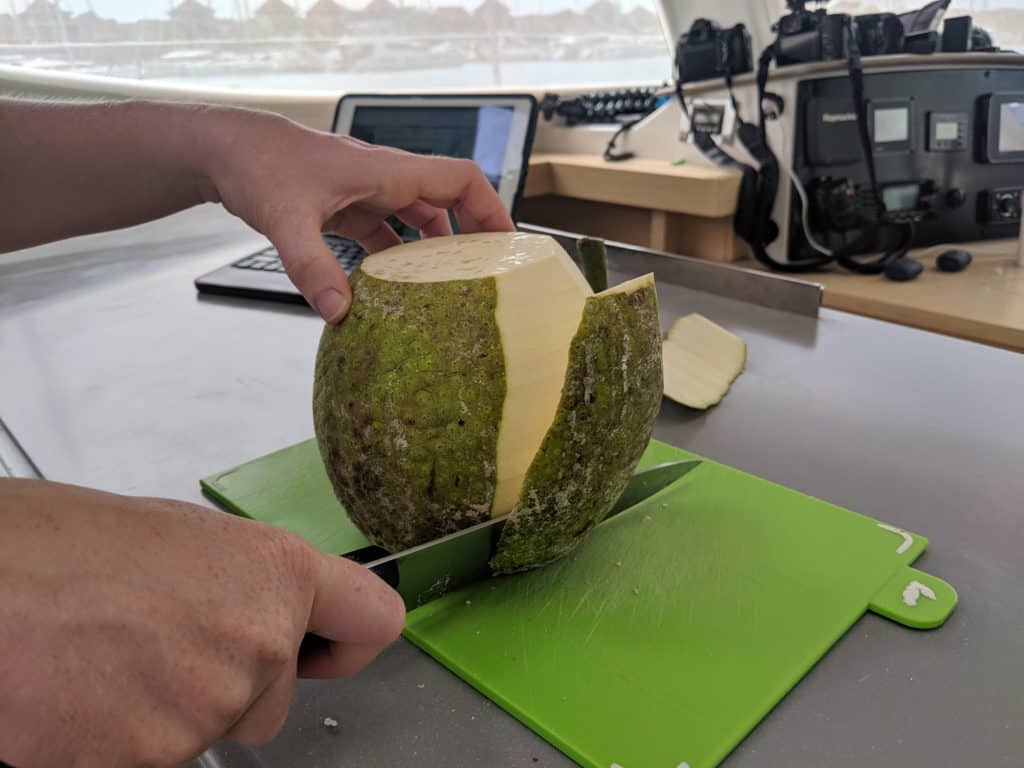 Then, I work around the fruit cutting the skin off. A sap is released, although it's not as sticky and thick as some other produce, you will notice it leaving a residue behind.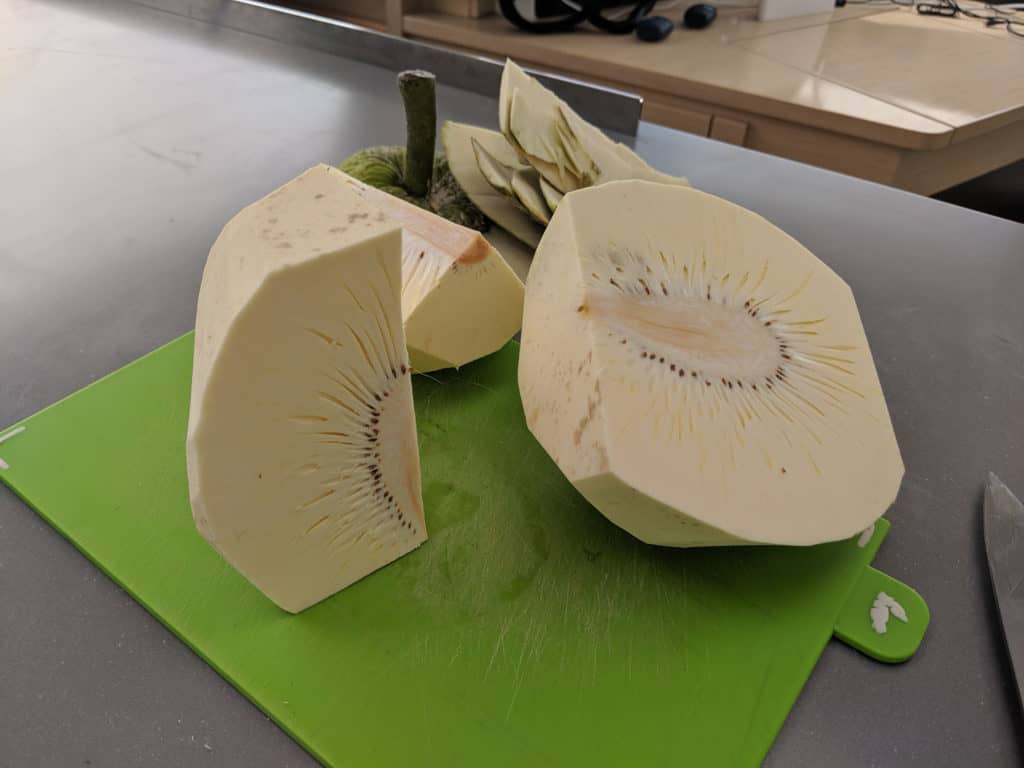 Cut the fruit into quarters lengthwise.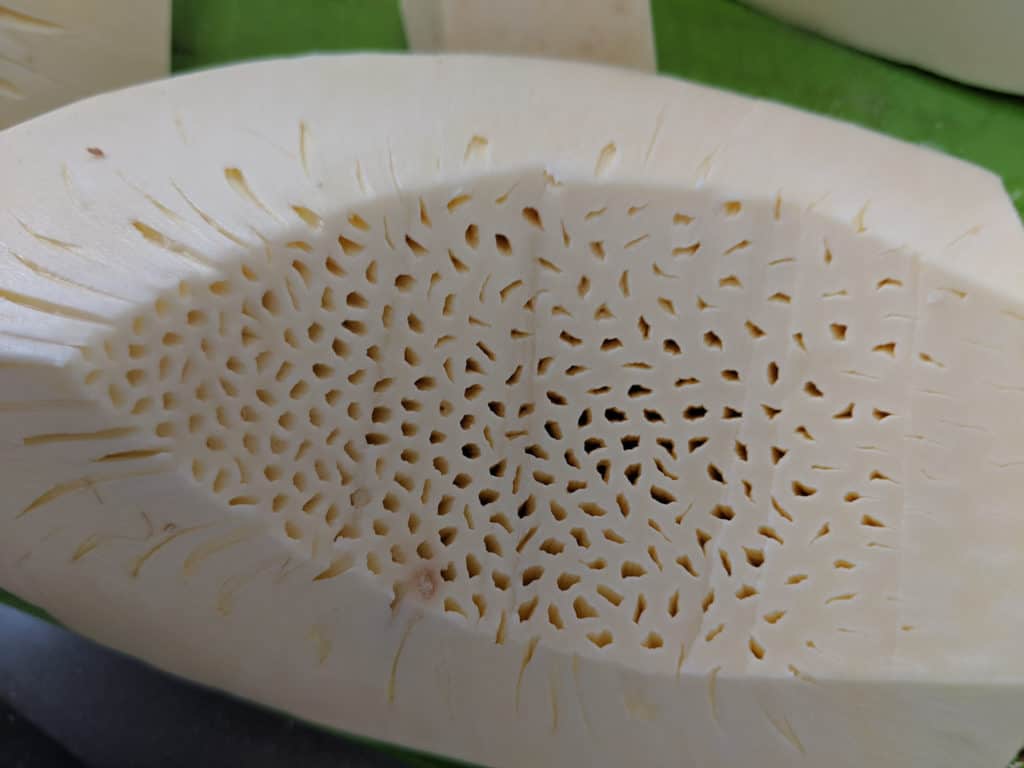 The fruit is dense in the middle, then porous, then solid flesh. We want to cut out the dense middle part and throw it away, leaving the edible porous and solid flesh. Here there are small brown seeds with hairs that extend out into the porous part. If you desire, you can cut out the porous part as well, for aesthetic purposes. I often see breadfruit chips made with the porous part and I like it. I also wash the breadfruit here, as the little hairs tend to get everywhere.
That's it! You now have four large chunks of breadfruit to cook with.
Four Easy Ways to Cook Breadfruit
Once you've followed the instructions for peeling and prepping the breadfruit, try a few of my favorite ways to cook it:
Dice the breadfruit, toss with olive oil and salt and bake until browned.
Steam the breadfruit and mash it.
Pan fry chunks of breadfruit with oil.
Throw a whole breadfruit into your beach bonfire and pull it out when the skin is black.
If you're more ambitious, here are two easy recipes to try.
How to Make Breadfruit Chips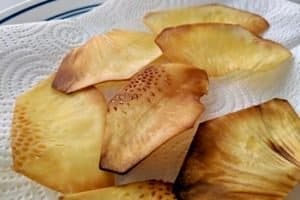 Breadfruit Chips
This is my favorite method to eat breadfruit. It's perfect for a treat to bring to sundowners, they get gobbled up!
Print Recipe
Pin Recipe
Ingredients
½

breadfruit

½

cup

Oil or more as needed (coconut or neutral oil)

Salt
Instructions
Slice the breadfruit quarters thinly. If you have a mandoline onboard, use it!

Heat oil in a wide pan (like your Magma 9-1/2 inch frying pan) on your stove on medium-high heat. I use coconut oil and start with ¼ cup.

Lay your breadfruit slices in the hot oil in a single layer. Because I use a mandoline, my slices are very thin, and brown quickly. Flip to brown on both sides. You will notice the slices start to curl up the darker brown they get.

When the chips are stiff and light brown, use your tongs to remove your breadfruit chips from the oil and transfer to a paper towel covered plate.

Repeat for all your slices. Salt and serve!
Nutrition Facts
Breadfruit Chips
Amount Per Serving
Calories 940
Calories from Fat 981
% Daily Value*
Fat 109g168%
Sodium 1mg0%
Carbohydrates 1g0%
Protein 1g2%
* Percent Daily Values are based on a 2000 calorie diet.
Making Breadfruit Curry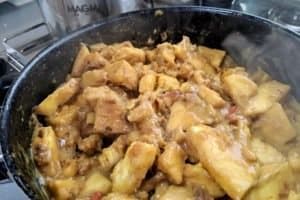 Breadfruit Curry
Breadfruit curry is a great vegetarian option. This dish is enjoyed all over the world, from Sri Lanka, where it's called del, to Fiji and Jamacia. This is a very basic recipe with ingredients you should be able to find anywhere.
Print Recipe
Pin Recipe
Ingredients
2

Tbs

coconut oil

4

cloves

of garlic, minced

1

knob of fresh ginger, minced

1"x1"x2" size

½

onion, diced

½

bell pepper, diced

½

breadfruit, cut into small chunks

1

can

coconut milk

(13.5 ounce size)

½

tsp

turmeric

⅛

tsp

chili powder (optional)

2

Tbs

curry powder

½

water, or more as needed
Instructions
Heat the oil in a saucepan or stockpot using medium-high heat.

Add garlic, ginger, onion, and pepper to oil and let cook for five minutes, stirring occasionally.

Add the breadfruit and let it cook for a few minutes, stirring until most of the pieces are browned.

Pour in coconut milk, spices, and water. Bring to a boil.

Turn the heat down, cover, and let simmer for 20-30 minutes until the breadfruit is soft when poked with a fork. It should feel like a cooked potato. If your sauce gets too thick, add more water and stir.

Serve with chapati or rice.
Nutrition Facts
Breadfruit Curry
Amount Per Serving
Calories 101
Calories from Fat 81
% Daily Value*
Fat 9g14%
Sodium 6mg0%
Potassium 125mg4%
Carbohydrates 6g2%
Protein 1g2%
Vitamin A 111IU2%
Vitamin C 14mg17%
Calcium 24mg2%
Iron 1mg6%
* Percent Daily Values are based on a 2000 calorie diet.
I hope these instructions and recipes have given you the courage to try breadfruit. Who knows what other interesting preparations you can find as well.
Amy Alton writes the blog Out Chasing Stars. She and her husband are in the final stretch of their circumnavigation on their 44-foot catamaran, Starry Horizons. Their adventures over the past five years have brought them through the Caribbean, South Pacific, Southeast Asia, and the Indian Ocean. They share their adventures on YouTube and Facebook.
Some links in this article (including all Amazon links) are affiliate links, meaning that we earn from qualifying purchases.