Different people have different priorities in what they want in a wine glass.  The GoVino glasses work well for some people; others don't like them at all.
The GoVino glasses are basically a clear plastic cup shaped like a stemless wine glass.  The material is more like a Red Solo Cup than anything else — sort of flexible but not "squishy" like silicone.  They're not brittle like the typical clear plastic disposable glass.
My feeling is that there are good points and bad points to them — it's not a clear-cut "oh wow they're great!" or a "they're awful!"
The Good:
Shatterproof and pretty much unbreakable — in other words, good around bare feet.
Shaped like a wine glass.
Fit into most drink holders.
Thumb indentation is brilliant so the glasses don't slip from your hand.
Store easily.
Very lightweight if you're concerned with weight on the boat. But it also means they'll blow away in the wind when empty or close to it.
Easy to slip into a day pack for a beach party.
Not horribly expensive for a set of 4.
The Bad:
They're not really expensive, but they seem expensive for what they are.
Start looking "tired" fairly soon, although they are still serviceable.
Some people think they feel like you're still drinking wine out of a Solo cup (I agree with this one, but it doesn't really bother me)
They are not dishwasher-friendly.  On a boat, it's not a problem — but if you buy a set for home or a beach house, just be aware that you have to hand wash them as the shape will distort with the heat of a dishwasher.
The bottom line for me on these is that if you realize what you are buying and it's what you want, you'll be very happy with them.  The problem is if you think they are going to be more like an acrylic glass or even a "glass" glass.  They're not.
They're sold lots of places on the internet although I've never seen them in a "brick and mortar" store.  If you have something else you're getting at Amazon to meet the free shipping threshold (or are a Prime member), they have the best prices:
Have you used the GoVino glasses?  What did you think of them?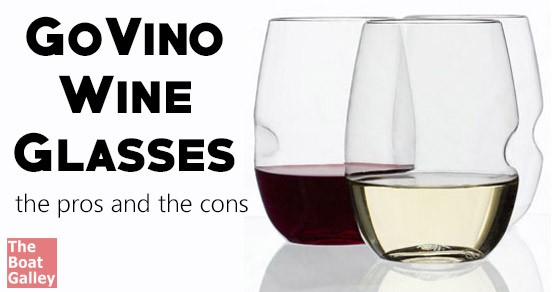 Some links above (including all Amazon links) are affiliate links, meaning that I earn from qualifying purchases. Learn more.