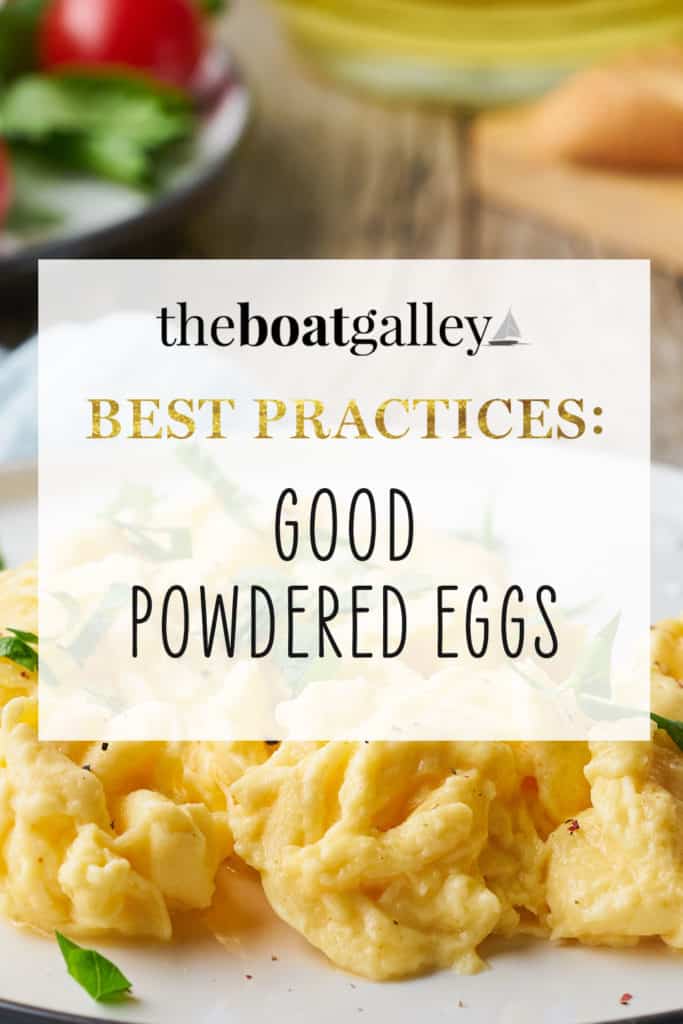 My first experience with powdered eggs came when I was in Scouts and we did a week-long canoe trip. Our scrambled egg breakfast was less than inspiring — but we were hungry and ate it anyway. And when Dave and I began cruising, I bought a package of powdered eggs as backup. They "worked" in baking, but again I wasn't thrilled with the results.
Guess what? You can now get REALLY GOOD powdered eggs — or actually, they are crystallized eggs. Thanks to reader Sue McDaniel on s/v Happy Dance, currently in Mexico, having come from Alaska (see their blog) for telling me about these. The brand is OvaEasy and you simply mix the powder with water and you can use it immediately just as you would a whole egg (you can also get it as whites-only). About the only thing you can't do with it is have a fried egg or boiled egg!
Need More Help? Whether you have no refrigerator or a tiny one, the information in The Boat Galley Guide to Storing Food without Refrigeration (229 pages) lets you have great meals, using fresh food, on your next camping or boating adventure. Instead of spending a fortune on freeze-dried meals in a bag, spend just $12 and have fresh fruit and vegetables, meat, milk, eggs, cheese, sour cream and everything else you need for delicious, satisfying meals. Learn more.
Said Sue, ". . . an awesome product that a fellow cruiser introduced us to. It's a crystallized egg and is amazing! The eggs come in powdered form, you just add water, and the shelf life is very long. And they taste and cook just like real eggs. Anyway, I thought you might like to give them a try. We love having them onboard as it certainly makes carrying eggs on long passages MUCH easier!"
And it's not just Sue and I that think they taste just like real eggs — the reviews on Amazon are almost all raves. They work well in baking and taste great even for omelets and scrambled eggs.
You can get them in pouches that contain the equivalent of a dozen eggs, in large pouches with just over 6 dozen eggs and in large cans sold in 2-packs for a total of 12 dozen eggs. In the typical humidity of a boat, I recommend putting even unopened pouches into at least a Ziploc bag or, better yet, a Lock & Lock-type airtight plastic container. These don't seem to absorb moisture quickly but my experience is that anything packed in foil pouches does pick up some moisture over time.
Okay, these aren't cheap, costing over 50¢ an egg. You can get cheaper powdered eggs — but you're probably not going to want to eat them. And they have a number of advantages:
Need no refrigeration, even after the package is opened.
Can make up the exact number of eggs you need at a time.
Lightweight.
Compact — even if you are somewhere that you can get never-refrigerated eggs, you might prefer these on long passages just because they take so much less space.
Long shelf life — two years or more.
No broken eggs!
You can get OvaEasy from Amazon and on the company site (no international shipping). As far as I know, they're only sold online.
Read Next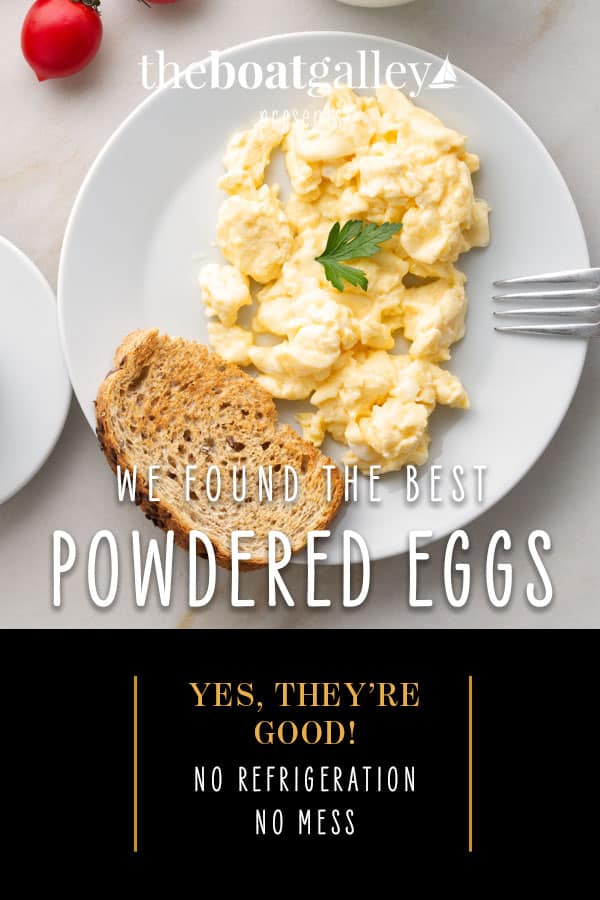 Some links above (including all Amazon links) are affiliate links, meaning that I earn from qualifying purchases. Learn more.