Food storage containers are one of the most important pieces of galley "equipment" — without good ones, it can be a guessing game if your food will be in edible condition when you reach for it.
On a boat, you'll use these for just about everything — not just things like flour and sugar that you put in canisters ashore, but also rice, pasta, box mixes, even dog food!  And don't forget about everything in the refrigerator — leftovers, foods that you want chilled and foods that are stored there, such as cheese.
There are three "absolutes" when it comes to food storage containers:
Lids can't pop off — you don't want a bowl of pasta salad (or worse, gazpacho) spilling in the bottom of the refrigerator.
Airtight — important for keeping bugs out of dry foods as well as preserving the quality of foods.
Unbreakable — thin, brittle plastic tends to crack just with the motion of the boat, leading to spills and bug infestations.
But there are some other things to consider, too:
Use of space — obviously the containers need to fit where you want to use them.  But square corners and straight sides waste less space than round dishes and sloping sides.  Containers that are larger than they need to be also waste space.
Dividing up stocks — I prefer to divide my stock of most foods between two or more containers.  Two reasons for this:  first, should one have a problem such as getting bugs in it (hopefully all my precautions will prevent this) or have some other problem, I haven't lost all of a particular item.  Second, I can keep one container in a location that's easily accessible and store the rest wherever there's room.
Cleanability — weird little nooks and crannies take more time and water to clean.  (Read my article on cleanability.)
Recommended Food Storage Containers
My favorite food storage containers are the Lock & Lock containers.  I know, you can buy much cheaper big sets of plastic containers.  That's what I did initially.  I learned the hard way as lids popped off, food spilled and containers cracked and broke.  Ditto for re-using margarine and yogurt tubs.  Then I got some better Rubbermaid containers — they didn't break, but without positively locking gasketed lids, I still had problems with bugs sometimes getting in and lids popping off.  It was only when I discovered the Lock & Lock, Sterilite and Rubbermaid Lock-Its (all available on Amazon) locking containers that I stopped having problems.
If you're just starting to outfit your galley, you'll be surprised at how many containers you'll end up using and how much money you'll spend on them.  I know I was!  To a certain extent, it helps to plan what containers you'll use where and how many can actually fit in various lockers and so forth.  However, you'll also use a number of these containers as serving dishes — particularly when you're going to potlucks or just taking a dish to dinner on a friend's boat.

All three brands of containers (there may be some other brands available in other places, too) have the basic features that I like.  However, when I have a choice, I prefer the Lock & Lock because there is less wasted space — particularly in how much of a lip there is on each container as shown in the photo at right — the one with the blue gasket is the Lock & Lock, the one with red is a Sterilite (Rubbermaid Lock-Its have more steeply sloped sides and waste even more space).
While I've written other articles about "special" containers that I like — such as the serving/salad bowl and the egg carton — here are links to many of the everyday containers.  While I can find some Lock & Lock containers at local stores, I find that the selection online is much better:
Lock & Lock on Amazon (check out this multi-pack for a great deal compared to buying individual items and see related items)
The pieces with handles are great for taking food in the dinghy — makes it much easier to hand items from one person to another!

---
Our FREE Provisioning Spreadsheet
Wondering how much of what foods to take on your next trip? Know just how much to buy of what — all arranged by grocery store aisle — with our handy Provisioning Spreadsheet. Includes detailed instructions to edit it for your favorite foods, how much your family eats, and how long you'll be gone. No spreadsheet skills needed!
It's FREE — get it here.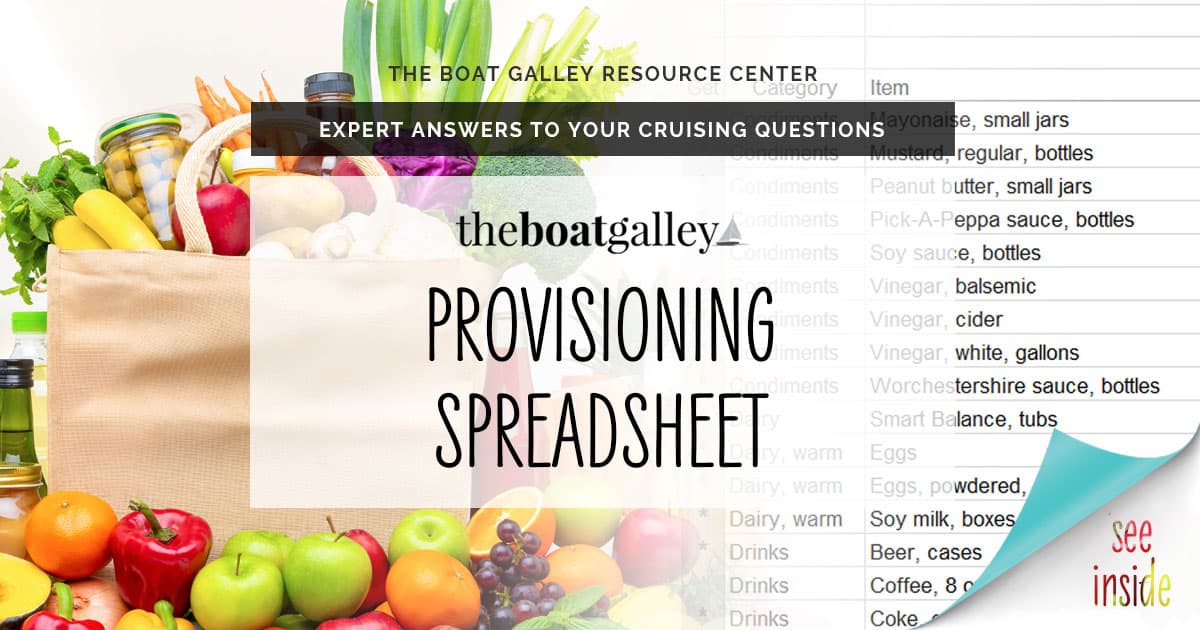 Some links above (including all Amazon links) are affiliate links, meaning that I earn from qualifying purchases. Learn more.