About five years ago, my sister-in-law gave me a pair of Wusthof Kitchen Shears, pictured, and I absolutely love them.  I have owned several different pairs of kitchen shears over the years and they are by far the best—and they certainly aren't the most expensive!
(Update: Wusthof no longer makes my shears. The latest version is missing the bone notch. However, the current version is well-reviewed. There are also other shears I have not tried with similar features by Kaiking and Kitchen-Go. Both have 4 1/2 star average reviews and are under $20.)
A picture of my shears is at right, taken apart to show specific features.  A few of the reasons that I like these include:
Very high quality stainless has not rusted in 5 years!  I know mine look as though one surface is a little off color and possibly rusted, but that is just the light—they don't have a speck of rust on them.
The blades stay sharp and can be resharpened using any standard sharpener, such as the one I recommend in my article on knives.
The blades come apart for cleaning and sharpening—even if you don't buy these, this is a "must have" feature.  If the shears don't come apart for cleaning, tiny particles of meat will catch in the crevice between the blades, which will then grow bacteria, which can lead to food poisoning.  NOTE:  The product description of these on Amazon talks about removing the plastic screw cover to separate the blades, but all you actually have to do is open the blades all the way open to line up the slot and tab.
Designed so that you get a lot of leverage to cut through bones and joints — I don't know exactly what's different from other shears I've owned, but these go through bone and tendons much easier than the others.
Handles are non-slip and reasonably comfortable (none are 100% comfortable when cutting through bone).  Even if your hands are wet, they work well.
Can be used either right- or left-handed.
One blade is slightly serrated, so that meats doesn't slip.
There's a "bone notch" in one blade—when you're trying to cut through a bone, catch it in the bone notch so it will remain steady as you close the blades.  This is one of those features that you don't appreciate until you (a) use it and then (b) use another set of kitchen shears that doesn't have it.
And there's a jar opener in the handles!
One final note:  while these are called "kitchen shears," they can be used on any tough materials that regular shears won't cut.  I've used them to cut carpet, dinghy patches, webbing, numerous types of hoses and more.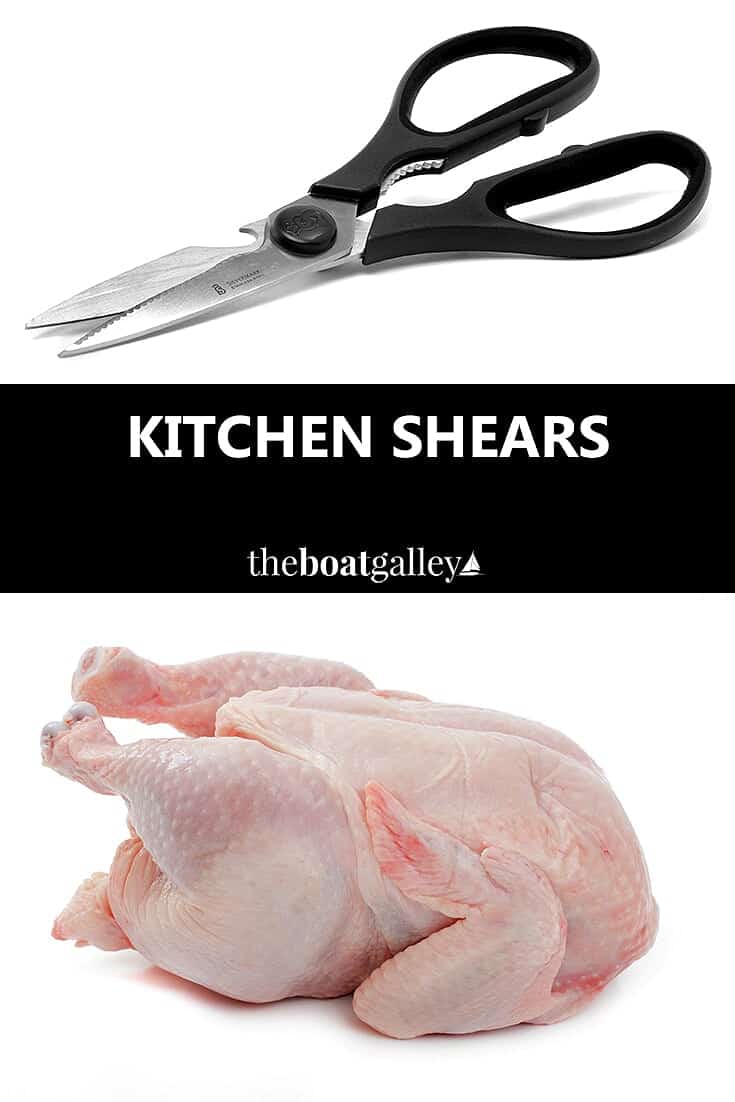 ---
Our FREE Provisioning Spreadsheet
Wondering how much of what foods to take on your next trip? Know just how much to buy of what — all arranged by grocery store aisle — with our handy Provisioning Spreadsheet. Includes detailed instructions to edit it for your favorite foods, how much your family eats, and how long you'll be gone. No spreadsheet skills needed!
It's FREE — get it here.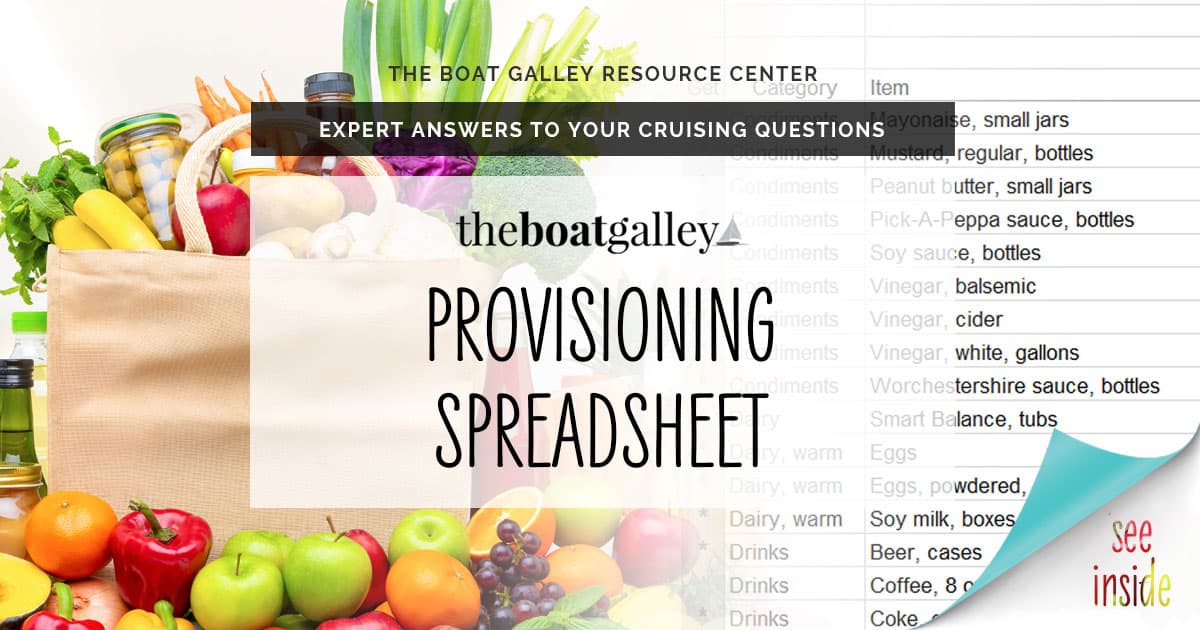 Some links above (including all Amazon links) are affiliate links, meaning that I earn from qualifying purchases. Learn more.