Many (most?) of us aren't really fearless when it comes to new ventures, perhaps heeling a bit further than we're used to, going under a fixed bridge or through an opening one, sailing offshore, standing an overnight watch, or facing a squall.
And we look at friends' or acquaintances' posts on Facebook or Instagram and wonder how do they look so happy, nonchalant and — dare we say it? — calm in the face of possible disaster.
It's a question I've gotten a fair number of times: how do I not freak out and turn into a blubbering pile of jelly?
Obviously, the first step is training. But most often the people who are asking me this have taken classes and are competent. It's "just" nerves.
So how do you get over a case of nerves?
I'm not a psychologist, psychiatrist, counselor nor do I have any other relevant training (that's my disclaimer), but I can tell you what worked for me.
Faking it.
Yep. Years ago, facing my first foray into public speaking, I got what to me was invaluable advice:
I didn't have to actually be calm, cool and collected; I just had to look like I was.
And the funny thing was that pretty quickly, I started actually feeling that way.
I've discovered the same thing about doing things that make me nervous on the boat. I started by deciding that I wanted to look like I was having fun (having someone taking photos helped to give me a reason to smile). And almost always, within minutes I forgot about the "looking like" part: I was enjoying myself.
Heeling on a monohull? Well, I learned to sail when I was 12 on small boats designed to heel. And whenever us kids would do things right and get it moving on that heel, the instructor would yell out things like "woo-hoo!" to reinforce the idea that what we were doing was fun. To this day, I get a grin when we hit that sweet spot of heel (yeah, we have a catamaran now so it's when we're on a friend's boat).
Docking or picking up a mooring ball? I know things will go better if I appear calm to others on the boat or dock. So I give calm, specific instructions. No, I don't necessarily feel calm as I'm pulling up to a large solid object. But I can project calmness. And then, suddenly, I am.
Standing watch overnight? I freaked the first time (read that story here). But as Dave and I started cruising our own boat, I wanted him to sleep well when he was off watch. The only way that would happen was if he thought I felt good about being on watch. Yep, back to faking it. And after a couple of absolutely glorious night sails, I found that I really looked forward to my night watches. The dark wasn't scary, the stars were beautiful.
Okay, there may be situations where I'm still nervous and faking it doesn't change how I really feel — say in squalls — I still use it. Even if I'm faking it, projecting calmness helps keep those around me (even other boats if we're talking on the radio) calm. I don't want their nervousness to feed on mine — as mine will feed on theirs.
And really, that's a big part of why I want to project calmness and fun: to stop escalating the tension. If I want to have fun on board, I have to show a good attitude myself. And I've learned that if I don't like how things are going, projecting a calm demeanor is much more likely to get others to agree with me.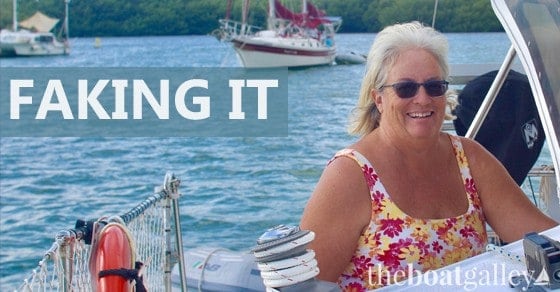 Some links above (including all Amazon links) are affiliate links, meaning that I earn from qualifying purchases. Learn more.