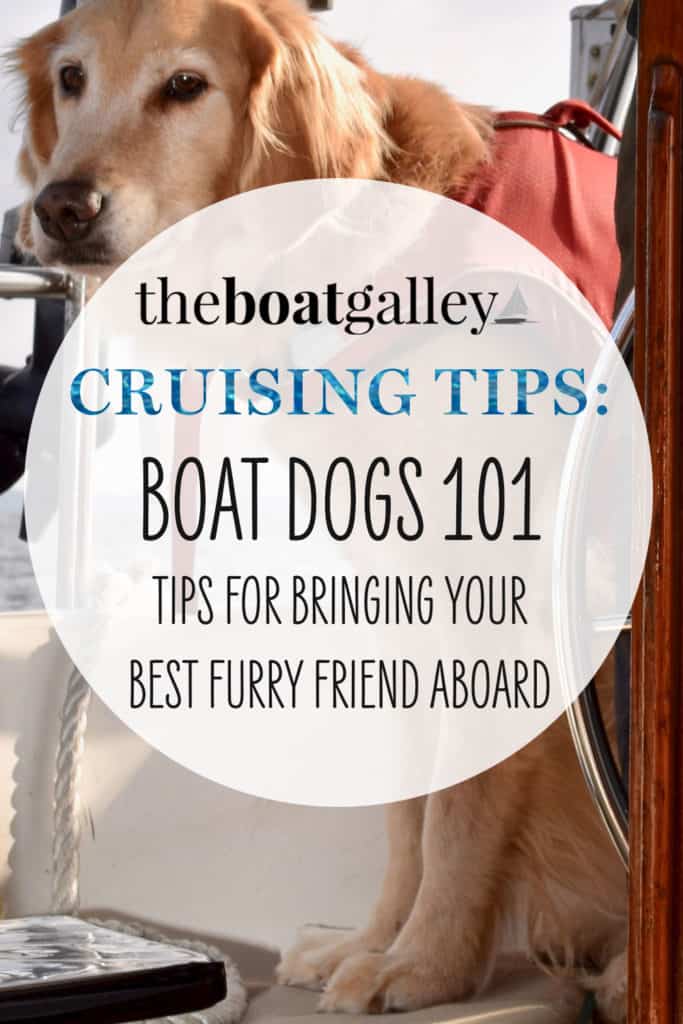 Want to have a boat dog? Wondering about taking your dog on your boat or going sailing with your dog? Or maybe you're thinking about getting a dog and wondering about the realities of living on a boat with a dog.
First off, a disclaimer: every person, boat, dog and situation is different. There are no absolute rules!
Adopting our dog Paz was one of the best decisions we made while cruising — and we did lots of great things. But it was a decision, not an impulse. We thought long and hard about our cruising plans, how a dog would fit into those, and also how a dog would alter them.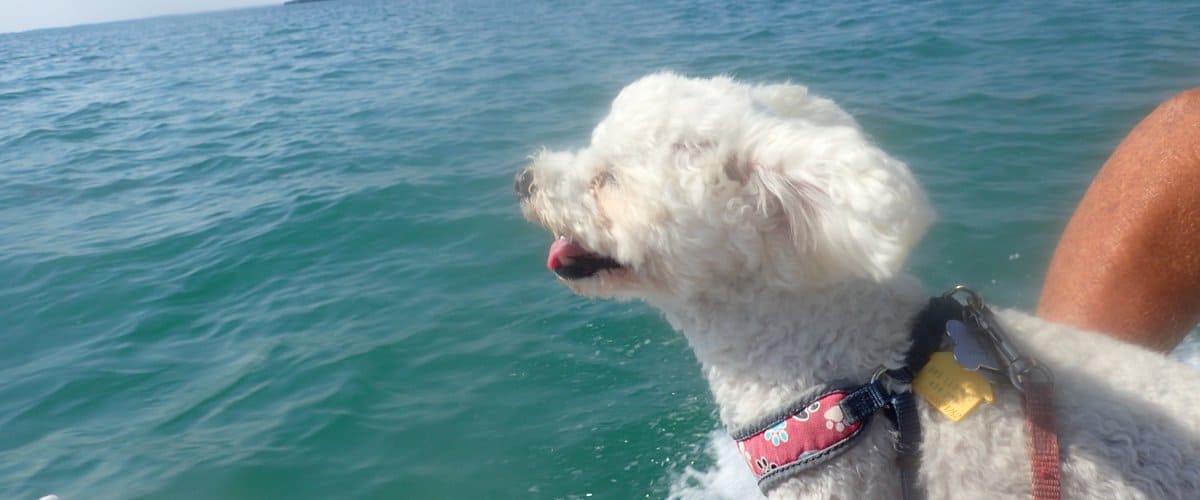 If you already have a dog, you may be wondering if it's possible to cruise with them. You know your dog better than anyone else, so I can't really say. But most dogs on boats love the lifestyle, with lots of new people, places and smells to explore. However, high-energy dogs on boats can have problems if they can't get to shore often enough to burn off that energy (read a great way to quickly tire a dog out).
Puppies are usually very adaptable and readily take to boat life or a combination of boat and land life. An agile, surefooted dog usually takes to the boat more easily than one that isn't. They don't have to be a super-athlete to be a boat dog though. A lot of this also depends on boat design and how much they have to clamber over on deck, etc.


Large or Small Dog?
Small dogs on boats are easier than large dogs. Now, plenty of people do live onboard and cruise with larger dogs. And if you have a large dog, you can find ways to make it work (read this article by my VA, Pamela Webster, who cruises with a golden retriever). But the reality is that smaller dogs are easier:
If you can carry the dog under one arm, it's helpful when getting them into the dinghy, from the dock into the dinghy and particularly if you're living on the boat while on the hard and have to go up and down a 10-foot ladder.
A dog that can't get up the companionway can be safely left below when docking or anchoring.
Smaller dogs take less space themselves and need less space for food and other supplies and less water for drinking and bathing.
In general, a small dog that's having a bad day can do less damage than a large dog. The trick is to ensure that there are no bad days — and many boat dogs that we've known don't have bad days as their people are around almost all the time. They're rarely left alone for hours, which is when boredom (and destruction) set in.
If you're actively cruising, land travel is much easier with a small dog. Depending on the country you're in, you may be able to take a small dog on buses and trains (sometimes in an airline carrier, sometimes just holding them). Motels are much more likely to allow small dogs. And if you need to find someone to watch the dog, it's generally easier to find someone willing to take in a small dog. If you ever have to fly with the dog, ones that are small enough to go in the passenger cabin are easier to take along (and cheaper).
If you want to know more about large dogs on boats, read more from Pamela's blog – Something Wagging This Way Comes.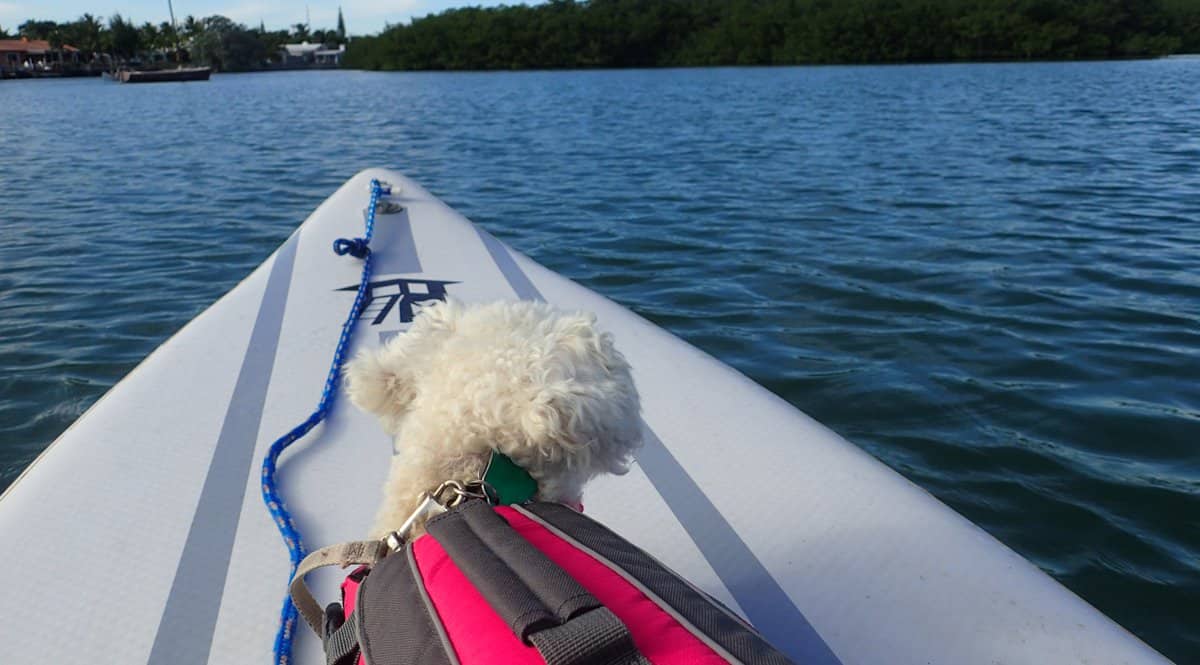 Cruising with a Boat Dog
A dog will impact what you can do. If it's hot, you can't leave your dog in a closed up boat while you go ashore. This may be a security issue in some places unless your dog is one that would deter thieves. However, before getting a guard dog, know that more and more countries have breed restrictions. Pitbull mixes are the most likely to be denied entry, but any breed with a reputation for aggressive behavior may have problems in some countries. Yours may be the sweetest dog in the world, but breed restrictions are a fact of life for boat dogs.
Sometimes, your dog may not be allowed in a place where you want to go and you'll have to make alternate arrangements. In general, we found fewer restrictions on us in Mexico and Central America than in the US.
If you're even remotely thinking of heading to the South Pacific, New Zealand or Australia, it is almost impossible to take a dog (and extremely expensive if you do manage it). Regulations change all the time, so check for yourself, but the best advice I can give if you're heading to those areas is not to try to take a dog.
In many popular cruising grounds, both in the US and other countries, dogs are welcome in outdoor seating areas at restaurants. Cruiser gatherings are typically very dog-friendly. We never had a problem at a marina but I have heard that there are some marinas that don't allow dogs.
It may not be fair, but a cute and friendly dog will be allowed more places than one that's not. And a non-threatening friendly dog will give you lots of opportunities to meet local people. Paz is known as a "chick magnet" and we've even had guys want to rent her for an hour just to meet girls on the beach!
Practical Matters for Boat Dogs
Vets
We had no problems finding vets in our travels, but we sometimes had to make detours or take a taxi for an hour or more. And a dog is one more "crewmember" that you have to provision for, deal with paperwork for, and in general remember in your planning.
Pooping and peeing
Training your dog to "go" on the boat is well worth the time and effort. Being able to make longer passages and not having to make middle-of-the-nights trips to shore are priceless benefits. In many places, it's a good idea to hoist and lock your dinghy at night, which makes trips to the beach just that much harder. You can read my tips on teaching a dog to use a piece of Astroturf here.


Keeping your dog on the boat
The number-one rule for boat dogs is to use a harness instead of a collar. That way, if your dog should fall or slide across the boat while hooked up they won't break their neck. Actually, maybe always having them hooked up when underway is Rule #1.
Don't rely on lifeline netting to keep the dog aboard. They can find ways to get under or over it, as well as the places where it's impossible to have it. (Read about buying and installing lifeline netting here)
Figure out a way to get the dog back on the boat if it falls overboard BEFORE it happens. The bigger the dog, the more important it is to have devised a system.
Swimming and wading
Be sure to give the dog a quick freshwater rinse when they've been wading or swimming in saltwater. Otherwise, they'll get saltwater on settees and rugs. Just like when people tracking saltwater in, it won't totally dry out . . .
Don't be surprised if your dog loves to roll in the sand and mud on the beach. A quick dunk will get most of it off, but be sure to budget enough water to be able to give them a quick bath so you don't have sand and salt throughout your boat.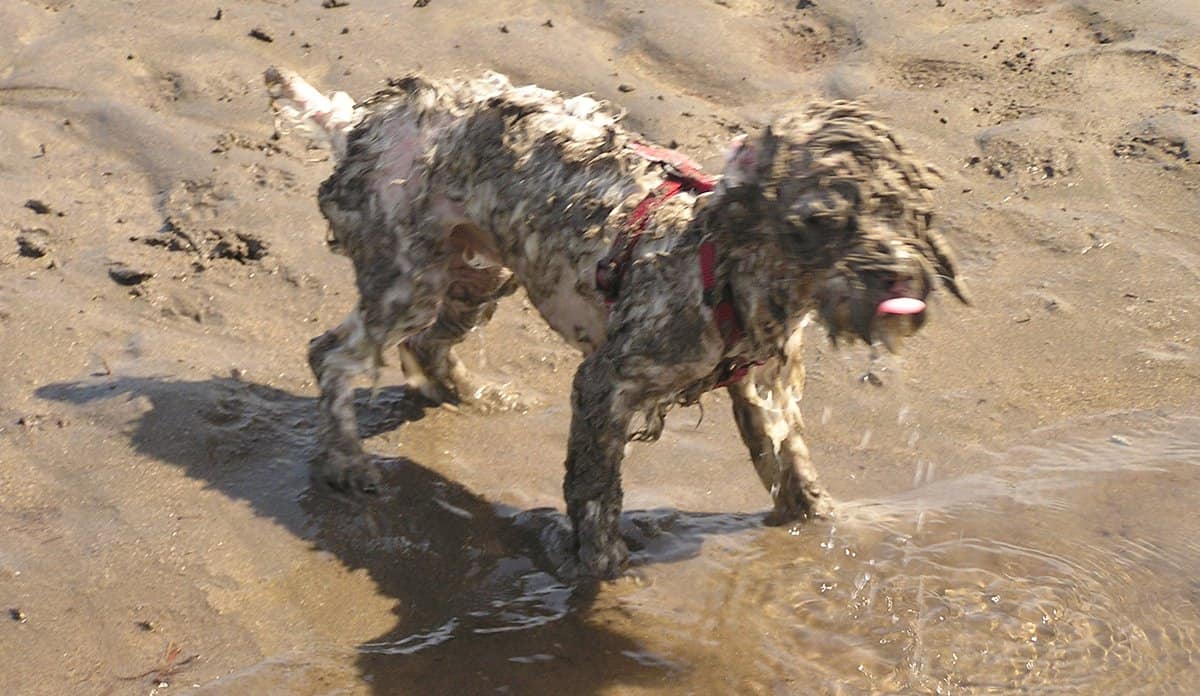 Rough weather and your boat dog
Create a place on the boat where your dog feels safe even when conditions get "boisterous." You'll help your dog and you won't wonder if they're okay. Make sure that nothing can fall on them in their "safe place."
A friend that had been a puppy trainer for guide dogs told us to get Paz playing games when thunderstorms and bad weather were making her nervous. This worked wonderfully and Paz has no fear of thunder, fireworks or the diesel. She may not really like them, but she's not a basket case.
Read more about storms and dogs on boats.
Feeding
Remember to put some sort of a non-slip mat under your boat dog's dish! Read more about easy-to-store dog food and tips for storing it.
Flying with a dog
If you may have to fly "home" (or anywhere else) with your dog, take an airline-approved carrier with you.  It can be very hard to find them in some cruising areas — we went nuts finding one in El Salvador!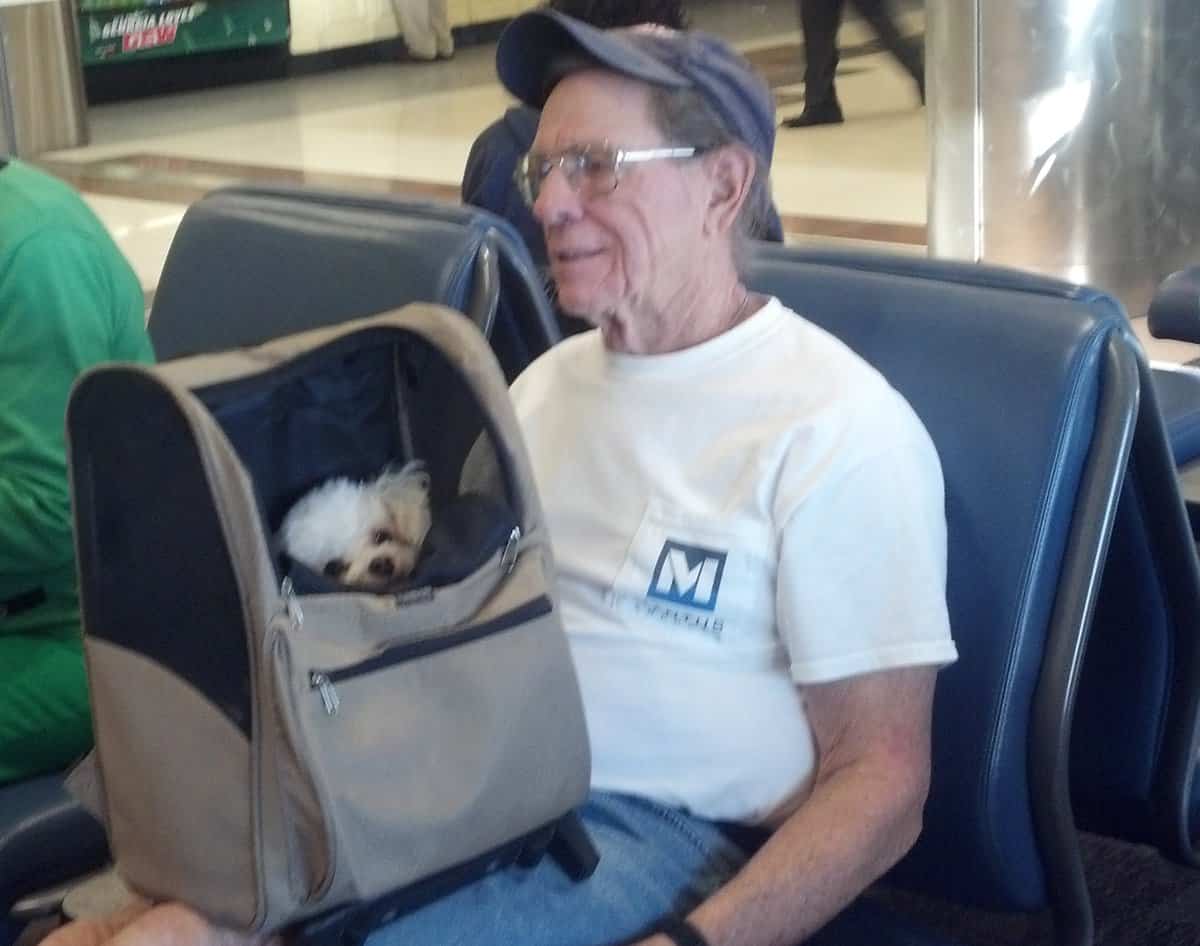 Bottom Line on Having a Boat Dog
A dog can be a wonderful companion on a boat. Paz added so much to our cruising. But she also complicated it and the decision to take a dog on a boat shouldn't be an impulse decision. But neither should it be automatically out of the question. The number of boats with dogs aboard is rising every year!
The article was originally written in December 2012 and has been updated with additional information through March 2020.
Read More About Dogs on Boats
Here's your "Quick Start" to everything you need to know when living on a boat:


Making Boat Life Better
Some links in this article (including all Amazon links) are affiliate links, meaning that we earn from qualifying purchases.